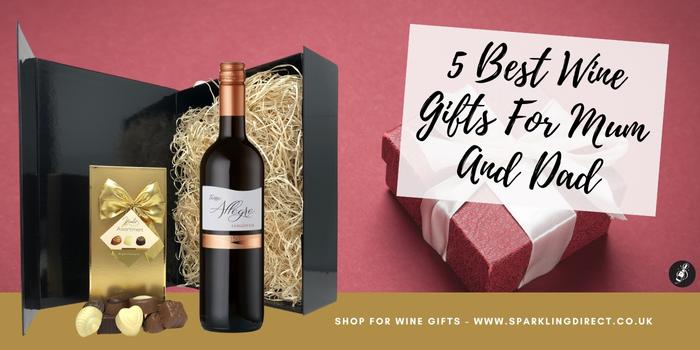 Our parents deserve the best when it comes to wine gifts. But knowing what to get isn't always easy. So is wine a good gift for parents?
Wine makes a fantastic gift for any Mum or Dad who loves wine. That's why we've created this ultimate gift guide for all wine-loving parents. So all you need to do is pick one and we'll deliver it straight to their door! Take a look at our five featured gifts below and make them smile no matter the occasion!
---
Red Wine and Chocolate Hamper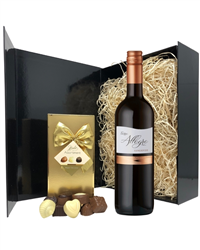 DELICIOUS WINE & CHOCOLATES HAMPER: Each red wine and chocolate hamper is packed with a bottle of Allegra Sangiovese produced in the vineyards of Northern Italy. A juicy, succulent red wine with savoury cherry and plum characters with a bright ripe fruited finish alongside 125 grams of luscious Belgian chocolates that are sure to a smile on his or her face. A special treat for red wine lovers who love to indulge in the rich and sweet taste of Belgian chocolates. A unique way to show your thanks but with a personalised gift card you can turn your gratitude or love into words. The personalised message card will be carefully delivered alongside the gift hamper to charm and surprise the recipient
---
White Wine Birthday Gift For Mum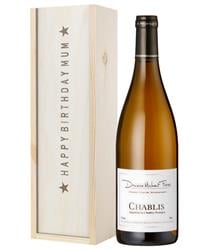 A classy and elegant gift option that is certain to make any Mum feel special. This White Wine Birthday Gift Box for Mum features extraordinary flavour and a stylish appearance that will fill her with love, warmth and appreciation from the first sip down the last. Delivered in a high-quality wooden gift box and featuring the words Happy Birthday Mum branded on top for all to see; this gift set comes complete with a single bottle of Chablis White Wine and offers a delicious taste that will keep her coming back for more until the bottle is gone. Show your mum, mother-in-law, step mum or any mother figure in your life love this year for their special day.
---
Sauvignon Blanc Wine and Cheese Hamper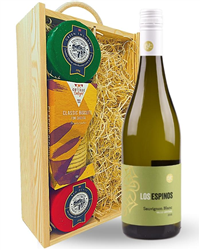 What better gift for a wine and cheese lover than this delicious hamper? Let someone taste beautiful combinations by sending them a single bottle of Los Espinos Sauvignon Blanc white wine along with a box of Cottage Delight Biscuits, Snowdonia Green Thunder Cheese and Snowdonia Red Devil Cheese. Green Thunder is a Cheddar Cheese with roasted garlic and herbs. Red Devil is a Red Leicester with Habanero chillies and peppers. It's all presented in one of our wooden gift boxes with wood wool lining for protection. You can complete this gift with a written and printed personalised message. Send it anywhere in the UK with next day or selected date delivery for the perfect surprise no matter the occasion.
---
Wine Birthday Gift For Dad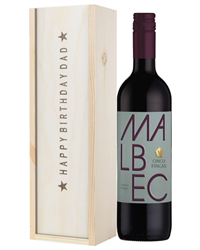 A truly delicious way to say Happy Birthday to any dad in your life; every inch of this magnificent gift box boasts unmatchable class and sophistication that no other present option on the market can hope to match. Delivered in a sturdy wooden gift box that is lined with wood wool all throughout the inside, feel confident sending this Red Wine Birthday Gift Box for Dad to any location, any day of the year they celebrate their birthday. Easy to personalise with a message from you and featuring the words Happy Birthday Dad branded on top, this gift box offers an amazingly tasty bottle of Argentinian Malbec Red Wine that will satisfy any palate lucky enough to receive it.
---
English Sparkling Wine and Chocolate Gift Set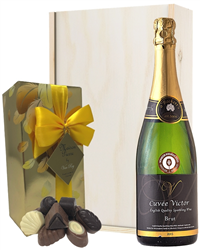 You won't find a better English wine and chocolate gift than this one. Whatever the occasion, treat someone to a beautiful single bottle of Cuvee Victor Brut from a'Beckett's Vineyard in Wiltshire. What better to accompany an English Sparkling wine than chocolates? Also included is a ballotin of assorted chocolate truffles to indulge in. Beautiful and delicious down to the last drop and bite, it's a perfect gift for any wine or chocolate lover. You can also add a personalised message to let them know you're thinking of them. Packaged and presented in one of our wooden gift boxes, this gift can be delivered either the next day or on a date of your choice.
---
5 Best Wine Gifts For Employees | 7 Best Anniversary Wine Gifts
---
7 Best Gifts For Dads Who Love Wine
Treat your dad to a superb wine gift. Dads who love a glass of wine will be delighted to receive one of our gift sets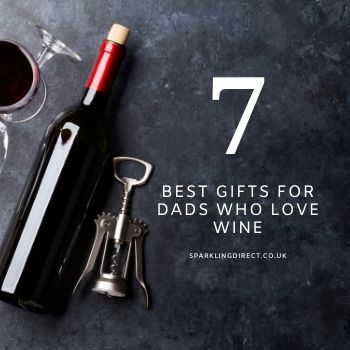 5 Best Wine Gifts For Couples
It's always nice to share a glass of wine or two with your partner. But rather than buy the same bottle over and over again, why not try something different?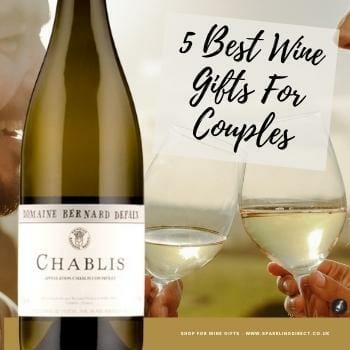 5 Unique Christmas Gifts For Wine Lovers
No matter the recipient, a unique wine gift is the perfect Christmas gift. From red to sparkling, we have five wine gift sets to impress any wine lover this Christmas.