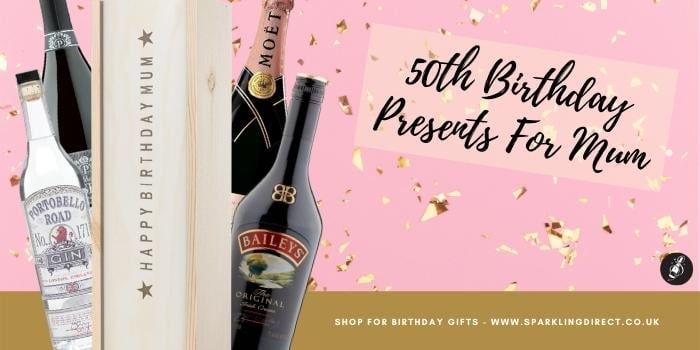 50 is always a big milestone birthday. When it comes to your Mum's 50th, you might be asking yourself: What should I get my Mum for her 50th birthday?
Whether having a big celebration or not, a celebratory drink is the best way to celebrate a 50th birthday. So why not treat her to her favourite beverage? From unique G&T sets to joyous Champagne and balloon gifts, any one of these ten presents is perfect for any Mother turning 50.
---
50th Birthday Gift – Moet Champagne – Balloon – Flute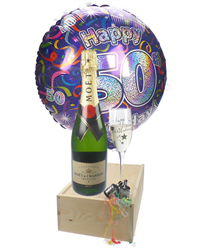 Just like a party contained within a box, this fun and remarkably unique 50th Birthday Gift Box not only includes a single bottle of incredibly tasty Moet Champagne within it, it also comes with a crystal-clear flute with which to drink it as well as a party poppers and a colorful balloon that makes it clear what special birthday the recipient is celebrating. Perfect to have delivered to any festive 50th birthday party bash, this gift box is presented in an amazingly simple and remarkably durable wooden box that can be accompanied by your own personalised message if desired. A stylish and surprising gift that any fun-loving 50-year-old would love to receive.
---
Pink Champagne Birthday Gift For Mum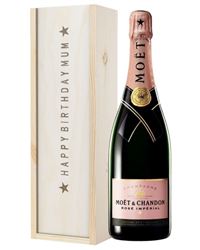 Offering so much more than a bouquet of roses ever could, this exclusively designed gift box includes a single bottle of Moet & Chandon Rose Imperial Champagne and is easy to personalise with a message from you to included along with it if desired. Delivered in a solid wood wool-lined wooden gift box and featuring the words Happy Birthday Mum on top for all to see; feel confident sending this gift set to your own Mum or even your mother-in-law to assure they're truly satisfied in every possible way. Absolutely certain to stand out from every other birthday gift she receives, this Pink Champagne Birthday Gift Box for Mum allows her to really celebrate her special day this year, and think of you as she does so.
---
50th Birthday Champagne And Chocolates Gift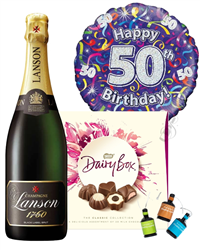 A fun and truly delightful way to send someone you care for a one of a kind gift for their special 50th birthday; this incredible gift set is great to have delivered to their home or as part of a large birthday party or celebration. A gift box that is designed to become the recipients favorite present received, this 50th Birthday Champagne and Chocolates Gift Box is absolutely certain to be unlike any other present they've gotten before. A fun way to celebrate such a monumental milestone in someone's life, this gift box contains a single bottle of Lanson Black Label Champagne, a box of 200g of delectable milk chocolate, party poppers and an already inflated balloon that pops out of the box upon opening.
---
Pink Gin Birthday Gift For Mum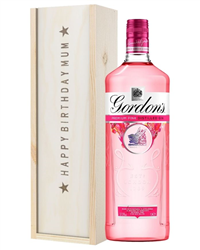 Boasting the bold flavours of raspberries, strawberries, red currants and more; this fabulous gift set comes with a truly stunning bottle of Gordon's Premium Pink Distilled Gin within it for any mum to enjoy. Simple to personalise with a message from you and delivered in a durable wooden gift box lined with wood wool all throughout the inside, this Pink Gin Birthday Gift Box for Mum also features the words Happy Birthday Mum printed on top as well. Just the gift box any gin-loving mum will savor every sip of, this perfectly crafted present is made to bring a smile to the face of any mum, mother-in-law, step mum or half-mum you care for.
---
50th Birthday Wine Gift – Red Wine And Chocolates Gift Set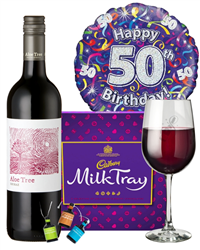 A bold and colourful gift box that is designed to stand out from the crowd; when you choose to send one of these truly fabulous gifts to someone you care for you can be certain they'll fully appreciate every bit of it. Complete with a bold bottle of Shiraz, a 200g box of delightful milk chocolates and an already inflated 50th birthday balloon that pops out when its opened, this uniquely gorgeous 50th Birthday Red Wine and Chocolates Gift Set can easily be delivered to any birthday party or bash anywhere. Just the gift to send to your best friend, your mother-in-law, or a co-worker that deserves something special to celebrate with.
---
Taittinger Champagne Branded Flute Set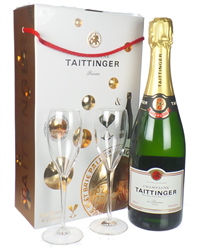 A gorgeous way to send a celebration in a box; this Taittinger Champagne Branded Flute Set includes not only a single bottle of Taittinger Champagne within it, but it also includes two high-quality branded Taittinger champagne flutes as well. Easy to personalise with a message straight from you if desired, this lovely gift set makes the perfect present to send to a variety of different special occasion from an engagement or anniversary party to a just because gift for that special someone in your life. Delivered in a fashionable, branded Taittinger box, this gift set boasts an appearance that is easily as chic as its contents.
---
Prosecco Birthday Gift For Mum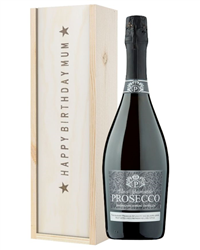 A gorgeous gift set that any mum would love to receive; this Prosecco Birthday Gift Box for Mum is the perfect way to celebrate another great year of life. Easy to personalise with a message from you as well if desired, this gift set is delivered in a sturdy wooden gift box that is lined with wood wool to ensure secure delivery to any location, any day of the year. Featuring the words Happy Birthday Mum branded beautifully on top for all to see, this magnificent gift set includes a truly delicious single bottle of amazingly flavourful bottle of Prosecco Spumante Wine and a classy and sophisticated appearance from top to bottom.
---
Portobello Road Gin And Tonic Gift Set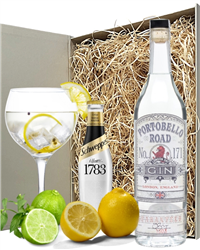 Presented in a sleek black gift box and designed for delivery to anyone on your gift list from a co-worker to a longtime friend and beyond; this Portobello Road Gin and Tonic Gift Set boasts a chic and elegant appearance that you won't get from any other gift box on the market. A lovely way to celebrate any event or occasion from a wedding to the birth of a brand-new baby or even a promotion at work, this amazing gift set features unmatchable style and flavour from top to bottom and start to finish. Complete with a single bottle of Portobello Road Gin, a bottle of Schweppes 1783 Tonic Water, a lemon and a lime; every inch of this classy and sophisticated gift set is the perfect present for any gin and tonic drinker that will savour every sip of it.
---
50th Birthday White Wine And Chocolates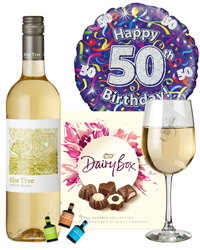 Just the 50th birthday gift anyone would love to receive and enjoy. From the moment this bold 50th Birthday White Wine and Chocolates Gift Box arrives you can be certain anyone it's delivered too will fully savour every single bit of it. An elegant and extraordinary set you can send to anyone from your in-law to your mother, aunt, cousin or friend; you can also include a personalised message along with it from you if desired. Complete with a bottle of Chenin Blanc, a 180g box of milk chocolates and an inflated 50th birthday balloon included within it, this truly stunning gift box is designed for secure delivery to any birthday party location required.
---
Baileys Birthday Gift For Mum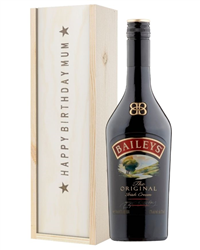 Celebrating your mum's birthday in style has never been simpler than this. Easy to personalise with a heartfelt message from you and even easier to have sent to any location. No matter what day of the year this Bailey's Birthday Gift Box for Mum is delivered, she is absolutely certain to savor each sip from start to finish. Presented in a high-quality wooden gift box lined with wood wool and boasting the words Happy Birthday Mum printed perfectly on top; every inch of this unique gift option offers truly amazing flavour you won't get anywhere else. Give your mum something great this year when you choose to send one of these classy gift sets for her to enjoy.
---
---
5 Best Birthday Gifts For Gin Lovers
Are you looking for a really unique birthday gift for a gin-loving friend? Look no further, our guide below lists 5 of our most popular gin presents.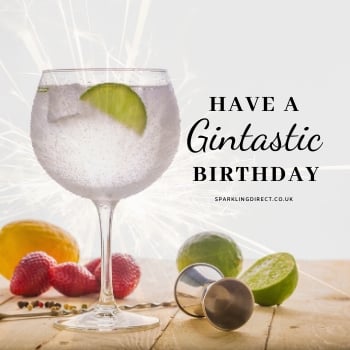 Birthday Champagne and Balloon Delivery
Sending a birthday gift to friends and family in the UK is a thoughtful way to show them just how much you care—delivered on the day of your choice or next day if you are shopping for a last-minute gift. Our gifts will get the party popping, with fizz, chocs, party poppers and a balloon!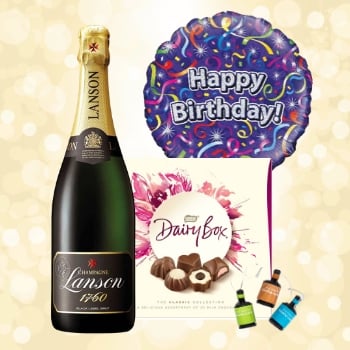 Top 10 Prosecco Birthday Gifts
Make their day with a bottle of Prosecco by treating them to something spectacular from our range of birthday gifts below.