Finding fun and interesting Christmas gifts can be a chore. With so many ideas and gift sets to choose from, it can be difficult to make a decision. So what makes a good unique Christmas gift?
Wine is a gift that'll never go out of style. That's why we've pulled together five of our most unique and delicious wine Christmas gifts to make gift shopping oh so easy! Any one of these gifts sets is perfect for wine lovers across the UK and come with a gift message. Take a look and send one this Winter!
---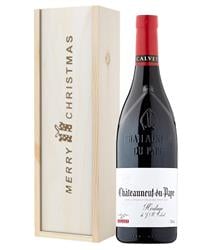 Chateauneuf Du Pape Red Wine Christmas Gift
Send your faraway friends a beautiful wine gift this holiday season. This luxurious bottle of Chateauneuf Du Pape is ideal for red wine lovers, and the reusable wooden gift box adds an elegant feel to your gift. Securely packaged within the box, a single bottle is protected from damage with a soft, wool lining – keeping your gift safe and sound until it is with your friend or loved one. You can complete your gift with a personalised message, so let your parents, in-laws or friends know you wish them a merry Christmas.
---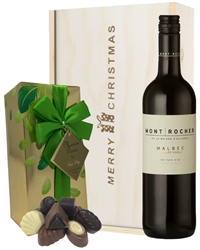 Malbec Red Wine Christmas and Chocolate Gift Box
Stuck on what to get for the office Secret Santa? You can never go wrong with wine and chocolate… This French Malbec red wine is a deliciously dry, full-bodied wine with undertones of blackberry, plum and vanilla – a winning combination for the festive season. Alongside a single bottle of Malbec, this gift set also features a luxurious box of Belgian chocolates. The two pieces are delicately packed into one of our stylish wooden gift boxes, ready to be delivered directly to their door on a date of your choosing. You can also add your own personalised message, wishing them a great Christmas.
---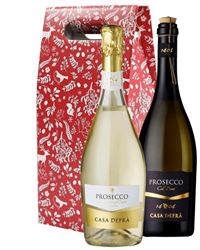 Christmas Prosecco Duo Wine Gift
An amazing gift that is certain to brighten up any Christmas celebration, this gift set is fashionably presented in Christmas carded gift box and boasts an elegant appearance from top to bottom. Containing two different types of Casa Defra Prosecco varieties within it, this Christmas Prosecco Mixed Twin Wine Gift Box features a crisp and full flavour throughout each bottle and every tiny sip. Complete with a single bottle of semi-sparkling Frizzante and a single bottle of full-sparkling Spumante included, this gift box will certainly bring a smile to any recipient's face, no matter the time of day or year.
---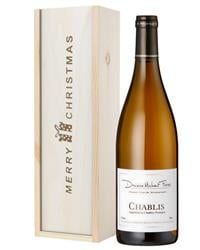 Chablis White Wine Christmas Gift
Delight any White Wine lover with this delicious and exceptional Chablis Christmas gift. Made from 100% Chardonnay grapes, this wine is one that will rarely disappoint. Treat someone this Christmas to a single bottle of Chablis to enjoy with friends or family. It's stylishly presented in one of our wooden gift boxes with 'Merry Christmas' printed on the lid and wood wool lining for protection. Personalise this gift with a printed gift message to spread festive joy amongst friends, loved ones and colleagues. Next day or selected date delivery is available anywhere in the UK, meaning you can send someone the perfect Christmas wine gift no matter the distance.
---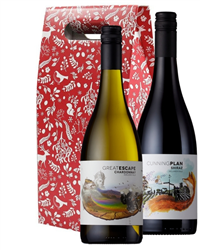 Christmas Australian Mixed Wine Twin Gift
This festive wine box features a bottle of red and white Australian wine. The set is presented in a playful Christmassy red box with a handle – perfect for delivering to your family or friends for a cosy night in. From the Mclaren Vale, there's a superb Thistledown Shiraz, while the Chardonnay is from Eden Valley. This Australian wine set is ideal for giving your loved ones a taste of down under; providing a beautiful array of flavours. Complete your gift with a personalised note and wish the receiver a wonderful holiday season.
---
---
10 Best Christmas Wine Hampers
There's no gift more delicious than a wine hamper. But when it comes to choosing a wine, it's hard to know which one is best. So what is a good wine to give as a gift?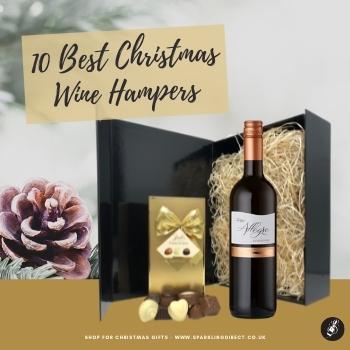 Corporate Christmas Wine Gifts For Employees
Everyone deserves a treat at Christmas, especially our colleagues and employees. So what is a good corporate gift for employees at Christmas?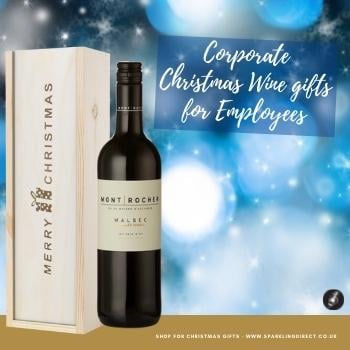 7 Best Christmas Wine Gift Boxes
Everyone deserves a glass of wine at Christmas, so why not send a bottle? We've selected seven of our best Christmas wine gift boxes to help you find that perfect gift for a wine lover.