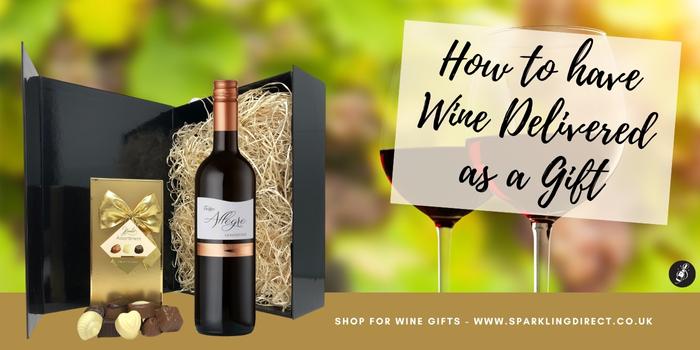 There's nothing quite like a surprise gift. So if you're looking to have a wine gift delivered, you'll be wondering how to go about it. But how do you have wine delivered as a gift?
Rather than faff with packaging and postage fees, we've got a stress-free alternative. Our exceptional gifting service allows you to send a bottle of wine to any UK address in the form of a gift. You'll find thousands of choices across our website and we've even picked five of our top-sellers below.
It's never been easier to surprise someone with a surprise gift! All of our gifts include a personalised message and selected date delivery to any address type in the UK. So even if they live in a top-floor apartment, we've got you covered! Take a look at our top 5 wine gifts to send below.
---
Red Wine and Chocolate Hamper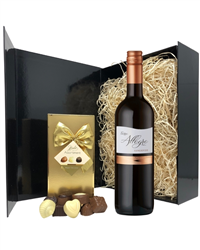 DELICIOUS WINE & CHOCOLATES HAMPER: Each red wine and chocolate hamper is packed with a bottle of Allegra Sangiovese produced in the vineyards of Northern Italy. A juicy, succulent red wine with savoury cherry and plum characters with a bright ripe fruited finish alongside 125 grams of luscious Belgian chocolates that are sure to a smile on his or her face. A special treat for red wine lovers who love to indulge in the rich and sweet taste of Belgian chocolates. A unique way to show your thanks but with a personalised gift card you can turn your gratitude or love into words. The personalised message card will be carefully delivered alongside the gift hamper to charm and surprise the recipient
---
French Bordeaux Red Wine Gift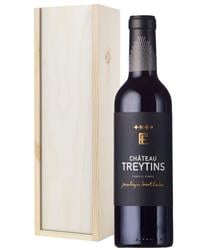 A full, fresh-tasting red wine that captures your heart from the very first sip; boasting a strong nose of red fruits and predominantly created from hand-picked Merlot grapes, the single bottle of Chateau Treytins French Bordeaux Red Wine contained within this gift box is truly as tasty as a bottle of wine can get. Easy to personalise with a message straight from your soul, this French Bordeaux Red Wine Gift Box makes a great gift to send for any special event or occasion that comes up on your calendar. From the Bordeaux region of France, this gift box offers everything you need to provide someone you care for with an extra special surprise to enjoy.
---
Malbec Mixed Two Bottle Wine Gift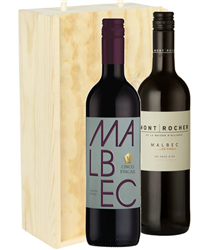 Presented in a gorgeous wooden gift box designed for secure delivery to any location, this extraordinarily delicious Malbec Mixed Two Bottle Wine Gift Box allows the recipient to enjoy more than one variety of different Malbec wine flavours. Ideal as a gift for someone with a true appreciation of bold Malbec grapes, this incredible box boasts two types of truly rich wine within it; one from the foothills of the Andes in Argentina, and one from the vineyards of France. Easily personalised so you can assure the recipient knows who to thank, this one-of-a-kind unit is certain to be savoured by anyone lucky enough to receive it.
---
Italian Mixed Two Bottle Wine Gift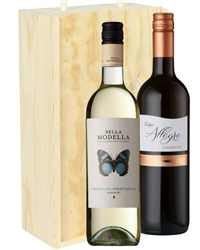 A stylish, sophisticated gift that makes the perfect present to give at any particularly classy occasion, this Italian Mixed Two Bottle Wine Gift Box is ideal for delivery to any wedding, birthday party or other similar type of special event. Presented in a sleek wooden box that is lined with wool for secure delivery to your intended location, this high-quality gift box can also be personalised with a heartfelt message from you along with it as well. An elegant gift box that includes a single bottle of Sangiovese wine as well as a single bottle of Pinot Grigio, this set allows anyone to explore Italy through the flavours its vineyards provide.
---
French Malbec Red Wine Gift Box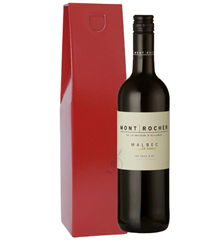 Ideal for enjoying on a cold winter evening to warm up in a truly delicious way, from the very first sip the remarkable bottle of Mont Rocher French Malbec red wine, you'll wish you could drink it all day, every day, for the rest of your life. Produced in Limoux, located in the south of France, this incredibly tasty bottle of wine boasts a lovely and fruity flavour that any recipient is sure to enjoy. Presented in a stunning red gift box and the perfect present to send to any event from a wedding to a birthday and beyond; this French Malbec Red Wine Gift Box will instantly become the best gift they receive from the very moment it arrives.
---
---
10 Best Christmas Wine Hampers
There's no gift more delicious than a wine hamper. But when it comes to choosing a wine, it's hard to know which one is best. So what is a good wine to give as a gift?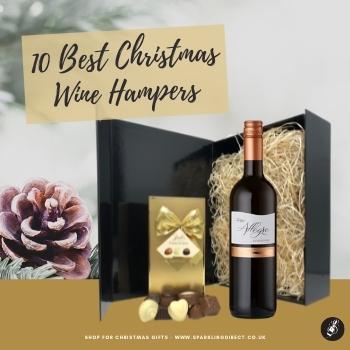 Corporate Christmas Wine Gifts For Employees
Everyone deserves a treat at Christmas, especially our colleagues and employees. So what is a good corporate gift for employees at Christmas?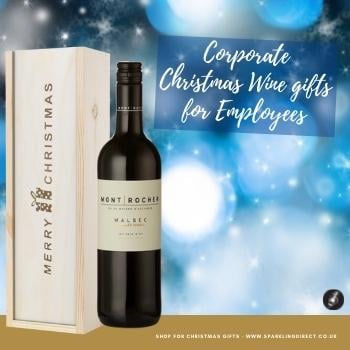 7 Best Christmas Wine Gift Boxes
Everyone deserves a glass of wine at Christmas, so why not send a bottle? We've selected seven of our best Christmas wine gift boxes to help you find that perfect gift for a wine lover.