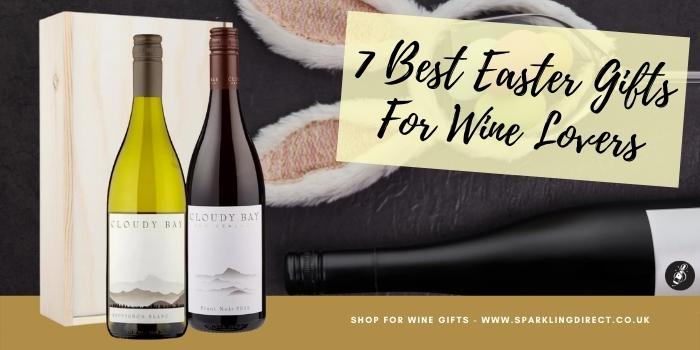 Chocolate isn't the only thing that makes a good Easter gift. When it comes to Easter gifts for Wine lovers, a bottle of their favourite is a perfect choice. So what wine makes a good Easter gift?
With spring now in full swing, many different wines are enjoyable to drink. A popular choice around Easter is red, however white comes in a close second. These seven gifts sets include a range of wines. Whether with chocolates or on their own, these delicious gifts are perfect for any Easter celebrations.
---
Red Wine and Chocolate Hamper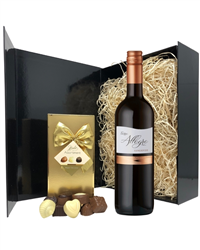 DELICIOUS WINE & CHOCOLATES HAMPER: Each red wine and chocolate hamper is packed with a bottle of Allegra Sangiovese produced in the vineyards of Northern Italy. A juicy, succulent red wine with savoury cherry and plum characters with a bright ripe fruited finish alongside 125 grams of luscious Belgian chocolates that are sure to a smile on his or her face. A special treat for red wine lovers who love to indulge in the rich and sweet taste of Belgian chocolates. A unique way to show your thanks but with a personalised gift card you can turn your gratitude or love into words. The personalised message card will be carefully delivered alongside the gift hamper to charm and surprise the recipient
---
Sauvignon Blanc Wine and Cheese Hamper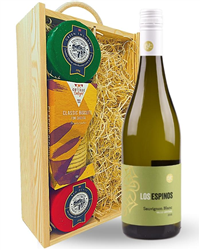 What better gift for a wine and cheese lover than this delicious hamper? Let someone taste beautiful combinations by sending them a single bottle of Los Espinos Sauvignon Blanc white wine along with a box of Cottage Delight Biscuits, Snowdonia Green Thunder Cheese and Snowdonia Red Devil Cheese. Green Thunder is a Cheddar Cheese with roasted garlic and herbs. Red Devil is a Red Leicester with Habanero chillies and peppers. It's all presented in one of our wooden gift boxes with wood wool lining for protection. You can complete this gift with a written and printed personalised message. Send it anywhere in the UK with next day or selected date delivery for the perfect surprise no matter the occasion.
---
Aix Provence Rose Wine Gift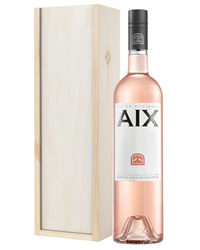 Experience the true taste of exceptional Provencal Rose with this delightful bottle of Aix. With a global reputation and a beautiful flavour, there is no better Rose from the south of France. Treat you or someone you know to a single bottle of Aix Rose Wine either as a gift or to enjoy on a night in. This wine is incredibly aromatic and delicately dry in style; it perfectly captures the romance of the picture-perfect vineyards. It's presented in one of our wooden gift boxes with wood wool lining and also includes a personalised message. Have it delivered anywhere in the UK with next day or selected date delivery.
---
Sauvignon Blanc And Pinot Noir Two Bottle Wine Gift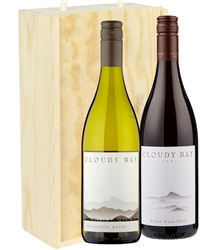 Presented in a high-quality wooden gift box that is lined with a soft wood wool lining for protection during delivery, this Cloudy Bay Sauvignon Blanc and Pinot Noir Two Bottle Wine Gift Box is created to arrive looking its best no matter what event or location it's sent to. Easy to personalise with a message from the sender if desired, this remarkably chic gift box makes a great gift to have delivered for a wide variety of reasons or events. Add some class to a simple engagement party or have this gift box sent to an employee that has reached a milestone at work; no matter where it's delivered this set is sure to satisfy anyone lucky enough to receive it.
---
Chandon Sparkling Wine and Chocolates Gift Set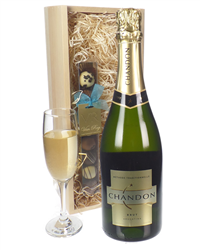 Just the gift set any particularly elegant event needs to be truly complete, from front to back this Chandon Sparkling Wine and Chocolates Gift Box features total style and absolute sophistication unlike any other type of present available for delivery. Presented in a chic and sturdy wooden box and filled with wood wool to ensure secure delivery to any location required, this amazingly high-quality gift box includes a single bottle of Chandon Sparkling Brut wine as well as a 110g box of delicious truffles within it for enjoyment. Personalise this set with a message from you and send it to any birthday, anniversary, house-warming party you choose, anywhere.
---
Limestone Coast Wine Hamper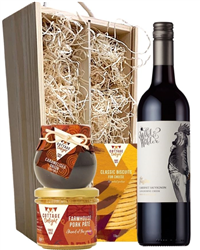 Produced in the Limestone Coast region of Australia and featuring smooth yet striking flavours throughout every single sip; this gift box includes a single bottle of remarkably delicious Cabernet Sauvignon Red Wine to enjoy, as well as a 90g jar of Cottage Delight Farmhouse Pate with Pork, a 115g jar of pickles and a 150g package of Oval Alberts Savoury Biscuits. Easy to personalize with a message from you and delivered in a truly sturdy gift box lined with wood wool, this unique and tasty Limestone Coast Wine & Gourmet Food Gift Box will be certain to satisfy any recipient, from your spouse to a long-time friend you haven't seen in several years.
---
Chablis White Wine and Chocolates Gift Set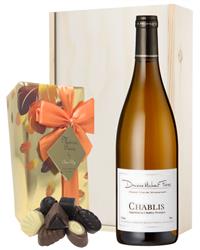 Boasting a level of elegance and chicness that no other type of gift can hope to compete with; from top to bottom this Chablis White Wine and Chocolates Gift Set features absolute style, and sophistication, any recipient is certain to truly appreciate. Delivered in a remarkably sturdy wooden gift box and complete with a single bottle of Chablis wine from France and a 250g box of assorted Belgian chocolates included within it, this remarkable gift box adds instant dignity and refinement to any occasion it's sent to. Ideal for delivery to a birthday party, retirement celebration or even a baby shower as a post-baby surprise, this extraordinary gift box offers nothing but amazingly delicious flavours throughout each and every taste.
---
---
9 Luxury Easter Gift Hampers UK
Looking for the perfect gift this Easter? We've got nine delicious hampers sure to surprise anyone in your life. Take a look here.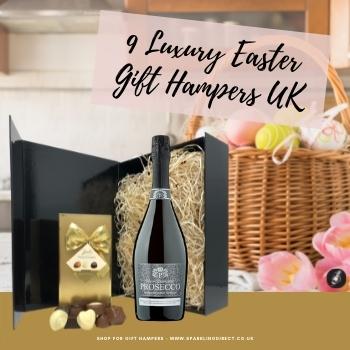 Can I Send Easter Gifts By Post?
We know that you can't always spend Easter with your loved ones, but that doesn't stop you from sending a gift. Take a look at these Easter gifts ideal to send by post.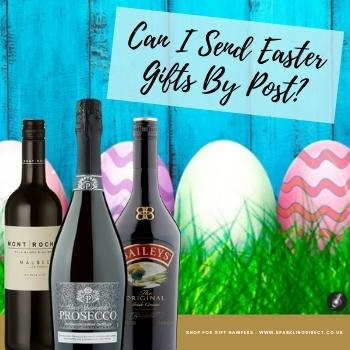 Top 10 Easter Gift Baskets For Adults
Looking to share Easter with not just the children? Take a look at these delicious gift hampers perfect for any adults this Spring holiday.