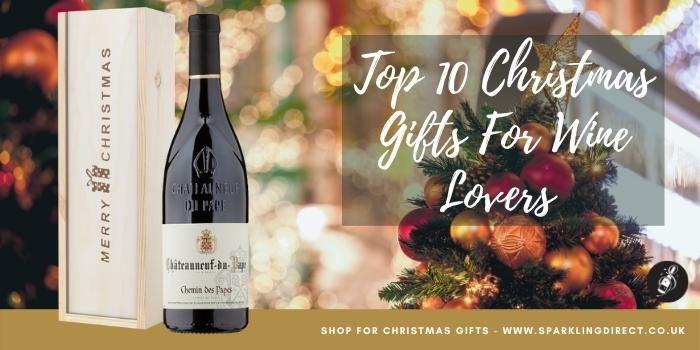 Finding the perfect gift can often be difficult, especially for wine lovers. With so many different sets to choose from it's hard to know which one is best. So what are some good Christmas wine hampers?
A single bottle of red, white, sparkling or port wine will make anyone smile at Christmas. Whether for a parent, sibling, grandparent, colleague or friend, these ten Christmas gifts are ideal for any wine lover in your life. All are presented in a wooden gift box with a personalised message and UK delivery.
---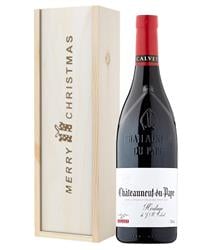 Chateauneuf Du Pape Red Wine Christmas Gift
Send your faraway friends a beautiful wine gift this holiday season. This luxurious bottle of Chateauneuf Du Pape is ideal for red wine lovers, and the reusable wooden gift box adds an elegant feel to your gift. Securely packaged within the box, a single bottle is protected from damage with a soft, wool lining – keeping your gift safe and sound until it is with your friend or loved one. You can complete your gift with a personalised message, so let your parents, in-laws or friends know you wish them a merry Christmas.
---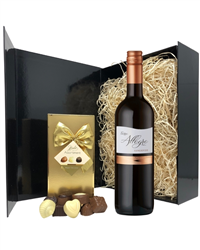 Red Wine and Chocolate Hamper
DELICIOUS WINE & CHOCOLATES HAMPER: Each red wine and chocolate hamper is packed with a bottle of Allegra Sangiovese produced in the vineyards of Northern Italy. A juicy, succulent red wine with savoury cherry and plum characters with a bright ripe fruited finish alongside 125 grams of luscious Belgian chocolates that are sure to a smile on his or her face. A special treat for red wine lovers who love to indulge in the rich and sweet taste of Belgian chocolates. A unique way to show your thanks but with a personalised gift card you can turn your gratitude or love into words. The personalised message card will be carefully delivered alongside the gift hamper to charm and surprise the recipient
---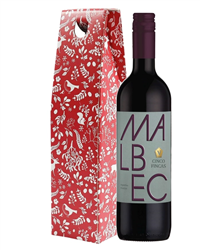 Christmas Malbec Wine Gift from Argentina
Assure that anyone, or everyone, on your gift list celebrates the holiday season in a festive and sophisticated way when you have one of these truly chic gift boxes sent to each and every one of them. Presented in a carded Christmas-style gift box and designed to stand out from every gift sent to be placed under their tree, this Christmas Malbec Wine from Argentina Gift Box offers everything anyone needs in a one of a kind holiday present. Produced in the Mendoza region at the foothills of the Andes in Argentina, the single bottle of Malbec Wine contained within this gift box is beautifully bold in flavour and will satisfy anyone from a wine novice to an aficionado.
---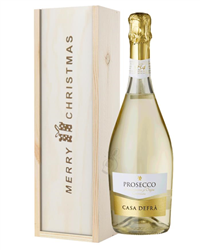 Prosecco Christmas Gift
No Christmas is complete without a bottle of Prosecco, so why not gift one? No matter how far apart you may be this year, treat someone to a single bottle of Prosecco Spumante to pop open. It's beautifully presented in one of our wooden gift boxes with 'Merry Christmas' printed on the lid and wood wool lining for style and protection. Plus, extend the Christmas wishes with a personalised gift message. It's the perfect gift to spread the Christmas cheer! Next day or selected date delivery is available so whether for a family member, friend or colleague, you can give them a Christmas to remember.
---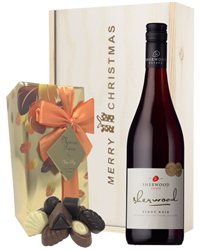 New Zealand Christmas Wine and Chocolate Gift
This bold and fruity Pinot Noir from New Zealand is a fuller-bodied red wine with hints of cherry and red flowers. It's perfect for pairing with a delicious Christmas dinner, making it an ideal gift for friends or family who you'll miss this holiday season. You can choose to have the wine delivered directly to their door on a date of your choosing, so you'll know exactly when your loved ones will receive it. Each bottle is presented in one of our delightful wooden gift boxes, lined with wood wool for a luxurious, yet secure package. Add your own personalised message to the gift set to add some festive cheer.
---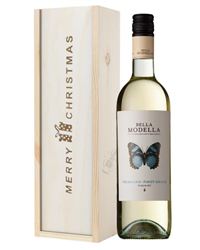 Pinot Grigio White Wine Christmas Gift
Everyone loves a Pinot Grigio, so why not make a gift of it? This single bottle Christmas gift is perfect for any white wine lover and can be delivered anywhere in the UK on a date of your choosing. Deriving from Northern Italy, this brilliantly dry wine is beautifully presented in a wooden gift box, branded with Merry Christmas for a little festive magic. You can also add your own personalised message to let your mum, in-laws or grandparents know you're thinking of them this holiday season. Next day or selected date delivery is available anywhere in the UK, making this the perfect festive surprise.
---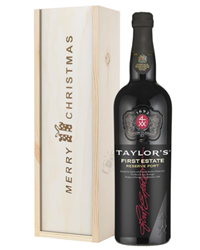 Port Christmas Gift
An amazingly chic Christmas gift that is designed to catch attention at any holiday party it's delivered to; this Taylors First Reserve Port Christmas Gift Box features a truly elegant appearance and a remarkably stunning flavour that any recipient is certain to fully appreciate. Complete with a single bottle of Taylor's First Reserve Port within it and a high-quality wooden box placed around it, this extraordinary gift box is secured to arrive safely to any location and is stamped with the words Merry Christmas on top of the box itself so the recipient knows instantly why this high-quality gift box has been sent to their doorstep.
---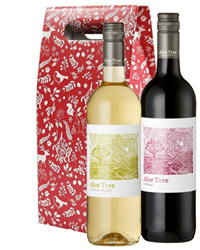 Christmas Wine Set
Presented in a fun and festive 'Christmas Jumper' gift box and featuring two remarkable wines that are especially fitting for enjoyment around the holiday season. A truly popular wine duo that any wine lover will fully appreciate, this wonderful Christmas Wine Set includes two bottles that come from South African vineyards; a Chenin Blanc and a Shiraz. Easy to personalise with a custom message to complete a meaningful Christmas gift to anyone on your list, this amazing wine set will have anyone truly thrilled to open it on Christmas morning. Boasting bold, full flavour that is certain to enhance any festive holiday from the very moment it arrives.
---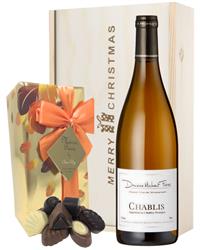 Christmas Chablis Wine and Chocolate Gift Box
French wine and chocolate, what more could you ask for? Comprising of a French Chablis White Wine and a delicious box of Belgian chocolates, this Christmas gift is perfect for anyone who loves the finer things in life. Carefully presented in one of our lovely wooden gift boxes – which are lined with wood wool – you can have this gift delivered directly to their door safe and sound. Make it even more special by adding your own personalised message, wishing them a great festive season. Wine makes a great last-minute gift idea for friends, family, and colleagues.
---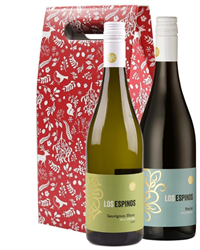 Christmas Two Bottle Wine Gift From Chile
A gift box full of incredible flavours that are each produced by the Los Espinos vineyards, this set of tasty Chilean wines is certain to fully satisfy anyone lucky enough to receive it. Delivered in a chic Christmas style carded gift box boasting a lovely holiday-themed design from top to bottom, this set is certain to stand out from every other gift your recipient will receive during the Christmas season. Complete with a single bottle of Sauvignon Blanc as well as a single bottle of Merlot Red within it, this high-quality Christmas Twin Bottle Wine Gift Box allows the delicious flavours of Chile to be truly enjoyed through each and every sip.
---
---
10 Best Christmas Champagne Gift Sets for 2021
Christmas is incomplete without a bottle of Champagne to share with loved ones. When looking for a gift to give, you might be considering a bottle of bubbles. But is Champagne a good Christmas gift?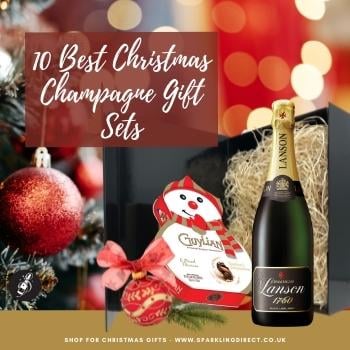 10 Best Whisky Gift Sets
No matter the occasion, a bottle of Whisky is a great gift. We offer a great online range of Whisky gift boxes, all of which can be personalised and delivered in the UK.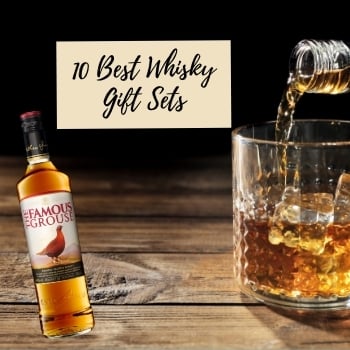 10 Best Vodka Gift Sets
The best Vodka gift would be one that's unusual and personal to the recipient. Absolut gift sets, unique Chase Vodkas or even single bottles of Ciroc in gift boxes