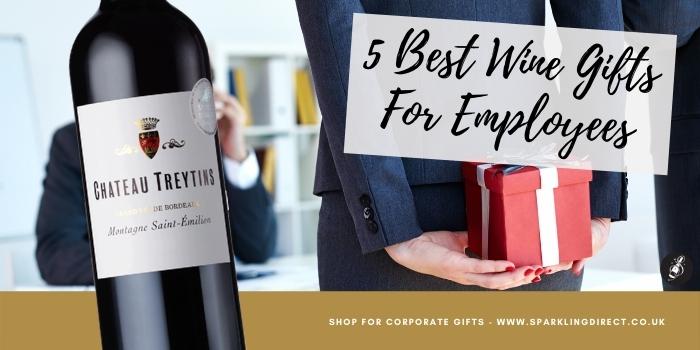 There comes a time when your employees deserve a bottle of wine. Whether to celebrate an achievement or acknowledge hard work, it's the perfect gift to send on behalf of any business. So what is a good wine gift to send to employees?
Corporate wine gifts should look professional and taste exceptional. While you want to send something that your employee will enjoy, you also have to send something that represents the business. We offer the option to send multiple gifts to employees in one order and to print your company logo on the lid for effect. It's the perfect way to share the celebration with your employees.
These five wine gifts have been carefully selected to represent any company. From red to white wine, these corporate gift hampers are as executive as they are delicious. Available to send anywhere in the UK, simply take a look or get in touch for more information on how to send corporate gifts with us.
---
Bordeaux Red Wine Gift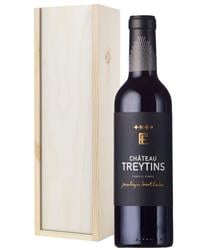 A full, fresh-tasting red wine that captures your heart from the very first sip; boasting a strong nose of red fruits and predominantly created from hand-picked Merlot grapes, the single bottle of Chateau Treytins French Bordeaux Red Wine contained within this gift box is truly as tasty as a bottle of wine can get. Easy to personalise with a message straight from your soul, this French Bordeaux Red Wine Gift Box makes a great gift to send for any special event or occasion that comes up on your calendar. From the Bordeaux region of France, this gift box offers everything you need to provide someone you care for with an extra special surprise to enjoy.
---
Chablis White Wine Gift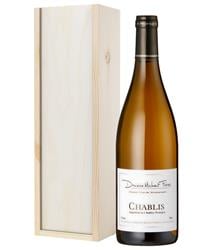 Delivered in a solid wooden box and filled with an incredibly delicious bottle of wine any wine lover will instantly fall in love with, every inch of this Chablis White Wine Gift Box boasts absolute quality as well as true elegance unlike any other. The perfect gift to send to celebrate an impressive array of possible occasions or events. Whether you have this remarkable gift set delivered to your mother or father to celebrate a special anniversary or to your co-worker to commemorate a promotion; no matter who is lucky enough to receive this gift box, they are certain to appreciate the flavours it offers, down to the very last drop.
---
Red Wine Congratulations Gift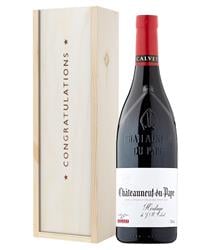 The ideal gift to send congratulations to any wine aficionado with something special to celebrate. Whether this remarkable box is delivered to a friend with a new baby or a co-worker that finally earned that long-awaited promotion, the recipient is certain to love every single taste from start to finish. Complete with a single bottle of truly chic Chateauneuf Du Pape and presented in a solid wooden box that is designed for secure delivery to nearly any location desired, this Chateauneuf Du Pape Red Wine Congratulations Gift Box is sure to stand out from any other present they receive. Personalise this gift set with a message from you and make sure they know exactly who this stunning present came from.
---
Wine Thank You Gift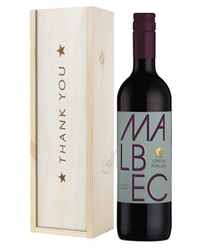 Delivered in a solid and chic wooden box and the perfect way to send thanks to any wine lover in your life, this Argentinian Malbec Red Wine Thank You Gift Box is an amazing way to surprise anyone from a friend to co-worker, family member or client. From the wine region of Mendoza located at the foothills of the Andes, the bottle of Argentinian Malbec placed within this high-quality gift box is certain to satisfy anyone lucky enough to receive it. Easy to personalise with a heartfelt message from you as well if desired, this elegant and one-of-a-kind gift box is truly the ideal gift option to send to anyone that deserves a special and proper thank you they won't soon forget.
---
Prosecco Birthday Gift
A unique and tasteful way to send birthday wishes. This simply delectable Prosecco Spumante Birthday Gift comes in a modest, classic wooden box that is marked with the words "Happy Birthday" along with a lovely little gift box stamped in the centre. A gift that is intricately designed to stand out from every other present the recipient receives. This wonderful gift box contains a truly delightful bottle of great-tasting Prosecco Spumante from the Casa Defra family vineyards; just the smooth, refreshing flavour anyone it's sent to would love to enjoy. This gift will have any recipient begging for more each and every year.
---
5 Luxury Corporate Wine Gifts | 5 Best Wine Gifts For Mum And Dad
---
7 Best Wine and Chocolate Gift Sets
Treat someone special and send them the perfect gift of Belgium chocolates and a bottle of wine.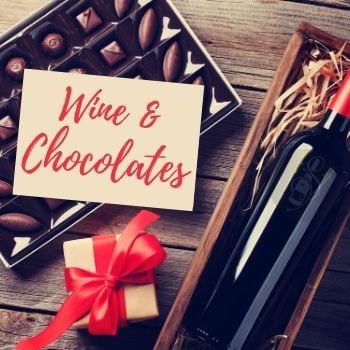 The 10 Best Wine Gifts
Searching for the best gifts for wine lovers can be a little challenging sometimes–especially when it comes to finding something unique.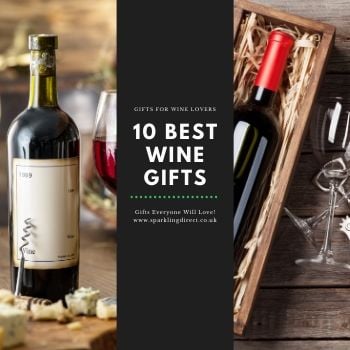 Corporate Christmas Wine Gifts For Employees
Everyone deserves a treat at Christmas, especially our colleagues and employees. So what is a good corporate gift for employees at Christmas?