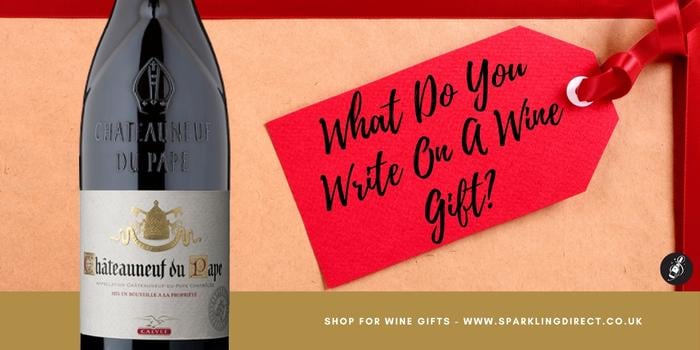 So you've bought the gift, now you need to write the card. But what do you write? We're here to help with making sure your message is as good as the gift! So what do you write on a wine gift?
What to write will depend on whether you're going to see your recipient or not. If you are then we recommend keeping your message short and sweet. You can fill in the rest when you see them! However, if you're not going to be there then say what you would if you were there. Good gift messages are either funny or heartfelt, but the best ones are both!
We offer a personalised gift card with all of our gifts and you can fit more writing on them than you would think! Each is printed in a handwriting style font, creating a more personal and effective touch. The bottom line is to just say how you feel. Gift messages don't need to be complicated, just personal.
---
Chateauneuf Du Pape Red Wine Gift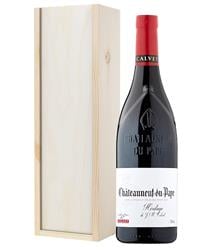 The perfect way to send congratulations, good luck, best wishes or even just love to someone you care for, this remarkably sophisticated Chateauneuf Du Pape Red Wine Gift Box is sure to bring a smile to the face of anyone that is lucky enough to receive it. Housed in a smooth, incredibly sturdy, and unbelievably stylish wooden box filled with wool for true protection of the bottle found within; this gift box also includes a single bottle of Val De Garrigue Chateauneuf Du Pape red wine that offers a full, delicious flavour that no other blend can hope to provide.
---
Sauvignon Blanc White Wine Gift
From enjoying with a meal to sending it as a gift, this South African White Wine is a perfect choice. If you're a fan of Sauvignon Blanc or Chardonnay (or both), you'll love this wine. Send a single bottle of the beautiful Ashbourne Sauvignon Blanc Chardonnay blend anywhere in the UK. It's South African and has gorgeous citrus and fruity notes to enjoy. It's presented in one of our classic wooden gift boxes and is protected with wood wool to ensure safe next day or selected date delivery anywhere in the UK. Plus, if you're sending this as a gift, you can add a personalised message and treat someone to a delightful wine.
---
Villa Conchi Cava Sparkling Wine Gift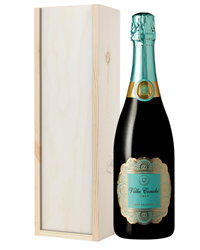 As stylish in appearance as it is tasty in flavour. From front to back this Villa Conchi Cava Sparkling Wine Gift Box boasts nothing but class and elegance all housed within one solid wooden box. A versatile present option that makes a lovely addition to any birthday party, baby shower, wedding celebration and more; feel confident sending this gift set to anyone from your best friend to your sibling, cousin, parent or grandparent is as simple as this. Simple to customise with a personal message from you as well, from the moment the top is popped on this single bottle of Villa Conchi Cava Sparkling Wine you can be sure they'll instantly love the taste of it from start to finish.
---
Pinot Grigio Rose Wine Gift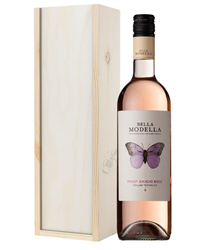 Securely delivered in a solid wooden gift box and ideal for delivery to nearly any event or occasion you can come up with; from a huge birthday bash to a small and intimate anniversary celebration, no matter what this Pinot Grigio Rose Wine Gift Box is sent to, its absolutely certain to satisfy anyone lucky enough to receive it. Boasting a bottle of truly delectable Pinot Grigio Rose wine housed within it and expertly designed to catch attention anywhere you choose to send it. This bold and beautiful gift box is the ideal gift option for anyone on your gift list from a parent to a friend, co-worker or even a teacher that deserves a little something special.
---
Red Wine and Chocolate Hamper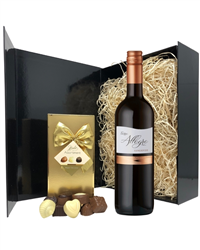 DELICIOUS WINE & CHOCOLATES HAMPER: Each red wine and chocolate hamper is packed with a bottle of Allegra Sangiovese produced in the vineyards of Northern Italy. A juicy, succulent red wine with savoury cherry and plum characters with a bright ripe fruited finish alongside 125 grams of luscious Belgian chocolates that are sure to a smile on his or her face. A special treat for red wine lovers who love to indulge in the rich and sweet taste of Belgian chocolates. A unique way to show your thanks but with a personalised gift card you can turn your gratitude or love into words. The personalised message card will be carefully delivered alongside the gift hamper to charm and surprise the recipient
---
Sancerre Wine and Cheese Hamper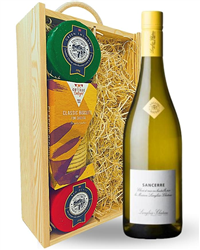 Give a gift like no other with this delicious wine and cheese hamper. Complete with a personalised message, treat someone to a single bottle of Sancerre wine along with a box of Cottage Delight Biscuits, Snowdonia Green Thunder Cheese and Snowdonia Red Devil Cheese. Green Thunder is a Cheddar Cheese with roasted garlic and herbs. Red Devil is a Red Leicester with Habanero chillies and peppers. This hamper is presented in one of our wooden gift boxes and is protected with wood wool to ensure safe delivery. You can personalise this gift with a written and printed message. Plus, send it anywhere in the UK with next day or selected date delivery. So no matter the distance, you can make a wine and cheese lover smile with the perfect gift.
---
English Wine Hamper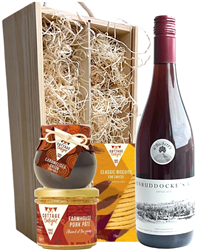 Gift the complete package with this indulgent and delicious English Pinot Noir and gourmet food gift. No matter the occasion, send someone a single bottle of Penruddocke's Red Pinot Noir, perfectly paired with a jar of Cottage Delight Farmhouse Pate With Pork, a jar of pickles and a packet of Oval Alberts Savoury Biscuits. Produced on a'Beckett's Vineyard in Wiltshire, this Pinot Noir is vegan-friendly, award-winning and has some fantastic reviews. Not to mention it has an exceptional fruity yet fresh taste. Presented our wooden gift boxes, this is the ultimate gift for any wine lover. Including a personal message, have it delivered either the next day or on a date of your choice.
---
---
The 10 Best Wine Gifts
Searching for the best gifts for wine lovers can be a little challenging sometimes–especially when it comes to finding something unique.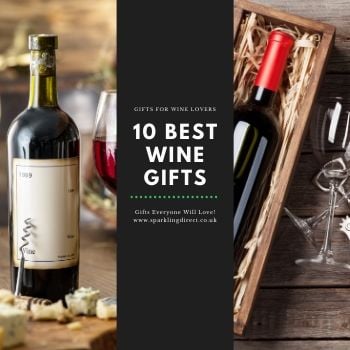 9 Best Wine Gifts For Him
What better gift for him than wine? Take a look at our top nine delicious wine gifts for any man in your life. Go on, we know you want to!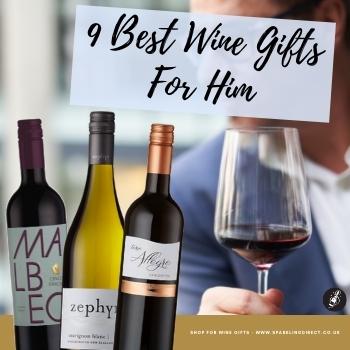 7 Best Wine Gifts For Her
Struggling to find the perfect wine gift for her? Check out our bestselling wine gifts for women here in this exceptional gift guide.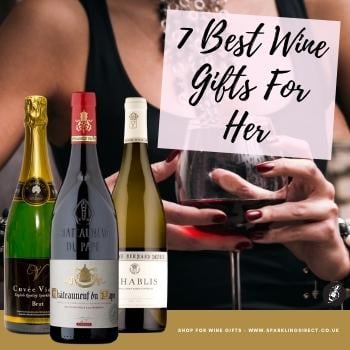 What Do You Write on Personalised Champagne?
Whether it's for a wedding present or a birthday gift, personalising the bottle of champagne with your own inscription can turn it into something extra special that reflects the sentiments of both sender and receiver. But what do you write on personalised bottles?