Red wine makes a great gift for anyone, especially for those who love red wine. So if you're looking for a gift for a man in your life, which wine should you choose?
A bottle of Malbec, Cabernet Sauvignon or Pinot Noir is an ideal wine gift for any occasion. Whether a birthday, anniversary or thank you gift for him, any one of these seven red wine gift sets is sure to make him smile. So why not take a look and send one today? All include a personalised message and UK delivery.
---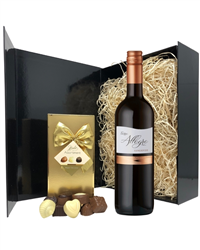 Red Wine and Chocolate Hamper
DELICIOUS WINE & CHOCOLATES HAMPER: Each red wine and chocolate hamper is packed with a bottle of Allegra Sangiovese produced in the vineyards of Northern Italy. A juicy, succulent red wine with savoury cherry and plum characters with a bright ripe fruited finish alongside 125 grams of luscious Belgian chocolates that are sure to a smile on his or her face. A special treat for red wine lovers who love to indulge in the rich and sweet taste of Belgian chocolates. A unique way to show your thanks but with a personalised gift card you can turn your gratitude or love into words. The personalised message card will be carefully delivered alongside the gift hamper to charm and surprise the recipient
---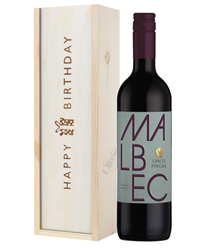 Wine Birthday Gift
Say 'Happy Birthday' to someone you care for in a remarkably unique way when you have one of these truly elegant Argentinian Malbec Red Wine Birthday Gift Boxes delivered to celebrate the event. Produced in the Mendoza region that is located within the foothills of the Andes Mountains in Argentina, this incredible gift box boasts a single bottle of Malbec Red Wine placed inside and comes presented in a truly chic wooden box as well. Taste the delicious flavour that only a variety from Argentina can provide in every single sip of this extraordinary wine blend.
---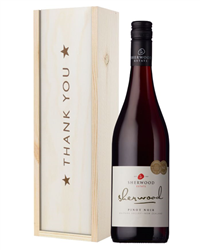 New Zealand Pinot Noir Red Wine Thank You Gift
Boasting a solid wooden box and filled with a bottle of one of New Zealand's best-known grape varieties, this chic and elegant gift set includes a single bottle of Zephyr Pinot Noir. It features a sophisticated appearance, unlike any other. The perfect present to thank anyone in your life from a co-worker or employee to your brother or sister; this New Zealand Pinot Noir Red Wine Thank You Gift Box is designed to fully satisfy anyone you choose to send it to. Delivered in a wood wool lined box and complete with the words 'Thank You' on top; whether you want to thank a friend that was there when you needed them or a family member for always supporting you, this gift box does the job with ease.
---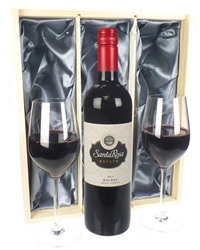 Argentinian Malbec Wine and Glasses
An elegant and remarkably luxurious gift set that comes presented in a chic and sturdy wooden box lined with a lovely and silky-smooth lining inside; from top to bottom this Argentinian Malbec Wine and Glasses Gift Box boasts a truly extraordinary style and form that no other gift set can match. Complete with a single bottle of Santa Rosa Estate Malbec Wine as well as 2 crystal-clear wine glasses within it, this bold and fashionable gift set is made for 2 to enjoy and is ideal for delivery to any wedding celebration or anniversary party, anywhere. Personalize this gift box with a message from you and surprise anyone from your spouse to your parents with this one-of-a-kind gift set to enjoy.
---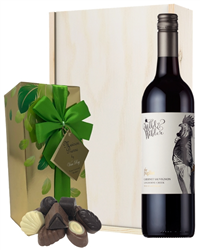 Cabernet Sauvignon Red Wine and Chocolates Gift Set
A magnificent gift box designed for delivery to any event or occasion that comes up; from a birthday celebration to a baby shower and beyond, this Limestone Coast Cabernet Sauvignon Red Wine and Chocolates Gift Set is absolutely certain to make anyone that receives it feel special and truly appreciated as well. Complete with a bottle of Cabernet Sauvignon harvested in Australia and a 250g box of assorted Belgian chocolates included within it, when this present arrives to its intended recipient they'll want to open it and savour every flavour as soon as possible. Send this gift box to your best mate, colleague, client or family member and know they'll be thankful from the very first taste down to the last.
---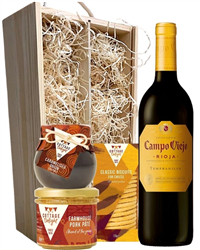 Tempranillo Wine Hamper
Whether for an anniversary, birthday or celebration, treat someone to this luxurious gourmet food and wine hamper. Perfect for sending anywhere in the UK, let someone enjoy a single bottle of Campo Viejo Tempranillo wine together with Cottage Delight Farmhouse Pate with Pork (90g), a jar of fabulous Pickle (115g) and some Oval Alberts Savoury Biscuits (150g). It's the ideal gift for any wine lover! This hamper is presented in one of our wooden gift boxes and is protected with wood wool. You can also add a personalised message to let your lucky recipient know who to thank. Have it delivered straight to their door with next day or selected date delivery anywhere in the UK.
---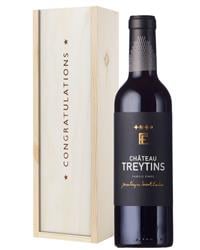 French Bordeaux Red Wine Congratulations Gift
Delivered in a solid and stylish wooden box and stamped with the word 'Congratulations' clearly on top, no matter why you choose to send this French Bordeaux Red Wine Congratulations Gift Box to someone in your life, it's certain to provide absolute satisfaction from start to finish. Complete with a bold bottle of red wine from the Bordeaux region that is created predominately from hand-picked Merlot grapes; not only does this wine feature a strong nose of red fruits, it also includes a fabulous and fresh flavour that anyone from a wine novice to an aficionado will love every single sip of.
---
9 Best Easter Red Wine Gifts | Top 5 Red Wine Christmas Gift Sets
---
The 10 Best Wine Gifts
Searching for the best gifts for wine lovers can be a little challenging sometimes–especially when it comes to finding something unique.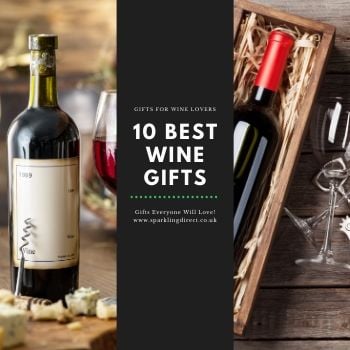 7 Best Gifts For Dads Who Love Wine
Treat your dad to a superb wine gift. Dads who love a glass of wine will be delighted to receive one of our gift sets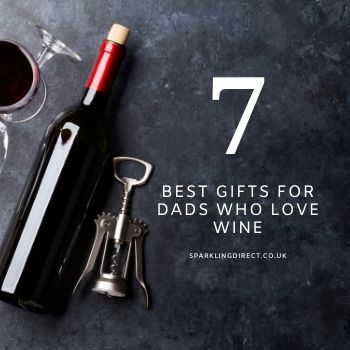 9 Gift Sets For Malbec Wine Lovers
If there's a malbec wine lover on your gift list, birthday list, or just because, the following 9 gift ideas for wine lovers will help you find a thoughtful gift that they will enjoy.