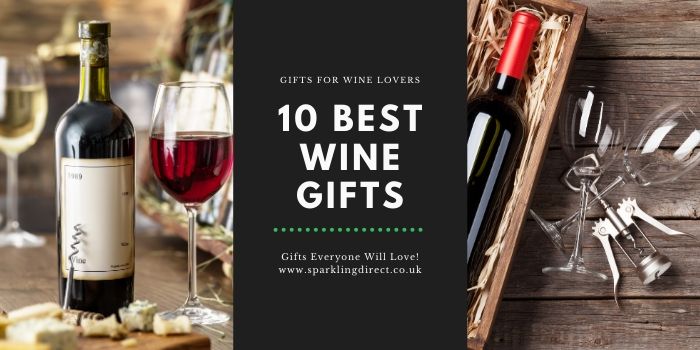 Looking for unique gifts for wine enthusiasts can be a bit of a challenge, but we've got you covered with our top ten best-selling wine gifts for 2023. Among our selection, you'll find something special for any occasion.
Stop your search for the perfect wine gift right here! When it comes to gift-giving, a bottle of wine is always a great choice. It's versatile and can be enjoyed on its own or paired with a meal. Plus, it's a convenient last-minute gift option that can be delivered throughout the UK. Whether you're shopping for a friend, family member, or wine connoisseur, we have you covered. Send a bottle of wine from our top 10 list, which features the gifts our customers have been buying online for the past 12 months. Trust us, you'll love them too!
---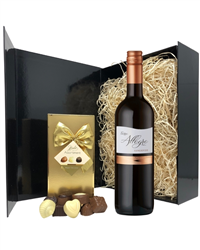 1. Red Wine and Chocolate Hamper
Each red wine and chocolate hamper is packed with a bottle of Allegra Sangiovese produced in the vineyards of Northern Italy. A juicy, succulent red wine with savoury cherry and plum characters with a bright ripe fruited finish alongside 125 grams of luscious Belgian chocolates that are sure to a smile on his or her face. A special treat for red wine lovers who love to indulge in the rich and sweet taste of Belgian chocolates. A unique way to show your thanks but with a personalised gift card, you can turn your gratitude or love into words. The personalised message card will be carefully delivered alongside the gift hamper to charm and surprise the recipient
---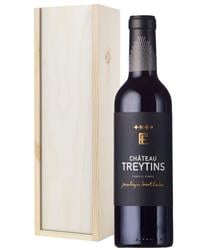 2. French Bordeaux Red Wine Gift
A full, fresh-tasting red wine that captures your heart from the very first sip; boasting a strong nose of red fruits and predominantly created from hand-picked Merlot grapes, the single bottle of Chateau Treytins French Bordeaux Red Wine contained within this gift box is truly as tasty as a bottle of wine can get. Easy to personalise with a message straight from your soul, this French Bordeaux Red Wine Gift Box makes a great gift to send for any special event or occasion that comes up on your calendar. From the Bordeaux region of France, this gift box offers everything you need to provide someone you care for with an extra special surprise to enjoy.
---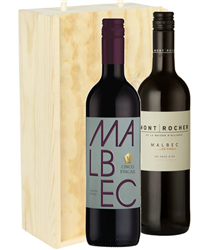 3. Malbec Mixed Two Bottle Wine Gift
Presented in a gorgeous wooden gift box designed for secure delivery to any location, this extraordinarily delicious Malbec Mixed Two Bottle Wine Gift Box allows the recipient to enjoy more than one variety of different Malbec wine flavours. Ideal as a gift for someone with a true appreciation of bold Malbec grapes, this incredible box boasts two types of truly rich wine within it; one from the foothills of the Andes in Argentina, and one from the vineyards of France. Easily personalised so you can assure the recipient knows who to thank, this one of a kind unit is certain to be savoured by anyone lucky enough to receive it.
---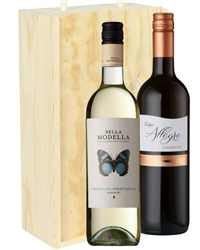 4. Italian Mixed Two Bottle Wine Gift
A stylish, sophisticated gift that makes the perfect present to give at any particularly classy occasion, this Italian Mixed Two Bottle Wine Gift Box is ideal for delivery to any wedding, birthday party or another similar type of special event. Presented in a sleek wooden box that is lined with wool for secure delivery to your intended location, this high-quality gift box can also be personalised with a heartfelt message from you along with it as well. An elegant gift box that includes a single bottle of Sangiovese wine as well as a single bottle of Pinot Grigio, this set allows anyone to explore Italy through the flavours its vineyards provide.
---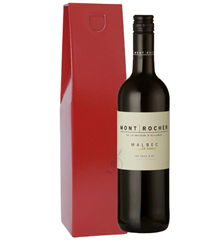 5. French Malbec Red Wine Gift Box
Ideal for enjoying on a cold winter evening to warm up in a truly delicious way, from the very first sip the remarkable bottle of Mont Rocher French Malbec red wine, you'll wish you could drink it all day, every day, for the rest of your life. Produced in Limoux, located in the south of France, this incredibly tasty bottle of wine boasts a lovely and fruity flavour that any recipient is sure to enjoy. Presented in a stunning red gift box and the perfect present to send to any event from a wedding to a birthday and beyond; this French Malbec Red Wine Gift Box will instantly become the best gift they receive from the very moment it arrives.
---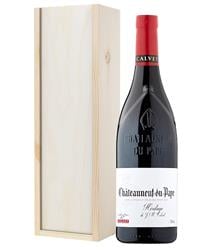 6. Chateauneuf Du Pape Red Wine Gift
The perfect way to send congratulations, good luck, best wishes or even just love to someone you care for, this remarkably sophisticated Chateauneuf Du Pape Red Wine Gift Box is sure to bring a smile to the face of anyone lucky enough to receive it. Housed in a smooth, incredibly sturdy, and unbelievably stylish wooden box filled with wool for true protection of the bottle found within; this gift box also includes a single bottle of Val De Garrigue Chateauneuf Du Pape red wine that offers a full, delicious flavour that no other blend can hope to provide.
---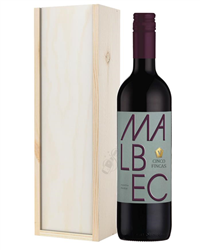 7. Argentinian Malbec Red Wine Gift
Ideal for delivery to anyone in your life that could use a little something special, this lovely Argentinian Malbec Red Wine Gift Box makes the perfect gift for any occasion or event that presents itself. Presented in a simple, stylish wooden box and crafted to arrive looking it's best, this truly remarkable gift box includes a single bottle of Argentinian Malbec Red Wine from Santa Rosa Estates, from the wine region of Mendoza at the foothills of the Andes Mountains. Bold, full of flavour and delightful in every way, this box can include a personalised message along with it if desired as well.
---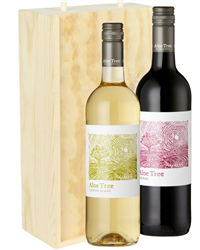 8. South African Mixed Two Bottle Wine Gift
A lovely combination of wines from South Africa, the Aloe Tree brand is produced on the Western Cape, and each features its own bold, delicious taste that any wine aficionado, or novice, will truly appreciate. Housed within a simple wooden box and beautifully secured for delivery, this incredible South African Mixed Two Bottle Wine Gift Box makes a one of a kind anniversary, birthday, or wedding, or any other special occasion, gift. The bottle of white wine is a zesty, tropical flavour created from a Chennin Blanc grape variety while the bottle of red wine is a bold bottle of Shiraz any wine lover will love.
---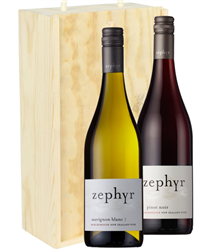 9. New Zealand Mixed Two Bottle Wine Gift
A lovely white Sauvignon Blanc together with a great Pinot Noir red wine both from the northern tip of New Zealand's South Island. Both these wines are produced by the Glover family and sold under their Zephyr wine label. Both wines are great examples of two of New Zealand's favourite grape varieties.
---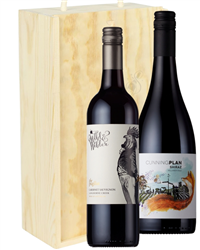 10. Australian Red Two Bottle Wine Gift
Presented in our wooden gift box why not send a bottle of Shiraz – The Cunning Plan with its classic Mclaren taste together with a bottle of The Pugilist, a Cabernet Sauvignon wine from the Limecoast region of Australia.
---
7 Best Christmas Wine Gift Boxes | 10 Best Wine Gifts For Friends
---
14 Birthday Gift Ideas For Red Wine Drinkers
These unique birthday gifts for red wine lovers include classics from the Bordeaux and Chateauneuf Du Pape wine regions.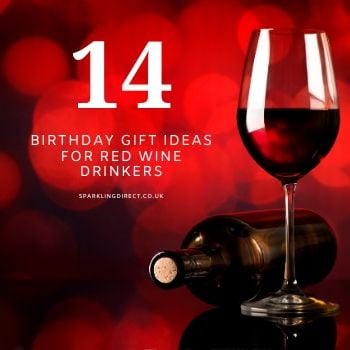 9 Gifts For Red Wine Drinkers
Looking for gifts for a red wine lover? Listed below are 9 great gifts for anyone who loves a glass or two of red wine.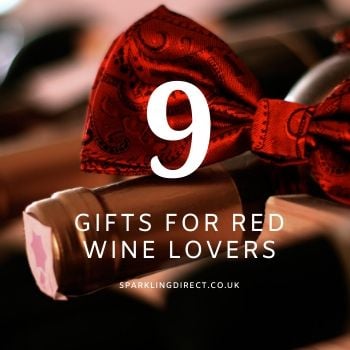 Top 5 Pinot Grigio Wine Gifts
Finding the right pinot grigio gift for your friends and family can be a little challenging sometimes–especially when it comes to finding the right price. Here is a list of some of our most popular gifts at varying prices.