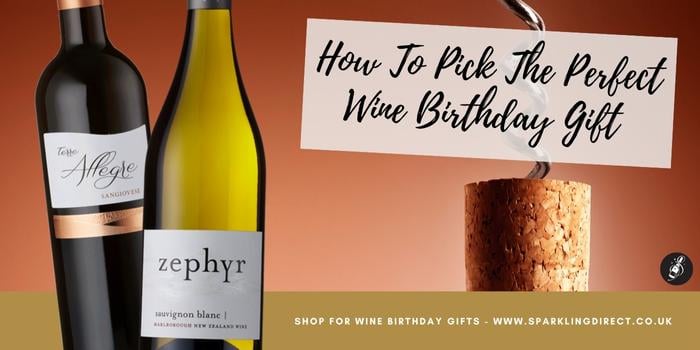 When it comes to picking a birthday gift for a wine lover's birthday, you can feel quite overwhelmed. But we've broken it down into this simple guide for choosing the right wine gift for your recipient. So what is a good wine gift?
1. Decide what gift you're looking for. Are you looking to get a simple gift for a colleague or an elaborate gift for a close loved one? We offer a wide range of wine birthday gifts so it helps to narrow this down before browsing.
2. Consider what your recipient enjoys. It's best to send a birthday wine gift that your recipient will enjoy, which is why this is important. If they love red wine then it's clear you should look for a red wine gift as opposed to white wine. You'll find a wide range of wines across our site, tailored to everyone's tastes and preferences.
3. Look at what we've recommended. We know what we're talking about when it comes to wine gifts. So if we've recommended a gift, you can trust it's a good one! Take a look at our blog pages to view our recommended gifts for wine lovers or get in touch for a more in-depth opinion.
We've selected five wine gifts to get you started on finding that perfect birthday gift! Each is presented in a wooden box and includes a personalised message and UK delivery. Whether for a family member, friend, colleague or neighbour, we've got the gift. So take the stress away and start browsing!
---
Red Wine and Balloon Birthday Gift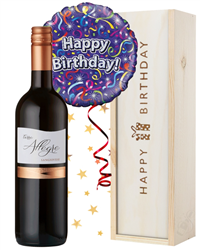 Sending birthday wishes to someone you care for has never been easier or more fun than this. From the vineyards of Italy a bottle of Terre Allegre, Sangiovese Italian Red Wine presented in a solid wooden box and stamped with the words 'Happy Birthday' beautifully on top; this amazing gift set also includes an inflated 'Happy Birthday' helium balloon that pops out as a surprise when the box is opened upon arrival. An excellent gift for any red wine aficionado, a fresh, medium-intensity ruby red wine with hints of jam. The taste is velvety with sweet tannins and light notes of jam. This fantastic gift box allows you to send thoughtful birthday wishes to anyone in your life from a friend to your boyfriend, girlfriend, in-laws or even a co-worker.
---
Wine and Chocolate Birthday Gift Box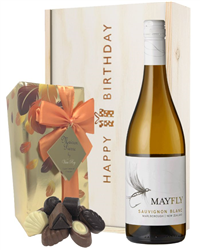 Indulge in pieces of New Zealand and Belgium with this celebratory birthday gift box. Nothing says sophisticated birthday than a single bottle of tasteful and refined Zephyr Sauvignon Blanc. Delicately paired with a box of sweet, assorted Belgian chocolates to surprise any recipient. Sent together in a wooden box with Happy Birthday printed on the lid, this gift set is perfect for any birthday occasion. Finish off the order with a personal message to send extra celebrations and get it delivered the next day anywhere in the UK.
---
Red Wine and Cheese Hamper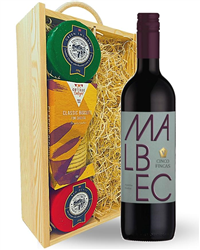 Looking for the ultimate gift for a wine or cheese lover? We've got a perfect choice! Treat someone to this exceptional cheese and wine hamper, containing a single bottle of Malbec wine, a box of Cottage Delight Biscuits, Snowdonia Green Thunder Cheese and Snowdonia Red Devil Cheese. Green Thunder is a Cheddar Cheese with roasted garlic and herbs. Red Devil is a Red Leicester with Habanero chillies and peppers. This Hamper is presented in one of our wooden gift boxes and is protected with wood wool. You can personalise this gift with a written gift message and send it anywhere in the UK with next day or selected date delivery.
---
Pinot Grigio Rose Wine Birthday Gift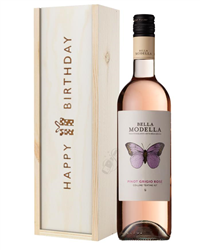 An incredibly elegant way to wish someone you care for a truly happy birthday; from the moment this absolutely stunning gift box arrives you can be certain the recipient will be filled with appreciation from the inside out. Presented in a solid and stunning wooden gift box with the words 'Happy Birthday' printed perfectly on top, this Pinot Grigio Rose Wine Birthday Gift Box is designed to stand out from any other birthday gift they receive this year. Offering a bottle of one of Italy's most famous grape varieties, pinot grigio, within it and amazingly chic and elegant as well; no other gift option will make the statement that this one does when it's delivered.
---
Chablis and Chateauneuf-du-Pape Mixed Bottle Wine Gift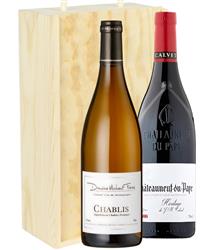 A bold combination of wines ideal for anyone with an eclectic sense of taste. An incredible gift that contains a bottle each of red and white wine within it; this set contains a single bottle of Chablis and well as a single bottle of Chateauneuf Du Pape, both of which offer truly incredible flavour to enjoy. Featured in a stunning wooden gift box that is lined with wool and is specially designed for secure delivery of both bottles within one package, this Chablis and Chateauneuf-Du-Pape Mixed Two Bottle Wine Gift Box is the perfect present for any recipient whose wine preferences you may be unaware of.
---
---
12 Best Wine Birthday Gift Ideas
If you've got a wine lover celebrating a birthday, these gifts are sure to impress! Take a look at our top 12 wine birthday gifts here in this post.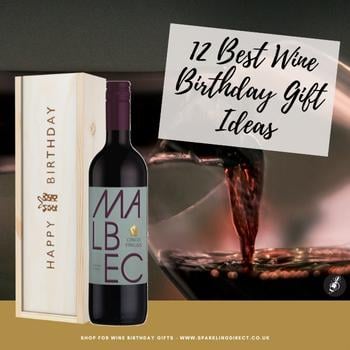 Is A Bottle Of Wine A Good Birthday Gift?
Wondering whether to send wine for someone's birthday? Find out whether it makes a good gift here in this exclusive post.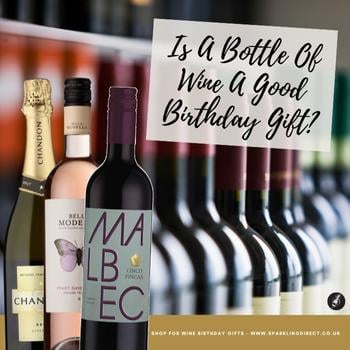 Top 5 Red Wine Birthday Gifts
Trying to find the perfect red wine birthday gift? We have five gift sets every red wine lover would be delighted to receive! Take a look here.