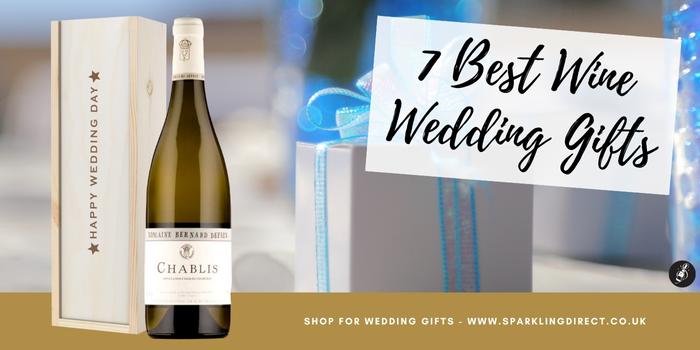 When it comes to wine wedding gifts, knowing what to buy isn't always as simple as it seems. So is Wine a suitable wedding gift?
Wine makes a great wedding gift, as well as a fantastic treat for any newlyweds! Let the happy couple start married life in style with one of these exceptional wine gifts. Plus, you can send one straight to their doorstep! So even if you can't be there for the wedding, you can still send a gift!
---
Wine Wedding Gift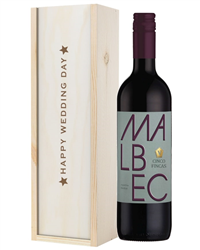 Whether you've already got the newlyweds a present or not, why not surprise them with this beautiful wedding gift arriving at their door? Let them revel in excitement over their next chapter together with a single bottle of Argentinian Malbec to enjoy. It's packaged and presented in one of our traditional wooden gift boxes and has 'Happy Wedding Day' printed on the lid, making it an extra special gift. Add a personal message to share the happiness and let them know you're thinking of them. Get it delivered straight to their door with next day or selected date delivery anywhere in the UK.
---
Sparkling Wine and Chocolates Gift Set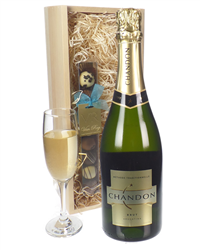 Just the gift set any particularly elegant event needs to be truly complete, from front to back this Chandon Sparkling Wine and Chocolates Gift Box features total style and absolute sophistication unlike any other type of present available for delivery. Presented in a chic and sturdy wooden box and filled with wood wool to ensure secure delivery to any location required, this amazingly high-quality gift box includes a single bottle of Chandon Sparkling Brut wine as well as a 110g box of delicious truffles within it for enjoyment. Personalise this set with a message from you and send it to any birthday, anniversary, or house-warming party you choose, anywhere.
---
Port and Cheese Hamper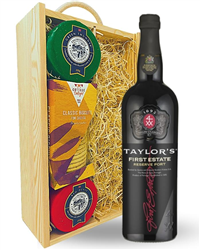 Whether for a family gathering or a romantic night in, no evening is complete without this exceptional port and cheese hamper. Surprise any friend, family member or colleague with a single bottle of Taylors First Estate Reserve Port along with a box of Cottage Delight Biscuits, Snowdonia Green Thunder Cheese and Snowdonia Red Devil Cheese. Green Thunder is a Cheddar Cheese with roasted garlic and herbs. Red Devil is a Red Leicester with Habanero chillies and peppers. It's all presented in one of our wooden gift boxes and is protected with wood wool to ensure safe delivery. Personalise this gift with a written message and have it delivered anywhere in the UK with next day or selected date delivery.
---
White Wine Wedding Gift
What better way to celebrate a new chapter together than with a bottle of delicious white wine? Treat the newlyweds to this elegant gift containing a single bottle of French Chablis to enjoy together as they look back on their big day. Available to send anywhere in the UK, it's packaged and presented in one of our gorgeous wooden gift boxes with 'Happy Wedding Day' printed on the lid. You can also add a personal message to let them know it was you who sent such a lovely gift. Have it delivered either the next day or on a date of your choice and give them a delightful surprise. It's a perfect wedding gift.
---
Red Wine and Chocolate Hamper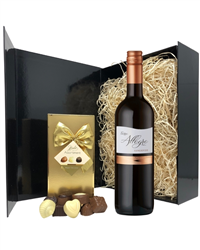 DELICIOUS WINE & CHOCOLATES HAMPER: Each red wine and chocolate hamper is packed with a bottle of Allegra Sangiovese produced in the vineyards of Northern Italy. A juicy, succulent red wine with savoury cherry and plum characters with a bright ripe fruited finish alongside 125 grams of luscious Belgian chocolates that are sure to a smile on his or her face. A special treat for red wine lovers who love to indulge in the rich and sweet taste of Belgian chocolates. A unique way to show your thanks but with a personalised gift card you can turn your gratitude or love into words. The personalised message card will be carefully delivered alongside the gift hamper to charm and surprise the recipient
---
Mixed Two Bottle Wine Gift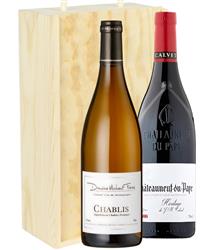 A bold combination of wines is ideal for anyone with an eclectic sense of taste. An incredible gift that contains a bottle each of red and white wine within it; this set contains a single bottle of Chablis and well as a single bottle of Chateauneuf Du Pape, both of which offer truly incredible flavour to enjoy. Featured in a stunning wooden gift box that is lined with wool and is specially designed for secure delivery of both bottles within one package, this Chablis and Chateauneuf-Du-Pape Mixed Two Bottle Wine Gift Box is the perfect present for any recipient whose wine preferences you may be unaware of.
---
Aix Provence Rose Magnum Wine Gift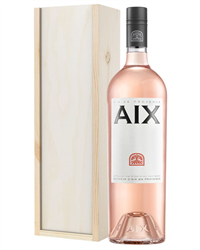 Made in the heart of Provence, this delicate and beautiful rose is one of France's finest. Sold in its magnum format, it's guaranteed to provide plenty of glasses no matter the celebration. Transport yourself, or someone you know, into the tranquillity of the south of France with this exceptional bottle and bring a bit of Provence into your occasion. Sophisticated and classic, Aix will impress whoever receives it. Delivered in a wooden gift box and protected with wood wool, this bottle will look as good as it tastes upon arrival.
---
---
Top 10 Champagne Wedding Gifts
There's no event more fitting for Champagne than a wedding. When thinking of a gift for the happy couple, you should always consider a fancy bottle of bubbly to make the occasion memorable and unique.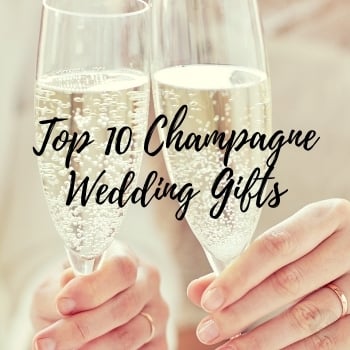 Top 5 Prosecco Wedding Gifts
Every wedding needs to hear the pop from a bottle of fizzing prosecco. Nothing says celebrations more than a bubbly bottle of Prosecco, especially if it comes in a gorgeous gift set.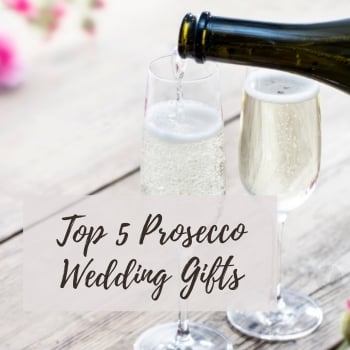 Is Champagne A Good Wedding Gift?
Considering sending Champagne as a wedding gift? Take a look at this fantastic gift guide perfect for any happy couple.