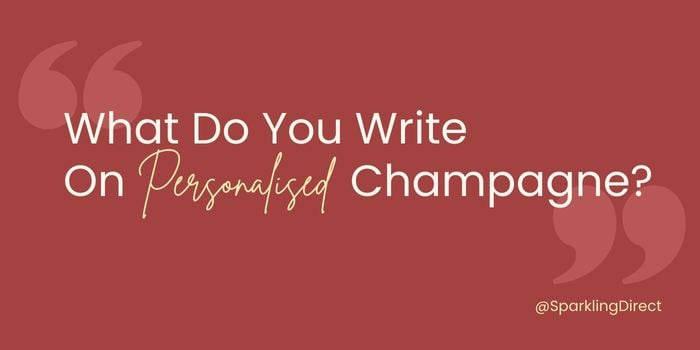 Picking out a bottle of Personalised Champagne can be daunting – there's so much to consider, from what type of bubbles to choose, to the design of your personalisation. But when you find the perfect combination and hold it up in celebration with friends or family, it adds that extra touch to any special occasion.
In this blog post, we'll look at some creative options for what you can write on personalised champagne bottles – from clever puns to heartfelt messages – and how best to create them for different occasions! So settle down with a glass of bubbly; let's get personalising some bottles together!
Let's Get Creative!
A special message for a birthday, such as "Happy Birthday [Name]" or "Cheers to [Age] Years"
A congratulatory message for a special occasion, such as "Congratulations on Your [Graduation/Promotion/Wedding]"
A heartfelt thank you message, such as "Thank You for Being Such a Special [Friend/Partner/Parent]"
A romantic message for a couple, such as "To Us, Forever" or "Our Love Story"
A fun, playful message, such as "Pop the Bubbly, It's Time to Celebrate!" or "Let's Get Sparkly"
A personalised quote or saying, such as "Life is Too Short to Drink Cheap Champagne" or "Celebrate Life's Bubbly Moments"
An inside joke or reference that is meaningful to the recipient
A message that highlights a shared interest or hobby, such as "Raising a Glass to Our Love of [Food/Travel/Adventure]"
A milestone message, such as "Celebrating [X] Years Together" or "Toasting to [X] Amazing Years"
A message that incorporates the recipient's name, such as "To [Name], With Love and Bubbles" or "[Name]'s Sparkling Celebration"
---
Personalised Champagne Gift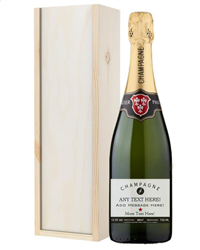 Are you looking for the perfect gift for a special occasion? Look no further! Our Personalised Champagne Gift is sure to impress and delight your recipient. This gift includes a luxurious 75cl bottle of Paul Langier Champagne, presented in a stylish wooden gift box. The bottle can be customised with your own words, making this gift truly unique and special. Imagine the look on your recipient's face when they open this thoughtful and sophisticated gift. Whether you're celebrating a birthday, anniversary, or just want to show your appreciation, our Personalised Champagne Gift is a perfect choice. Don't wait to give this amazing gift! Our convenient next-day delivery or date of your choice option means you can have it delivered straight to your recipient's door, no matter where they are. Order now and make someone's day extra special with our Personalised Champagne Gift.
---
Personalised Champagne Birthday Gift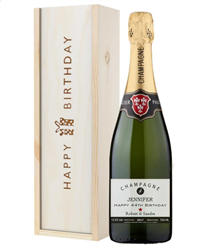 Personalised Champagne birthday gift. Send a gift like no other by personalising a 75cl bottle of Paul Langier Champagne. Delivered in a sturdy wooden box with the words 'Happy Birthday' stamped perfectly on top of the box itself, whether you send this box to your best friends birthday party or the home of a family member or colleague from work, its absolutely certain to fill any recipient with warmth and love directly from you. Also included is a greeting card message from you if desired, which gets printed and inserted into the box. Start personalising the bottle label now by clicking the personalise label button below.
---
Personalised Champagne Congratulations Gift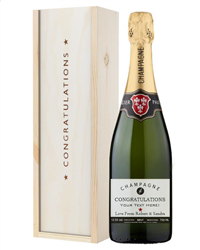 Send a personalised Congratulations Champagne Gift and let them know they deserve it! Whether they got a promotion, exam results or are celebrating a life milestone, this bottle of Paul Langier Champagne will help them celebrate in style. Delivered in a solid wooden box with the word 'Congratulations' printed on the lid. You can have it delivered anywhere in the UK on the date of your choice. Extend your congratulations by adding a personal message during the checkout process and will insert it with the bottle in the box.
---
Personalised Thank You Champagne Gift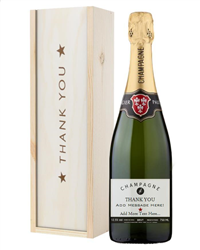 Express your thanks with a personalised Champagne Thank You gift. This single bottle of Paul Langier Brut is the ultimate way to express your gratitude. The label can be personalised with your own text. The bottle is then presented in our classic solid wooden box with the words 'Thank You' printed on the lid. A longer message can also be created during checkout, this will get inserted with the bottle. And if you want to go the extra mile an option to add a Thank You Helium balloon will be offered when checking out.
---
Personalised Champagne Engagement Gift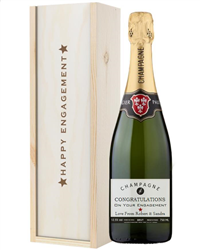 Show your delight for the newly engaged couple with this special bottle of Paul Langier Brut Champagne – complete with a personalised label. Make it extra memorable by adding their names and/or the date of engagement! To top off this thoughtful gift, have it delivered in one of our classic boxes featuring 'Happy Engagement' on its lid – plus an additional card containing your own heartfelt message to share best wishes for their upcoming nuptials. Delivered either next day or whenever else fits best into their schedule – this champagne makes for one unforgettable congratulations present!
---
---
Personalised Champagne Bottle with Photo – Make Your Own Unique Gift!
Add a personal touch to your celebrations with this beautiful Personalised Champagne Bottle. The bottle can be personalised with any photo you choose, making it the perfect gift for any special occasion. With FREE UK delivery available, order yours today!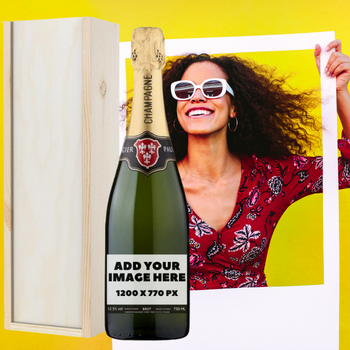 7 Personalised Champagne Gifts Your Friends Will Love
Looking for a unique gift? Check out these personalised champagne gifts that will make any occasion special. From birthday to anniversary, these champagnes are sure to please. Add a personal touch with a custom message or name for the recipient. Order now and have them delivered in time for the celebration!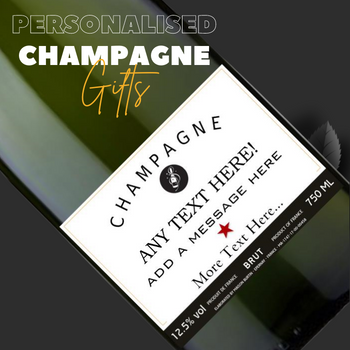 Personalised Birthday Champagne – Make it Extra Special!
Make their birthday extra special with a personalised bottle of champagne! Add any text you like to the label for a unique and memorable gift. Cheers!