Wine is a delicious gift, but which one do you get him? If you're struggling to find a delicious wine gift, this post is the ultimate gift guide.
Whether red wine and cheese or a bottle of sparkling wine and chocolates, these wine gifts are perfect for any occasion. No matter what he loves, you'll find the right bottle here. So why not take a look and send one straight to his door? It's the perfect gift for any man who loves wine!
---
Red Wine and Cheese Hamper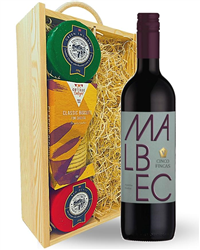 Looking for the ultimate gift for a wine or cheese lover? We've got a perfect choice! Treat someone to this exceptional cheese and wine hamper, containing a single bottle of Malbec wine, a box of Cottage Delight Biscuits, Snowdonia Green Thunder Cheese and Snowdonia Red Devil Cheese. Green Thunder is a Cheddar Cheese with roasted garlic and herbs. Red Devil is a Red Leicester with Habanero chillies and peppers. This Hamper is presented in one of our wooden gift boxes and is protected with wood wool. You can personalise this gift with a written gift message and send it anywhere in the UK with next day or selected date delivery.
---
White Wine Birthday Gift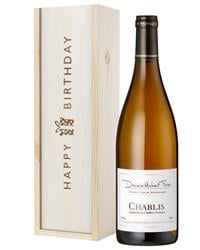 A beautiful birthday gift that any wine aficionado will fully appreciate every sip of; when this Chablis Wine Birthday Gift Box arrives, you can be certain the recipient will clearly understand why they are receiving such an elegant gift. Presented in a solid wooden box and perfect for delivery to any party location anywhere, this remarkable gift set comes with the words 'Happy Birthday' printed clearly on top. It will bring a smile to the face of anyone you choose to send it to. Complete with a single bottle of Chablis that will keep them reaching for more until the bottle is gone, this uniquely posh present option is perfect for anyone from your grandma to an aunt, cousin, teacher, tutor or friend.
---
New Zealand Sauvignon Blanc Wine Hamper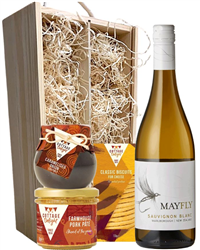 An amazingly unique gift box that boasts an array of truly remarkably flavours from start to finish; this New Zealand Sauvignon Blanc Wine and Gourmet Food Gift Box features a chic appearance and a high-quality form that no other gift set can offer. Complete with a single bottle of New Zealand Sauvignon Blanc White Wine from the Marlborough region of New Zealand, a 90g jar of Cottage Delight Farmhouse Pate with Pork, a 115g jar of pickles as well as a 150g package of Oval Alberts Savoury Biscuits. This incredibly tasty gift box is created to provide everything you've been searching for in a gift that says 'thank you', 'happy birthday' or even 'congratulations' with absolute ease.
---
Rioja Red Wine Congratulations Gift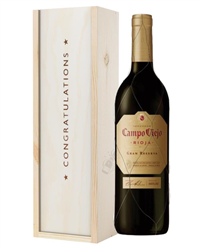 Perfect for any celebrations, send someone a delicious congratulations with this red wine gift set. Let them pop open a single bottle of Campo Viejo Gran Reserva Wine to share with loved ones or keep to themselves! It's elegantly presented in one of our wooden gift boxes with 'Congratulations' printed on the sliding lid. To ensure safe delivery across the UK, it's also protected with wood wool and can be sent either the next day or on a selected date delivery. Plus, complete and personalise this gift with a message to make your recipient feel like the luckiest person in the world. It's the perfect gift to send!
---
Malbec Red Wine and Chocolates Gift Set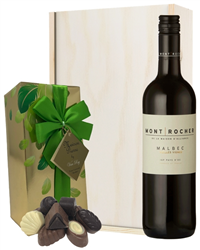 Treat someone to a beautiful night in with this celebratory wine and chocolate hamper. Perfect for any wine lover, send someone a single bottle of French Malbec Red Wine along with a delightful box of assorted Belgian chocolates. It's an excellent pairing that makes an exceptional gift no matter the occasion. It's presented in one of our wooden gift boxes and also contains a personalised message, making it not only thoughtful but stylish. It's protected with wood wool to ensure safe delivery anywhere in the UK with next day or selected date delivery. It's the perfect gift to make someone smile!
---
Pouilly Fume White Wine Thank You Gift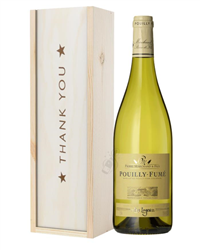 Featuring an incredible bottle of wine produced from the very best Sauvignon Blanc grapes to create a dry white wine unlike any other; from the first sip to the last, the bottle of Pouilly-Fume Sauvignon Blanc white wine within this gift set provides nothing but completely delectable flavours anyone will appreciate. An amazing present option that makes it clear how thankful you truly are, every inch of this Pouilly Fume White Wine Thank You Gift Box features a chic and high-quality design that is perfect for delivery to any recipient from a teacher or tutor to a co-worker, friend or family member that could use a little something special. Customise this box with a personal message and send it on its way any time of the year you desire.
---
English Wine Gift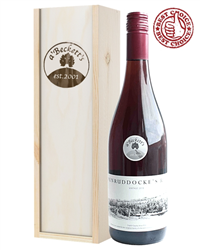 Indulge in a gorgeous glass of red wine with this English Pinot Noir gift. Whether to send for an occasion or just because, treat someone to a single bottle of Penruddocke's Red Pinot Noir from a'Beckett's Vineyard. Produced in Wiltshire, this red is an award-winner with great reviews and perfect with a meal or even chilled. Plus, it's vegan friendly. Full of fruity notes yet fresh flavour, this is a perfect gift for any wine lover. It comes packaged and presented in one of our beautiful wooden gift boxes and can be delivered anywhere in the UK. Next day and selected date delivery are available, and you can even add your own personal message.
---
Cava And Belgian Chocolates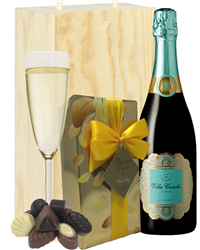 Carefully packaged and perfectly contained within a solid wooden gift box; the bottle of Villa Conchi Cava and 250g ballotin of assorted Belgian chocolates contained within this chic and sturdy gift box is designed to fully satisfy anyone fortunate enough to receive it. Easy to customise with a personal message from you and ideal for delivery for any event of occasion that comes up; every inch of this Cava and Belgian Chocolate Gift Box is meant to fill any recipient with true warmth and absolute appreciation in a way that no other gift ever could. Send this bold gift set to your brother, cousin, aunt, father or friend and know for absolute certain they'll savor every single taste.
---
Italian Mixed Two Bottle Wine Gift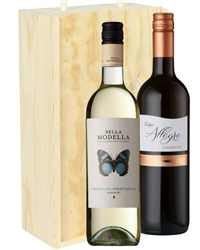 A stylish, sophisticated gift that makes the perfect present to give at any particularly classy occasion, this Italian Mixed Two Bottle Wine Gift Box is ideal for delivery to any wedding, birthday party or other similar type of special event. Presented in a sleek wooden box that is lined with wool for secure delivery to your intended location, this high-quality gift box can also be personalised with a heartfelt message from you along with it as well. An elegant gift box that includes a single bottle of Sangiovese wine as well as a single bottle of Pinot Grigio, this set allows anyone to explore Italy through the flavors its vineyards provide.
---
---
7 Best Gifts For Dads Who Love Wine
Treat your dad to a superb wine gift. Dads who love a glass of wine will be delighted to receive one of our gift sets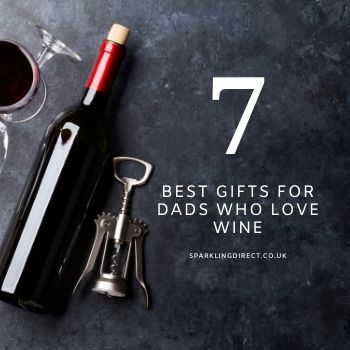 10 Best UK Wine Hampers
Wine makes a great gift hamper for any occasion. So if you're looking for a gift to give to a Wine lover, you'll be considering a wine hamper. But what is a good wine to choose?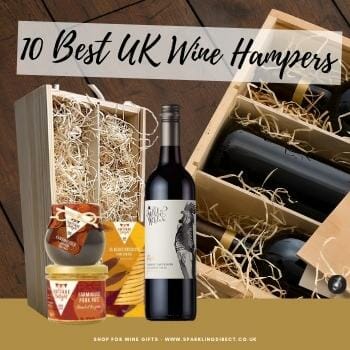 The 10 Best Wine Gifts
Searching for the best gifts for wine lovers can be a little challenging sometimes–especially when it comes to finding something unique.