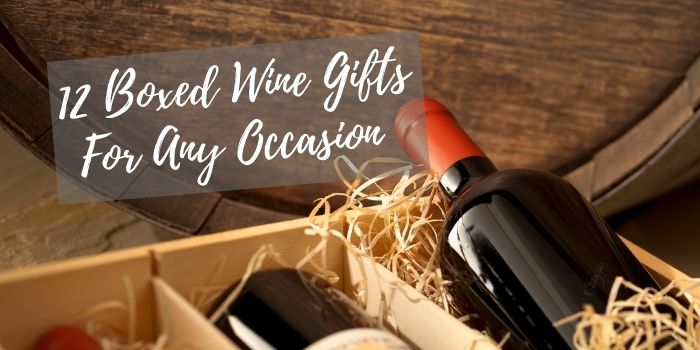 Wine is great to send as a gift for any event. It can help celebrate birthdays, leaving parties, graduations and house warmings or show someone how much you care. But what do you get for someone who likes wine?
Boxed wine gift sets are perfect gifts for wine lovers. From elegant and unique wine and food hampers to a celebratory prosecco gift basket, we've got plenty of options, including personalised cards for that extra touch. All delivered within the UK, these boxed wine gifts are perfect no matter the occasion.
---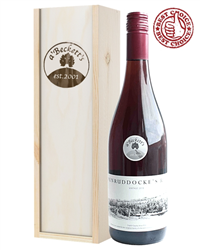 English Wine Gift
Indulge in a gorgeous glass of red wine with this English Pinot Noir gift. Whether to send for an occasion or just because, treat someone to a single bottle of Penruddocke's Red Pinot Noir from a'Beckett's Vineyard. Produced in Wiltshire, this red is an award-winner with great reviews and perfect with a meal or even chilled. Plus, it's vegan friendly. Full of fruity notes yet fresh flavour, this is a perfect gift for any wine lover. It comes packaged and presented in one of our beautiful wooden gift boxes and can be delivered anywhere in the UK. Next day and selected date delivery are available, and you can even add your own personal message.
---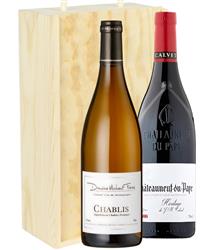 Chablis and Chateauneuf-du-Pape Mixed Two Bottle Wine Gift
A bold combination of wines ideal for anyone with an eclectic sense of taste. An incredible gift that contains a bottle each of red and white wine within it; this set contains a single bottle of Chablis and a single bottle of Chateauneuf Du Pape, both of which offer truly incredible flavour to enjoy. Featured in a stunning wooden gift box that is lined with wool and is specially designed for secure delivery of both bottles within one package, this Chablis and Chateauneuf-Du-Pape Mixed Two Bottle Wine Gift Box is the perfect present for any recipient whose wine preferences you may be unaware of.
---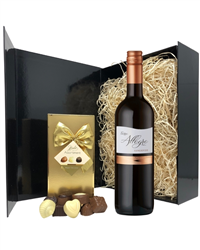 Red Wine and Chocolate Hamper
Each red wine and chocolate hamper is packed with a bottle of Allegra Sangiovese produced in the vineyards of Northern Italy. A juicy, succulent red wine with savoury cherry and plum characters with a bright ripe fruited finish alongside 125 grams of luscious Belgian chocolates that are sure to a smile on his or her face. A special treat for red wine lovers who love to indulge in the rich and sweet taste of Belgian chocolates. A unique way to show your thanks but with a personalised gift card you can turn your gratitude or love into words. The personalised message card will be carefully delivered alongside the gift hamper to charm and surprise the recipient
---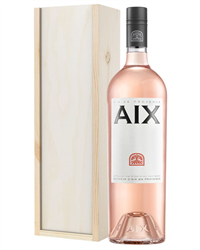 Aix Provence Rose Magnum Wine Gift
Made in the heart of Provence, this delicate and beautiful rose wine is one of France's finest. Sold in its magnum format, it's guaranteed to provide plenty of glasses no matter the celebration. Transport yourself, or someone you know, into the tranquillity of the south of France with this exceptional bottle and bring a bit of Provence into your occasion. Sophisticated and classic, Aix will impress whoever receives it. Delivered in a wooden gift box and protected with wood wool, this bottle will look as good as it tastes upon arrival.
---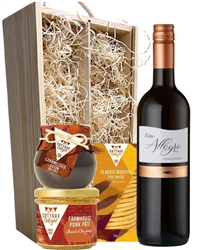 Italian Wine & Gourmet Food Gift Box
A fabulously fashionable gift set that features an extraordinary combination of flavours unlike any other; this gift box includes a single bottle of Sangiovese Italian Primitivo Red Wine as well as a 90g jar of Cottage Delight Farmhouse Pate with Pork, a 115g jar of pickles and a 150g package of Oval Alberts Savoury Biscuits within it to enjoy. Easy to personalize with a message from you if desired, this gift set comes presented in a remarkably solid wooden gift box lined with wood wool to ensure secure delivery to any location, anywhere. This durable and elegant gift box is made to bring true satisfaction to anyone fortunate enough to receive it, no matter the occasion it's sent for.
---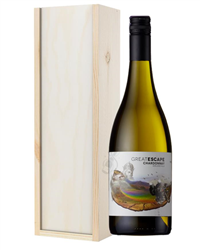 Australian Chardonnay White Wine Gift in Wooden Box
Smooth, crisp, and amazingly delicious throughout each and every glass, from the moment the cork is popped the single bottle of Great Escape Chardonnay found within it is certain to fully satisfy anyone that tastes it. Produced and harvested in the Eden Valley of Australia and the perfect present for anyone in your life to enjoy, this Australian Chardonnay White Wine Gift Box is a chic and flavourful addition to any event. Delivered in a high-quality wooden gift box and lined with wood wool to assure safe delivery, this gift box can also include a personal message from you if desired as well.
---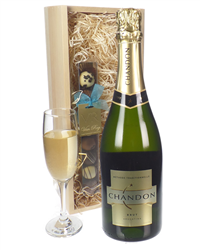 Sparkling Wine and Chocolates Gift Set in Wooden Box
Just the gift set any particularly elegant event needs to be truly complete, from front to back this Chandon Sparkling Wine and Chocolates Gift Box features total style and absolute sophistication unlike any other type of present available for delivery. Presented in a chic and sturdy wooden box and filled with wood wool to ensure secure delivery to any location required, this amazingly high-quality gift box includes a single bottle of Chandon Sparkling Brut wine as well as a 110g box of delicious truffles within it for enjoyment. Personalise this set with a message from you and send it to any birthday, anniversary, house-warming party you choose, anywhere.
---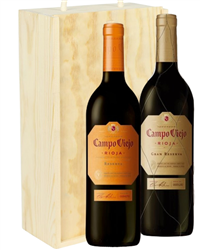 Rioja Reserva Two Bottle Wine Gift in Wooden Box
A wonderful gift to send to anyone with a true appreciation of varieties of Rioja wine produced by the vineyards of Campo Viejo, this box features two truly delicious, single bottles of Rioja wine; one of which is a Reserva and one of which is a Gran Reserva blend. Delivered in a stunning, well-made wooden gift box that is designed to assure both bottles arrive at the intended location in perfect condition, this Rioja Wine Gift Box can also include a personal message from you along with it if desired. An ideal gift box to have delivered to extend your most sincere congratulations, best wishes or even deepest sympathies if required.
---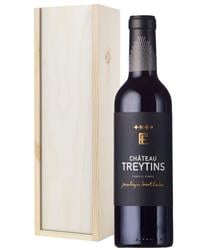 French Bordeaux Red Wine Gift in Wooden Box
A full, fresh-tasting red wine that captures your heart from the very first sip; boasting a strong nose of red fruits and predominantly created from hand-picked Merlot grapes, the single bottle of Chateau Treytins French Bordeaux Red Wine contained within this gift box is truly as tasty as a bottle of wine can get. Easy to personalise with a message straight from your soul, this French Bordeaux Red Wine Gift Box makes a great gift to send for any special event or occasion that comes up on your calendar. From the Bordeaux region of France, this gift box offers everything you need to provide someone you care for with an extra special surprise to enjoy.
---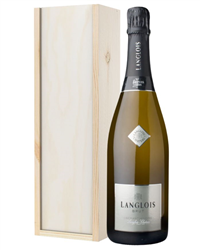 Langlois Brut Sparkling Wine Magnum
The ideal addition to any large event from a wedding or engagement party to a baby shower and beyond; from the moment this Langlois Brut Sparkling Wine Magnum Gift Box arrives at its intended destination the recipients will be more than happy to enjoy glass after glass until it is finally gone. Delivered in a sturdy wooden box lined with wood wool to make certain it's delivered looking its best, this sleek and gorgeous gift set boasts nothing but bold and delicious flavours unlike any other. Complete with a magnum-sized bottle of Langlois-Chateau Cremant de Loire Brut Sparkling Wine within it and sure to satisfy anyone that receives it, no matter how casual or in vogue their tastes may be.
---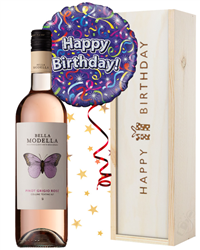 Rosé Wine and Balloon Birthday Gift
A fabulous gift box that makes the perfect birthday present for any rosé wine lover. Presented in a robust and stunning wooden gift box with the words 'Happy Birthday' printed across the top. This delicate pinot grigio rosé from Italy has deliciously strawberry laced aromas followed by a seductive palate of crisp, juicy, creamy fruit. You can also customise this gift with a thoughtful, personal message from you if desired and have it delivered to a home or work address on the date of your choice.
---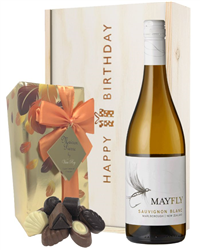 New Zealand Wine and Chocolate Birthday Gift Box
Indulge in pieces of New Zealand and Belgium with this celebratory birthday gift box. Nothing says sophisticated birthday than a single bottle of tasteful and refined Zephyr Sauvignon Blanc. Delicately paired with a box of sweet, assorted Belgian chocolates to surprise any recipient. Sent together in a wooden box with Happy Birthday printed on the lid, this gift set is perfect for any birthday occasion. Finish off the order with a personal message to send extra celebrations and get it delivered the next day anywhere in the UK.
---
7 Best Father's Day Wine Gifts For Step Dad | Corporate Christmas Wine Gifts For Employees
---
7 Best Wine and Chocolate Gift Sets
Treat someone special and send them the perfect gift of Belgium chocolates and a bottle of wine.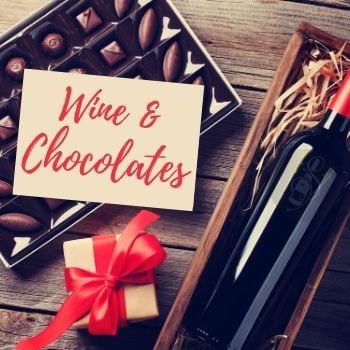 The 10 Best Wine Gifts
Searching for the best gifts for wine lovers can be a little challenging sometimes–especially when it comes to finding something unique.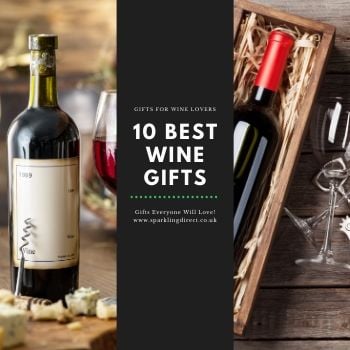 5 Best Wine Gifts For Dad This Father's Day
Are you searching for wine gifts that can be delivered to your dad for Father's day? Look no further, send your dad, grandad, father-in-law something that will blow his socks off and keep him smiling all-day