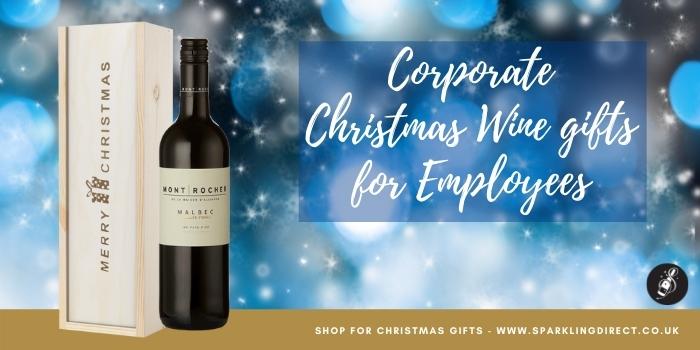 Everyone deserves a treat at Christmas, especially our colleagues and employees. So what is a good corporate gift for employees at Christmas?
A single bottle of wine is the perfect way to show your appreciation. Praise their hard work with one of these festive gifts. Perfect to send to a place of work or home, these wine gifts are perfect for letting your employees relax and enjoy the Winter season. Make Christmas one to remember and send one today!
---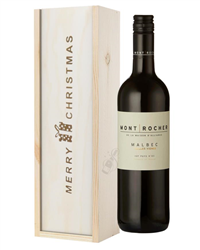 French Malbec Red Wine Christmas Gift
When it comes to Christmas, Malbec is the perfect wine for a gift. Whether for a friend, family member or colleague, treat someone to this deliciously festive Malbec Christmas wine gift. It's beautifully presented in one of our wooden gift boxes with 'Merry Christmas' printed on the lid and wood wool lining for style and protection. You can personalise this gift with a written gift message and have it delivered anywhere in the UK with next day or selected date delivery. There's no better Christmas gift for someone who loves red wine, so why not send one today and make this Christmas the best one yet!
---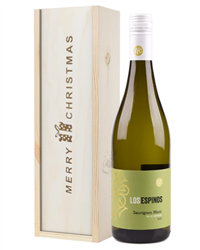 Sauvignon Blanc White Wine Christmas Gift
Delight your host with a bottle of Sauvignon Blanc like no other. Bursting with zesty citrus fruit with a hint of exotic guava, Los Espinos is refreshing and crisp. A wonderful treat on its own and even better when accompanied with salads, meat or fish dishes—perfect Christmas gift for a friend who lives for wine o'clock. This top-value wine is packed in a unique Merry Christmas box with a personalized card message.
---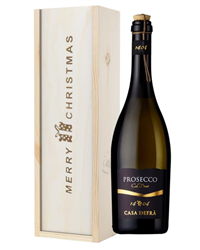 Prosecco Frizzante Christmas Gift
Full of flavour, elegance and style from the outside in; not only does this Casa Defra Prosecco Frizzante Single Bottle Christmas Gift Box provide any occasion with a classy bottle of semi-sparkling wine to enjoy, it also adds true sophistication to any location it's delivered to. Produced by the Cielo family vineyards that pride themselves on sustainable viticulture and takes true pride in each bottle of wine created, this gift box is designed to provide a delicious taste without harming the environment around it in the process. Presented in a well-made wooden gift box lined in protective wood wool material, this set is crafted to arrive looking it's best, no matter what.
---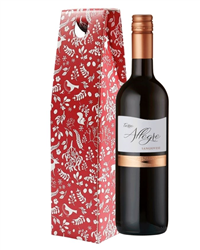 Christmas Italian Sangiovese Wine Gift
Have a festive wine delivered straight to their door with the Christmas Italian Sangiovese Gift Box. If they're a red wine lover, they'll love this Sangiovese from Northern Italy. Securely packaged in a festive red Christmas holder, this little gift will be the perfect seasonal surprise. You can finish your gift off with a personalised message so that they know you're thinking about them. Sangiovese is a medium-bodied, dry red wine but other red wine Christmas gifts are also available. Alternatively, why not go for both red and white wine with our Christmas Italian Mixed Twin Gift?
---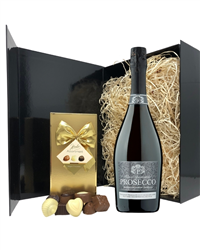 Prosecco and Chocolate Gift Set
A truly delectable gift set anyone would love to receive. From the elegant wool-lined box to the remarkably delicious items placed within it, this sincerely sumptuous set is certain to assure that anyone it's sent to will fall in love with it instantly. Sophisticated in both composition and appearance, this Prosecco and Chocolate Gift Set features a single bottle of our exquisite Prosecco Spumante alongside 125 grams of luscious Belgian chocolate and comes in a sleek, black carded gift box as well; making certain this set arrives safely and looking as chic as possible. Add your own personal touch by adding a message to send along with it if desired.

---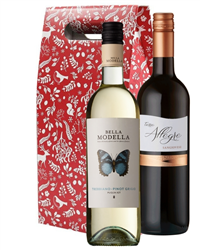 Christmas Italian Mixed Twin Gift
Add a little Italian magic to their cosy nights in this Christmas, with this Italian Mixed Wine Twin Gift. Packed with a Northern Sangiovese and a crisp Pinot Grigio, this festive gift box packs a fruity punch and can be carried with the built-in handle. It's the perfect wine gift to have delivered to family and friends further afield before New Year's Eve. Add a personalised note to the gift to wish them a lovely Christmas season. Wine is always a perfect for last-minute for co-workers, too. Check out our other twin sets for more wine options.
---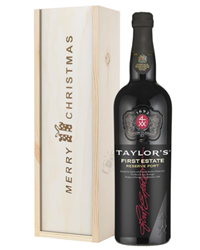 Port Christmas Gift
An amazingly chic Christmas gift that is designed to catch attention at any holiday party it's delivered to; this Taylors First Reserve Port Christmas Gift Box features a truly elegant appearance and a remarkably stunning flavour that any recipient is certain to fully appreciate. Complete with a single bottle of Taylor's First Reserve Port within it and a high-quality wooden box placed around it, this extraordinary gift box is secured to arrive safely to any location and is stamped with the words Merry Christmas on top of the box itself so the recipient knows instantly why this high-quality gift box has been sent to their doorstep.
---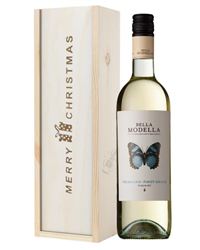 Pinot Grigio White Wine Christmas Gift
Everyone loves a Pinot Grigio, so why not make a gift of it? This single bottle Christmas gift is perfect for any white wine lover and can be delivered anywhere in the UK on a date of your choosing. Deriving from Northern Italy, this brilliantly dry wine is beautifully presented in a wooden gift box, branded with Merry Christmas for a little festive magic. You can also add your own personalised message to let your mum, in-laws or grandparents know you're thinking of them this holiday season. Next day or selected date delivery is available anywhere in the UK, making this the perfect festive surprise.
---
12 Boxed Wine Gifts For Any Occasion | 5 Luxury Corporate Wine Gifts
---
10 Best Christmas Champagne Gift Sets for 2021
Christmas is incomplete without a bottle of Champagne to share with loved ones. When looking for a gift to give, you might be considering a bottle of bubbles. But is Champagne a good Christmas gift?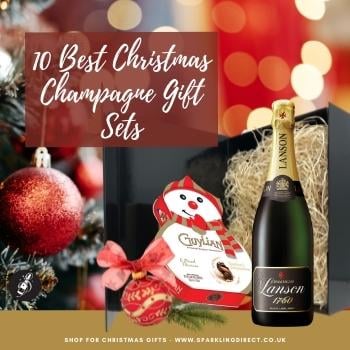 Top 10 Christmas Gifts For Wine Lovers
Finding the perfect gift can often be difficult, especially for wine lovers. With so many different sets to choose from it's hard to know which one is best. So what are some good Christmas wine hampers?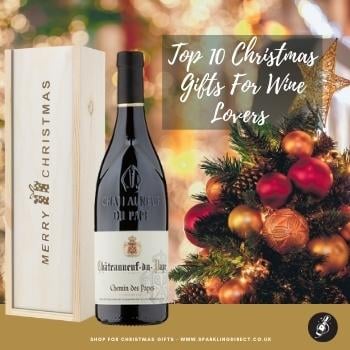 10 Best Christmas Wine Hampers 2021
There's no gift more delicious than a wine hamper. But when it comes to choosing a wine, it's hard to know which one is best. So what is a good wine to give as a gift?