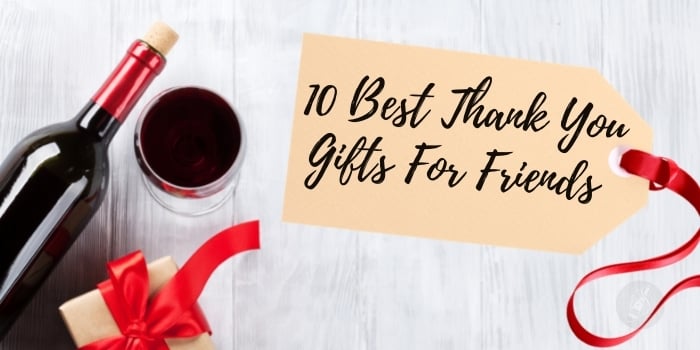 What's the best way to show your appreciation for a friend? Often it's hard to find that perfect gift that portrays your thanks, but we've got some great ideas to show some gratitude. So what should you get?
Sending a drink to their door is both a thoughtful and unique way of saying thank you. Whether it's their favourite bottle of Champagne or a bottle of their ideal red wine, all can be sent by post within the UK. We've got many creative and thoughtful gift sets to make them feel most appreciated.
---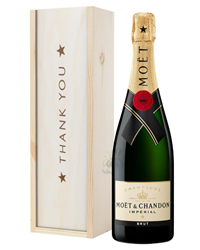 Moet et Chandon Champagne Thank You Gift
A remarkably chic way to send anyone a very special thank you, even from a distance; this Moet & Chandon Champagne Thank You Gift Box is absolutely certain to bring true satisfaction to anyone that is fortunate enough to receive it. Presented in a smooth, wooden gift box and featuring the words 'Thank You' included upon the top, this gift box can also include a personalised message along with it if desired, making it clear who this stylish box came from. A delectable, harmonious blend of Chardonnay, Pinot Noir and Pinot Meunier grapes and amazingly delicious throughout every glass enjoyed, this high-quality gift box makes a perfect present to deliver to anyone you're really thankful for.
---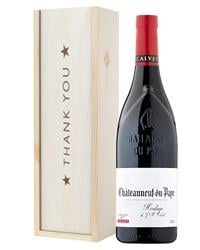 Chateauneuf Du Pape Red Wine Thank You Gift
Complete with a single bottle of Chateauneuf Du Pape that features nothing but bold and delicious flavours from start to finish, this high-quality gift box is sure to fill anyone that receives it with true appreciation, no matter the event or occasion it's sent for. Designed for delivery to any location desired, every inch of this Chateauneuf Du Pape Red Wine Thank You Gift Box is meant to satisfy any wine lover whether it's delivered to your grandparents, spouse, best mate, or even to an employee for a job well done. Presented in a solid wooden box with the words 'Thank You' stamped clearly on top, this extraordinary gift set boasts a chic appearance and a delicious flavour that no other gift option can match.
---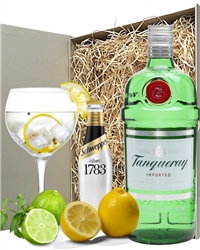 Tanqueray Gin And Tonic Gift Set
The perfect present to send to anyone in your life with a true appreciation for a quality gin and tonic to enjoy; every single ingredient required to create this smooth and delicious drink, besides a glass, is included within this gift box to assure the recipient doesn't have to wait even a moment after it arrives. Presented in a chic and amazingly sleek black gift box and filled with fabulous items from top to bottom, this Tanqueray Gin and Tonic Gift Set includes not only a single bottle of Tanqueray Gin, but also a bottle of Schweppes 1783 Tonic Water as well as a lemon and lime to complete the required flavours. Just the gift set that improves any occasion it's delivered to.
---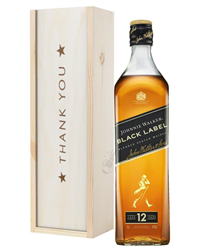 Johnnie Walker Black Label Whisky Thank You Gift
Easy to personalise with a message from you and boasting a solid wooden box that features a softwood wool lining within it, this remarkable gift box wraps securely around the bottle of Johnnie Walker 12-Year-Old Black Label Blended Scotch Whisky placed inside. A lovely gift to send to a co-worker that helped you complete a large project at work, a friend that supported you through a tough time or even a family member that was part of your wedding; every inch of this amazingly chic gift set is created to provide absolute beauty and true sophistication from top to bottom and start to finish.
---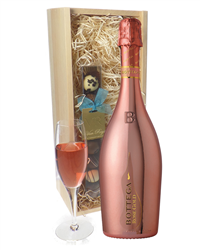 Botegga Rose Gold Prosecco and Chocolate Gift
Send some celebrations or thanks with this stylish bottle of Botegga Rose Gold Prosecco. Made in Italy, this bottle is perfect for any occasion and is sure to wow anyone who receives it. This gift set also includes an indulgent selection of chocolate truffles (110g) to accompany the Prosecco, providing a truly celebratory experience upon arrival. Both are sent in one of our wooden gift boxes and protected with wood wool to ensure it's safe delivery. Available for next day delivery anywhere in the UK, this is the ideal gift for Prosecco Lovers.

---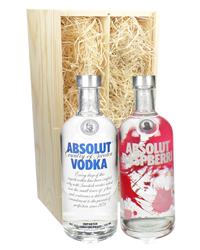 Absolut Vodka Twin Gift Set
This Absolut Vodka gift set is both fun and unique. From 21st Birthdays to Anniversaries, nothing says trendy more than these two. Made in Sweden, this collection includes two single bottles of the finest flavours of Absolut: Original and Raspberri. Both make an excellent selection for any Vodka lover and will be sure to surprise no matter the occasion. Packaged in a twin wooden box, complete the gift with a personal message and have it delivered either the next day or on a day of your choice anywhere in the UK.
---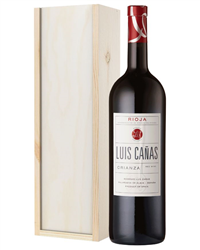 Rioja Wine Magnum
This magnum of Rioja is any wine lover's dream. Produced from the Tempranillo grape and transported from Luis Canas, Rioja proves to be one of Spain's finest and most enjoyable wines. Perfect for any party or celebration, this magnum provides more than enough glasses to go around and creates an endless celebration no matter the occasion. Complete with a personalised message, this bottle is packaged and delivered in one of our wooden magnum gift boxes on a day of your choice. Or, get it sent the next day, anywhere in the UK.
---
Aperol Spritz Gift Set
Boasting a history in Northern Italy and often enjoyed as an aperitif, an Aperol Spritz is a unique drink concoction that can now be enjoyed by anyone, anywhere they choose to savor it. A gift set that allows you to delight in an Aperol Spritz by simply following a few directions with which to create it; this Aperol Spritz Gift Set has everything you need to blend the perfect drink every single time. Complete with a single bottle of Aperol as well as a single bottle of Casa Defra Prosecco contained within it, this gift box is housed within a well-made two-bottle wooden box and makes a wonderful gift for many different events or occasions. Simply fill a wine glass with ice, add three measures of Prosecco, two measures of Aperol and a dash of soda water, then voila; you have an Aperol Spritz you can't help but enjoy.

---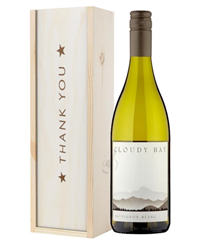 Cloudy Bay Sauvignon Blanc Thank You Gift
Smooth, sleek and stunning from top to bottom, every inch of this Cloudy Bay Sauvignon Blanc Wine Gift Box is designed to provide a gift option that is truly sophisticated and elegant in a way that no other present can come close to. Easy to customise with a personal message from you along with it if desired, this high-quality gift set is the ideal choice for delivery for an array of possible reasons; send it to a new client for beginning a business relationship with you or even to a friend that was there for you through an especially tough time in life. Delivered in a solid wooden box with the words 'Thank You' printed clearly on top, this gift box is meant to get the message across to the recipient as soon as they receive it.
---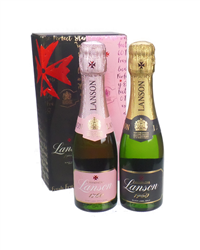 Lanson Mini Duo Champagne Set
An incredibly unique gift set that allows the lucky recipient to taste more than one variety of champagne all within one remarkably thoughtful present. Whether you choose to send this amazing Lanson Mini Duo Champagne Gift Set to your best friend as a celebration you can share, or to a family member getting married or celebrating the arrival of a little one; this gift box fits perfectly into any occasion or get-together. Presented in a one of a kind branded gift box that shows what types of champagne are housed inside it, this gift set contains one 20cl bottle of Lanson Black Label and one 20cl bottle of Lanson Rose Champagne as well.
---
---
10 Best Gifts for Champagne Lovers
Champagne makes the perfect gift for all occasions. It's a sophisticated and luxurious gift that will be appreciated by anyone who receives it.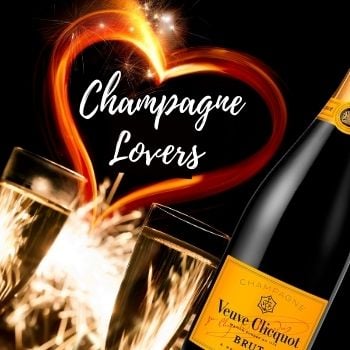 The 10 Best Wine Gifts
Searching for the best gifts for wine lovers can be a little challenging sometimes–especially when it comes to finding something unique.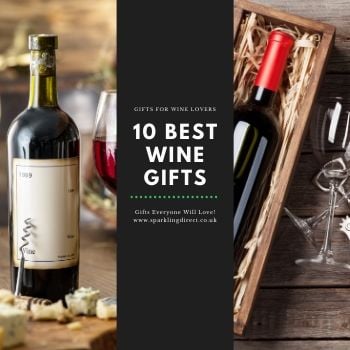 10 Best Gin Gift Sets
Searching for the perfect gin to give as a present? The UK's favourite spirit makes the perfect present for the gin lover in your life.