Looking for gifts for a red wine lover? Listed below are 9 great gifts for anyone who loves a glass or two of red wine. Our unique gift sets can be personalised with a message and delivered next day in the UK.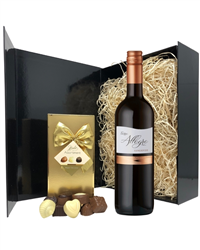 Red Wine and Chocolate Hamper
Each red wine and chocolate hamper is packed with a bottle of Allegra Sangiovese produced in the vineyards of Northern Italy. A juicy, succulent red wine with savoury cherry and plum characters with a bright ripe fruited finish alongside 125 grams of luscious Belgian chocolates that are sure to a smile on his or her face. A special treat for red wine lovers who love to indulge in the rich and sweet taste of Belgian chocolates. A unique way to show your thanks but with a personalised gift card you can turn your gratitude or love into words. The personalised message card will be carefully delivered alongside the gift hamper to charm and surprise the recipient
---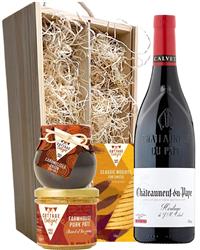 Chateauneuf Du Pape Wine And Gourmet Food
What could be better than a delightful bottle of Chateauneuf Du Pape wine together with Cottage Delight Farmhouse Pate with Pork (90g), a jar of fabulous Pickle (115g) and some Oval Alberts Savoury Biscuits (150g). Presented in a wooden gift box and lined with wood wool this makes a great gift for a fan of full bodied red wines.
---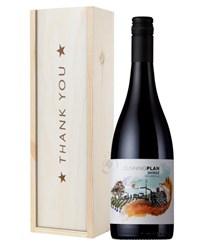 Australian Shiraz Red Wine Thank You Gift
This lovely wine from Thistledown wines comes from the Mclaren Vale / Barossa Valley in Australia. Called 'The Cunning Plan' it offers up the classic Mclaren red taste together with the venerable old vine Barossa fruit, making it a perfect gift in our wooden 'Thank You' branded gift box.
---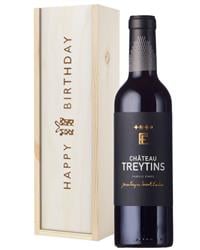 French Bordeaux Red Wine Birthday Gift
Complete with a single bottle of remarkably elegant, and full-bodied wine that was produced in the Bordeaux region of France with in it; this extraordinary gift set is created to stand out from every other gift they've received, no matter the occasion or event. Made predominately from hand-picked Merlot grapes and boasting a bold nose of red fruits, this stunning French Bordeaux Red Wine Birthday Gift Box is designed to offer nothing but class and sophistication from top to bottom. Easy to personalise with a personal message as well if desired, this lovely gift box is perfect to send to anyone in your life from your mother-in-law to your cousin, friend or even a mere acquaintance you'd like to send best wishes or congratulations to.
---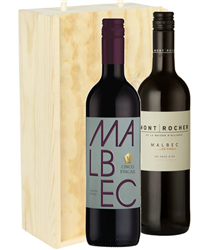 Malbec Mixed Two Bottle Wine Gift
Presented in a gorgeous wooden gift box designed for secure delivery to any location, this extraordinarily delicious Malbec Mixed Two Bottle Wine Gift Box allows the recipient to enjoy more than one variety of different Malbec wine flavours. Ideal as a gift for someone with a true appreciation of bold Malbec grapes, this incredible box boasts two types of truly rich wine within it; one from the foothills of the Andes in Argentina, and one from the vineyards of France. Easily personlised so you can assure the recipient knows who to thank, this one of a kind unit is certain to be savored by anyone lucky enough to receive it.
---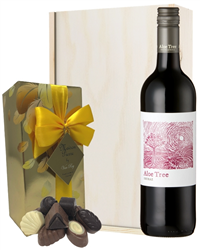 South African Red Wine and Chocolates Gift Set
A gift box so full of flavour you'll wish you could send one to yourself along with your intended recipient; when you choose to have one of these South African Red Wine and Chocolates Gift Sets delivered to someone in your life, you know they're going to receive the best on the market. Easy to personalise with a message from you along with it if desired, this high-quality gift box is certain to make a splash at any occasion it's sent to. Great for gifting to your best friend, your customer as an incentive for purchase or even to a member of your family if you choose, this set makes a one of a kind way to show your appreciation, send thanks, or to simply show someone in your life that you care.

---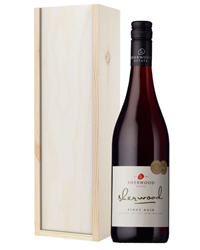 New Zealand Pinot Noir Red Wine Gift
Produced in the remarkable vineyards of New Zealand and boasting a crisp and delectable flavour from beginning to end, this one of a kind gift box is certain to make a statement to anyone that is lucky enough to receive it. Easy to personalise with a message from you if you choose, this New Zealand Pinot Noir Red Wine Gift Box is an elegant and sophisticated way to send your best wishes or your most sincere congratulations to anyone from your cousin, to a friend or a customer or client if preferred. A present that offers an amazing flavour and gorgeous appearance that no other gift box can provide.

---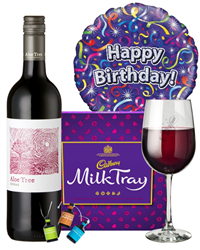 Red Wine And Chocolates Birthday Gift
A versatile gift box that makes it easy to send birthday wishes to anyone in your life from your parent, aunt, cousin or friend to a co-worker or boss; this truly delightful Red Wine and Chocolates Birthday Gift Set provides everything needed to have a real celebration. A set that contains a single bottle of Aloe Tree Shiraz, a box of 200g of milk chocolates and a 'Happy Birthday' balloon that pops out of the box upon opening, this extraordinary gift box is absolutely certain to bring joy to anyone's special day. A great gift to send to someone you care for, no matter the distance between you.
---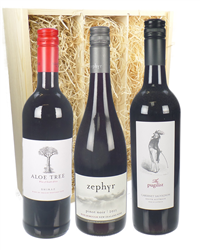 Tri-Nation Red Three Bottle Wine Gift
An incredible collection of red wines that is certain to completely satisfy any recipient; every one of the bottles included within this Tri-Nation Red Three Bottle Wine Gift Box is produced to offer bold and delightful flavours from start to finish of every single one. A stunning set that comes presented in a sturdy, well-made wooden box; this wonderful gift box can also include a personalised message along with it if desired. Containing a bottle of Cabernet Sauvignon from Australia, a bottle of Pinot Noir from New Zealand and a bottle of Shiraz from South Africa, this gift box allows you to explore the Southern Hemisphere through tastes and flavours of the vineyards located there.
---