What is the best gift to give a rosé wine lover? We have to answer this with a bottle of rosé wine beautifully presented in a wooden gift box together with a thoughtful and personal message delivered on the date of your choice to their home or work address.
When looking for gift ideas to send a rosé wine lover, you can be spoilt for choice. We have selected 7 great gift sets which include award-winning wines from the Provence region of France and local wines from English vineyards. At Sparkling Direct, all of our gift sets include Free next working day delivery across the UK.
---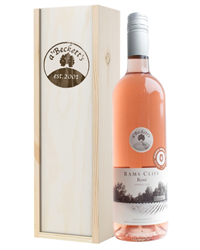 English Vegan Rose Wine
This is a lovely tasting English Rose wine produced in the heart of Wiltshire, just outside Devizes. Rams Cliff Rose is a blend of Pinot Noir, Reichensteiner, Strawberries and red fruit, combining to give both a great nose and taste. Delivered in one of our wooden gift boxes this Vegan-friendly English rose wine is an excellent gift choice. This fantastic wine won the Silver Medal Winner at the UK vineyards association wine of the year competition and a Bronze medal scoring 88/100 for the prestigious Decanter World Wine Awards 2016.

---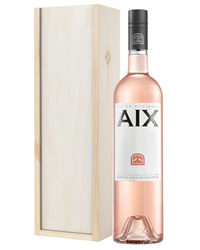 Aix Provence Rose Wine
AIX Rosé is the gold awarded premium Provence rosé made with dedication and passion. The perfect wine to drink with friends and family all day long! AIX Rosé is made in the Provence region of France, just an hour North-East from the historical city of Aix-en-Provence. The Provence region is known for making the best rosés in the world. This wine is incredibly perfumed and delicately dry in style; it perfectly captures the romance of the picture-perfect vineyards. Delivered in one of our wooden gift boxes, this makes an excellent gift choice.
---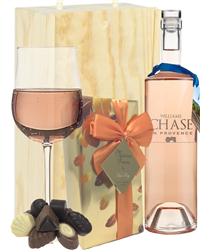 Rose Wine and Chocolates Gift Set
Just the gift set any occasion needs to be truly complete; not only is this amazing gift box truly chic in appearance, but it also features bold and delicious flavours that no other gift set on the market can match. Complete with a bottle of Williams Chase Rose Wine and Belgian chocolates within it, from top to bottom this sleek and sturdy gift box makes a fantastic gift option for any event on your calendar from a birthday bash to a baby shower, retirement celebration and more. Delivered in a solid wooden box and perfect for satisfying any wine lover on your gift list; this bold and beautiful gift box assures any recipient is fully satisfied, whether it's a member of your staff, a co-worker a family member or a friend.
---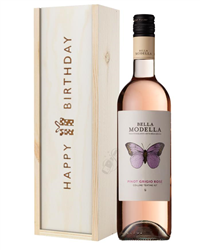 Rose Wine Birthday Gift
An incredibly elegant way to wish someone you care for a truly happy birthday; from the moment this absolutely stunning gift box arrives you can be certain the recipient will be filled with appreciation from the inside out. Presented in a solid and stunning wooden gift box with the words 'Happy Birthday' printed perfectly on top, this Pino Grigio Rose Wine Birthday Gift Box is designed to stand out from any other birthday gift they receive this year. Offering a bottle of one of Italy's most famous grape varieties, pinot grigio, within it and amazingly chic and elegant as well; no other gift option will make the statement that this one does when it's delivered.
---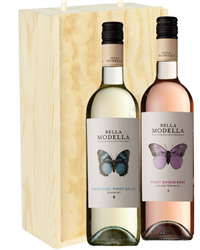 Pinot Grigio Duo Wine Gift
A wonderful set of wines to send to anyone with a special affinity for a delicious variety of Pinot Grigio; this truly unique Pinot Grigio Mixed Two Bottle Wine Gift Box offers two different types of this remarkable wine variety to taste and enjoy. Presented in a sleek wooden box and designed to securely hold two separate single bottles of wine for delivery, this gift box includes two bottles from Bella Modella vineyards located in Northern Italy. It features one Pinot Grigio and one Rose Pinot Grigio bottle to savour. Have this amazing gift set sent to any event and assure that your recipient is getting the absolute best.
---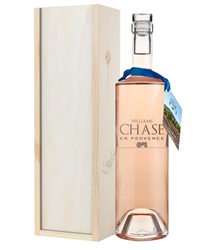 Williams Chase Rose Wine Gift
From the Williams Chase vineyard in Provence, this is their first Rose wine, and it tastes great. A crisp, fresh and fruity rose, which boasts delicious notes of white peach mixed with grapefruit and subtle aromas of Provence, drawn together with a lovely fresh finish. The wine epitomises the South of France and is a must for any Rose wine fan. Presented in a wooden gift box and complete with your gift message.
Bottle Size: 75cl
---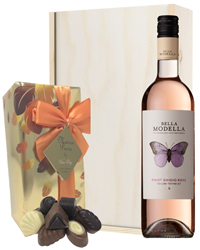 Pinot Grigio Rose Wine & Chocolates
A stylish and elegant gift box that boasts several delicious flavours that come together beautifully to create a present unlike any other one they've ever received; whether you choose to have this set delivered to your spouse or as a special gift to celebrate the engagement or wedding of someone in your life, this box is the perfect choice for any event. Presented in a sleek wooden box and lined with wood wool for protection during delivery, this remarkably lovely Pinot Grigio Rose Wine and Chocolates Gift Set is easily as chic in appearance as it is bold and full of flavour. Complete with a single bottle of Bella Modella's Pinot Grigio Rose Wine from Italy and a 250g box of assorted Belgian chocolates, this gift box can also be customised with a personal message from you if desired.
---
Top 5 Pinot Grigio Wine Gifts
Finding the right pinot grigio gift for your friends and family can be a little challenging sometimes–especially when it comes to finding the right price. Here is a list of some of our most popular gifts at varying prices.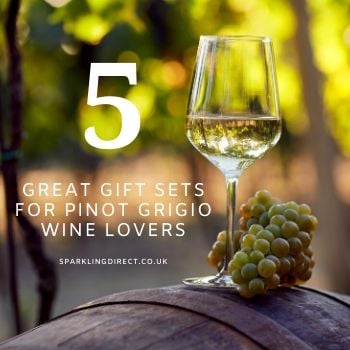 Gift Sets For Chablis Wine Lovers
When searching for the best Chablis gifts for wine lovers, you'll want to consider the occasion. One of our best selling gifts is the lovely combination of Belgian chocolates together with a bottle of Domaine Bernard Defaix Chablis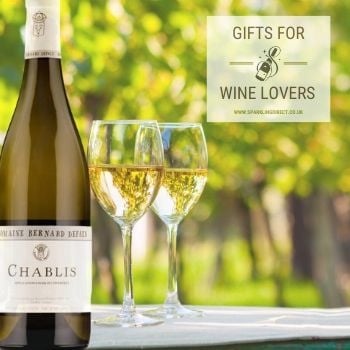 9 Gift Sets For Malbec Wine Lovers
If there's a malbec wine lover on your gift list, birthday list, or just because, the following 9 gift ideas for wine lovers will help you find a thoughtful gift that they will enjoy.