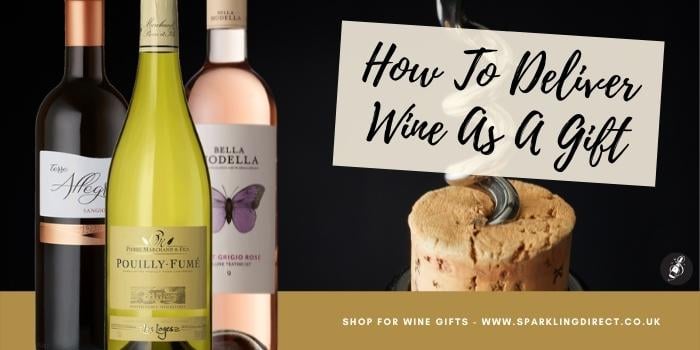 There comes a time when you want to send wine to someone but aren't sure how. Luckily for you, we have all the answers on how to make this happen right here. So how do you send wine to be delivered as a gift?
We offer thousands of wine gifts available to send as a gift. From red wine birthday gifts to party Magnums full of Prosecco, we've always got you covered. All you need to do is pick one and add it to your gift basket. Then enter a delivery address and an optional message and you'll be ready to pay. Once this is completed, you can sit back a relax because we'll handle the rest!
If you're unsure which one to pick, we've got seven wine gifts below to get you started. Each is suitable for a range of occasions, including birthdays, work events, thank you gifts and celebrations. Whether a single bottle of wine or a luxurious hamper, we'll have it delivered straight to their door.
---
Red Wine and Balloon Birthday Gift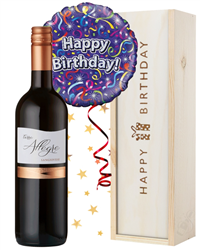 Sending birthday wishes to someone you care for has never been easier or more fun than this. From the vineyards of Italy a bottle of Terre Allegre, Sangiovese Italian Red Wine presented in a solid wooden box and stamped with the words 'Happy Birthday' beautifully on top; this amazing gift set also includes an inflated 'Happy Birthday' helium balloon that pops out as a surprise when the box is opened upon arrival. An excellent gift for any red wine aficionado, a fresh, medium intensity ruby red wine with hints of jam. The taste is velvety with sweet tannins and light notes of jam. This fantastic gift box allows you to send thoughtful birthday wishes to anyone in your life from a friend to your boyfriend, girlfriend, in-laws or even a co-worker.
---
Chateauneuf Du Pape Wine and Chocolates Gift Set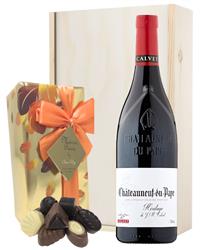 Beautifully presented in a simple wooden box lined with protective wood wool and complete with a single bottle of Chateauneuf Du Pape as well as a 250g box of assorted Belgian chocolates included within it; from front to back this high-quality gift set features absolute style, and remarkable flavours, you simply won't find anywhere else. The perfect present for any occasion anywhere, this truly remarkable Chateauneuf Du Pape Wine and Chocolates Gift Box is an elegant gift to send to any birthday party, anniversary celebration, housewarming party or Christmas gift you choose. Personalise this gift box with a message from you and assure whoever receives it instantly knows who to thank for such an incredible gift.
---
English Wine Gift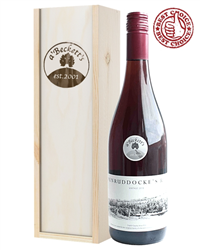 Indulge in a gorgeous glass of red wine with this English Pinot Noir gift. Whether to send for an occasion or just because, treat someone to a single bottle of Penruddocke's Red Pinot Noir from a'Beckett's Vineyard. Produced in Wiltshire, this red is an award-winner with great reviews and perfect with a meal or even chilled. Plus, it's vegan friendly. Full of fruity notes yet fresh flavour, this is a perfect gift for any wine lover. It comes packaged and presented in one of our beautiful wooden gift boxes and can be delivered anywhere in the UK. Next day and selected date delivery are available, and you can even add your own personal message.
---
Sauvignon Blanc Wine and Cheese Hamper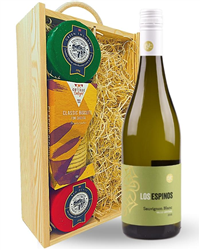 What better gift for a wine and cheese lover than this delicious hamper? Let someone taste beautiful combinations by sending them a single bottle of Los Espinos Sauvignon Blanc white wine along with a box of Cottage Delight Biscuits, Snowdonia Green Thunder Cheese and Snowdonia Red Devil Cheese. Green Thunder is a Cheddar Cheese with roasted garlic and herbs. Red Devil is a Red Leicester with Habanero chillies and peppers. It's all presented in one of our wooden gift boxes with wood wool lining for protection. You can complete this gift with a written and printed personalised message. Send it anywhere in the UK with next day or selected date delivery for the perfect surprise no matter the occasion.
---
Pinot Grigio Rose Wine Thank You Gift
Chic, sophisticated and designed to withstand delivery to any location required. When you have one of these Pinot Grigio Rose Wine Thank You Gift Boxes delivered to your friend, brother, cousin, niece, dad or even to a co-worker; you can feel secure in knowing they're going to receive the best they can possibly get. Complete with a scrumptious bottle of Rose Pinot Grigio inside and delivered in a solid wooden box lined with wood wool to assure secure delivery, this gift set comes branded with the words 'Thank You' on top to make it instantly clear why it's being sent as well. Personalise this gift box with a message from you and send heartfelt thanks for any reason, any time of year.
---
French Malbec Red Wine Hamper
Complete with a single bottle of Mont Rocher French Malbec Red Wine, a 90g jar of Farmhouse Pate with Pork, a 115g jar of pickles and a 150g package of Oval Alberts Savoury Biscuits; from top to bottom this remarkably high-quality gift box boasts nothing but bold and delicious flavours unlike any other. Presented in a solid wooden gift box and lined with wood wool to ensure secure delivery, this French Malbec Red Wine and Gourmet Food Gift Box makes a magnificent gift option for any occasion from Christmas to Valentine's Day and beyond.
---
Pouilly Fume White Wine Congratulations Gift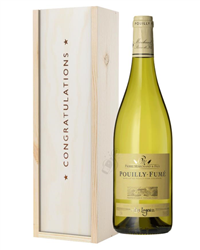 Celebrate any occasion with class, elegance and absolute style when you have one of these truly incredible Pouilly-Fume White Wine Congratulations Gift Boxes delivered for someone in your life to enjoy. The ideal gift option to send for any occasion where congratulations are called for; from the birth of a baby to a retirement party or a big promotion at work, any event is a great excuse to send one of these stunning gift sets. Delivered in a sturdy wooden box and featuring the word 'Congratulations' stamped beautifully on top, this remarkably sophisticated gift set will bring a smile to the face of anyone that receives it whether it's your uncle, sister, cousin, employee or co-worker you have it delivered to.
---
---
What Can I Send As A Corporate Gift?
Looking to send a corporate gift to an employee or client? These five gifts are the perfect choices. Take a look and find out more in this post!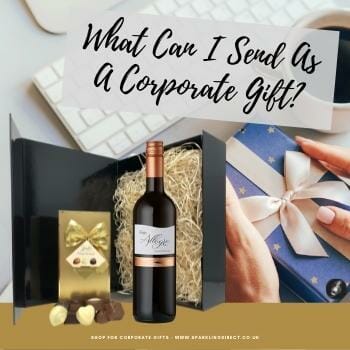 12 Boxed Wine Gifts For Any Occasion
Wine is great to send as a gift for any event. It can help celebrate birthdays, leaving parties, graduations and house warmings or show someone how much you care.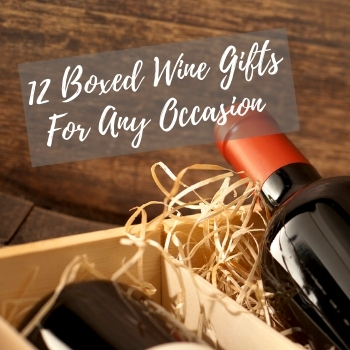 10 Best Wine Gifts For Friends
Friends deserve the best gifts, especially when it comes to wine. So when it comes to picking a wine gift, which one do you pick?