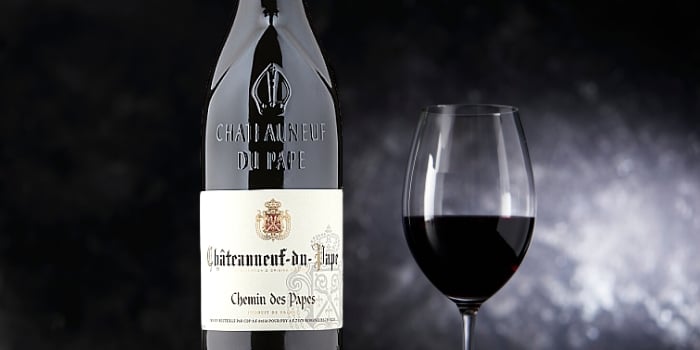 It's often asked what kind of wine Chateauneuf-du-Pape is? Produced in France's southern Rhone Valley, Chateauneuf-du-Pape is made predominantly from three grape varieties Grenache, Syrah and Mourvedre. Chateauneuf-du-Pape is the most famous wine of the southern Rhone Valley; the region is renowned for producing full-bodied, powerful red wines.
The perfect gift for red wine enthusiasts, Chateauneuf-du-Pape is sure to please. We've chosen 5 of our most popular gift sets below which are ideal for a variety of occasions. At Sparkling Direct, all of our gift sets include Free next working day delivery across the UK.
---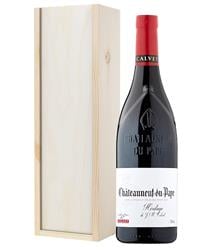 Chateauneuf Du Pape Wine Gift
The perfect way to send congratulations, good luck, best wishes or even just love to someone you care for, this remarkably sophisticated Chateauneuf Du Pape Red Wine Gift Box is sure to bring a smile to the face of anyone that is lucky enough to receive it. Housed in a smooth, incredibly sturdy, and unbelievably stylish wooden box filled with wool for true protection of the bottle found within; this gift box also includes a single bottle of Val De Garrigue Chateauneuf Du Pape red wine that offers a full, delicious flavour that no other blend can hope to provide.
---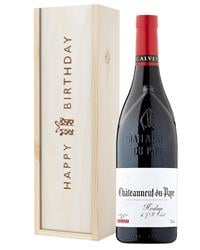 Chateauneuf Du Pape Birthday Gift
A simple and yet remarkably sophisticated gift option to send for the birthday celebration of anyone in your life; whether it's your brother, niece, friend, co-worker or boss' special day, anyone that receives it is certain to be truly grateful for receiving such an elegant present. Presented in a well-made wooden gift box and stamped with the words 'Happy Birthday' to make it clear why such a stunning box has arrived, this gift set is created to satisfy any recipient from beginning to end. Great for delivery to any birthday bash whether it's casual or classy in style, this Chateauneuf Du Pape Red Wine Birthday Gift Box is just what any party needs to be complete.
---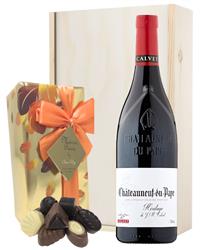 Chateauneuf Du Pape and Chocolates Gift Set
Beautifully presented in a simple wooden box lined with protective wood wool and complete with a single bottle of Chateauneuf Du Pape as well as a 250g box of assorted Belgian chocolates included within it; from front to back this high-quality gift set features absolute style, and remarkable flavours, you simply won't find anywhere else. The perfect present for any occasion anywhere, this truly remarkable Chateauneuf Du Pape Wine and Chocolates Gift Box is an elegant gift to send to any birthday party, anniversary celebration, housewarming party or Christmas gift you choose. Personalise this gift box with a message from you and assure whoever receives it instantly knows who to thank for such an incredible gift.
---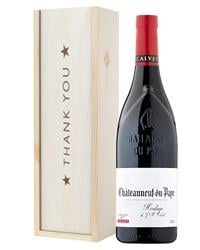 Chateauneuf Du Pape Thank You Gift
Complete with a single bottle of Chateauneuf Du Pape that features nothing but bold and delicious flavours from start to finish, this high-quality gift box is sure to fill anyone that receives it with true appreciation, no matter the event or occasion it's sent for. Designed for delivery to any location desired, every inch of this Chateauneuf Du Pape Red Wine Thank You Gift Box is meant to satisfy any wine lover whether it's delivered to your grandparents, spouse, best mate, or even to an employee for a job well done. Presented in a solid wooden box with the words 'Thank You' stamped clearly on top, this extraordinary gift set boasts a chic appearance and a delicious flavour that no other gift option can match.
---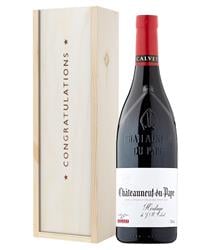 Chateauneuf Du Pape Congratulations Gift
The ideal gift to send congratulations to any wine aficionado with something special to celebrate. Whether this remarkable box is delivered to a friend with a new baby or a co-worker that finally earned that long-awaited promotion, the recipient is certain to love every single taste from start to finish. Complete with a single bottle of truly chic Chateauneuf Du Pape and presented in a solid wooden box that is designed for secure delivery to nearly any location desired, this Chateauneuf Du Pape Red Wine Congratulations Gift Box is sure to stand out from any other present they receive. Personalise this gift set with a message from you and make sure they know exactly who this stunning present came from.
---
---
14 Birthday Gift Ideas For Red Wine Drinkers
These unique birthday gifts for red wine lovers include classics from the Bordeaux and Chateauneuf Du Pape wine regions. Everyones favourite grape varieties; Cabernet Sauvignon, Malbec and Pinot Noir.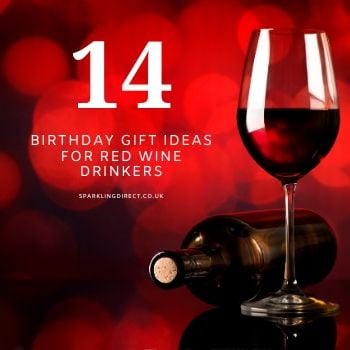 7 Gift Ideas For Bordeaux Wine Enthusiasts
Beautifully packaged gifts for Bordeaux wine enthusiasts. Chateau Treytins wines offer fantastic value and great taste from the world-renowned region of Bordeaux France.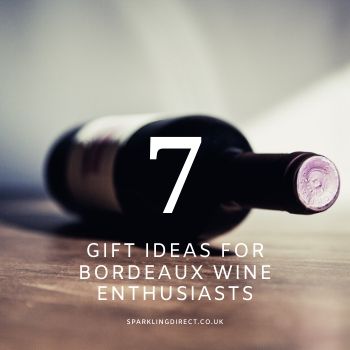 5 Classic Gifts For Wine Snobs
If you know a wine connoisseur and are searching for a unique gift, look no further. Even the biggest wine snobs will appreciate these hand-packed gift sets from the best wine regions in the world.