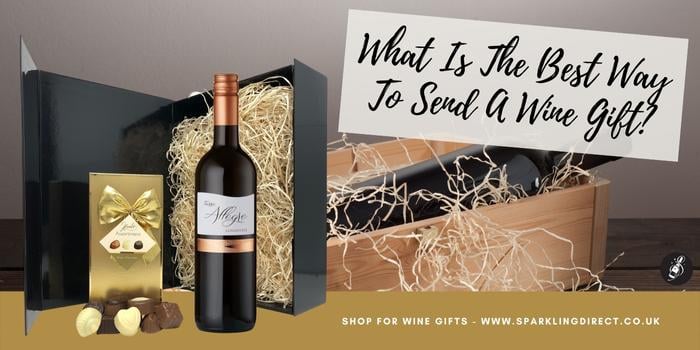 So you're thinking about gifting a bottle of wine, but you're unsure how to go about it. Luckily for you, we have all the answers to ensure you send a bottle safely and securely. So what is the best way to send a wine gift?
Many will decide to buy a bottle of wine, wrap it themselves and send it through their local postal service. This is not only time consuming but incredibly risky. So, we've come up with a solution. We've been sending wine gifts across the UK since 2002, making sending wine much easier. Pick from our range of delicious gifts and complete checkout; then we'll handle the rest. Plus, all of our gifts are protected with wood wool to ensure safe transit and delivery. It's never been easier to send a wine gift!
If you're wondering which wine is best to send, we've picked five gift sets ideal for sending across the UK. From red to rosé, we've got an exceptional wine gift for every occasion and recipient you can think of. So forget trying to do it all yourself and let us help! After all, it's what we do.
---
Red Wine and Chocolate Hamper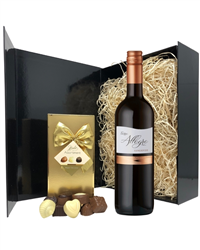 DELICIOUS WINE & CHOCOLATES HAMPER: Each red wine and chocolate hamper is packed with a bottle of Allegra Sangiovese produced in the vineyards of Northern Italy. A juicy, succulent red wine with savoury cherry and plum characters with a bright ripe fruited finish alongside 125 grams of luscious Belgian chocolates that are sure to a smile on his or her face. A special treat for red wine lovers who love to indulge in the rich and sweet taste of Belgian chocolates. A unique way to show your thanks but with a personalised gift card you can turn your gratitude or love into words. The personalised message card will be carefully delivered alongside the gift hamper to charm and surprise the recipient
---
White Wine Birthday Gift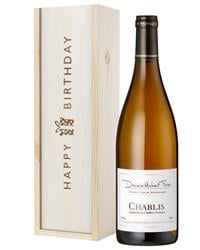 A beautiful birthday gift that any wine aficionado will fully appreciate every sip of; when this Chablis Wine Birthday Gift Box arrives, you can be certain the recipient will clearly understand why they are receiving such an elegant gift. Presented in a solid wooden box and perfect for delivery to any party location anywhere, this remarkable gift set comes with the words 'Happy Birthday' printed clearly on top. It will bring a smile to the face of anyone you choose to send it to. Complete with a single bottle of Chablis that will keep them reaching for more until the bottle is gone, this uniquely posh present option is perfect for anyone from your grandma to an aunt, cousin, teacher, tutor or friend.
---
Pinot Grigio Rose Wine Congratulations Gift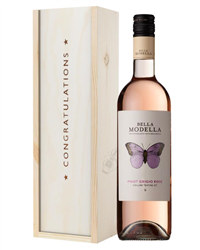 A gorgeous gift option to send for any occasion where congratulations are required. Whether you choose to send this gift set as a staff incentive, an engagement gift or a baby shower present; this Pinot Grigio Rose Wine Congratulations Gift Box is designed to satisfy anyone that receives it. Complete with a delicious bottle of Rose Pinot Grigio and presented in a solid wood wool lined wooden box with the words 'Congratulations' on top, from top to bottom this gift set provides absolute class and sophistication in a way that no other type of gift ever could. Easy to personalise with a message from you and truly stunning in every way from front to back.
---
Chateauneuf Du Pape Wine and Cheese Hamper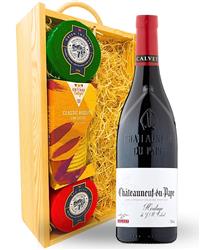 Complete the evening with this delightful red wine and cheese hamper! Whether for yourself or someone you know, send this hamper anywhere in the UK. It includes a single bottle of the well-renowned Chateauneuf Du Pape red wine along with a box of Cottage Delight Biscuits, Snowdonia Green Thunder Cheese and Snowdonia Red Devil Cheese. Green Thunder is a Cheddar Cheese with roasted garlic and herbs. Red Devil is a Red Leicester with Habanero chillies and peppers. It's all presented in one of our wooden gift boxes and is protected with wood wool. You can complete this gift with a personalised message for that extra touch. Plus, send it across the UK with next day or selected date delivery. It's the perfect treat for any wine and cheese lover!
---
Pouilly Fume White Wine Thank You Gift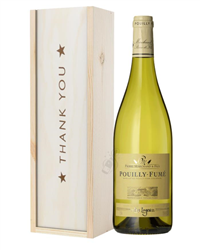 Featuring an incredible bottle of wine produced from the very best Sauvignon Blanc grapes to create a dry white wine unlike any other; from the first sip to the last, the bottle of Pouilly-Fume Sauvignon Blanc white wine within this gift set provides nothing but completely delectable flavours anyone will appreciate. An amazing present option that makes it clear how thankful you truly are, every inch of this Pouilly Fume White Wine Thank You Gift Box features a chic and high-quality design that is perfect for delivery to any recipient from a teacher or tutor to a co-worker, friend or family member that could use a little something special. Customise this box with a personal message and send it on its way any time of the year you desire.
---
---
How To Deliver Wine As A Gift
Did you know that we can send a bottle of wine to someone's door on your behalf? Find out how to do so here in this guide to sending wine.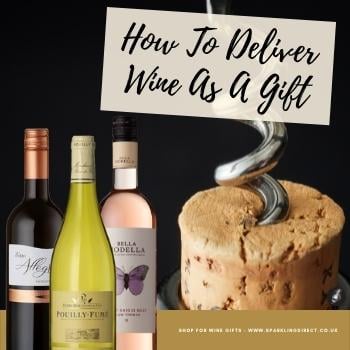 White Wine Gifts By Post
Looking for the perfect white wine gift guide? Look no further! We've got 12 white wine gifts perfect for any occasion or recipient here in this post.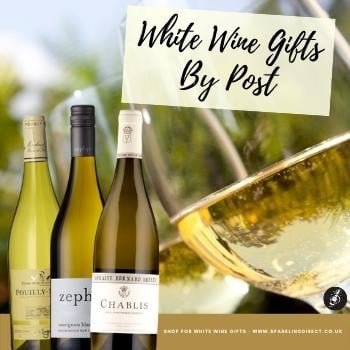 The 10 Best Wine Gifts
Searching for the best gifts for wine lovers can be a little challenging sometimes–especially when it comes to finding something unique.