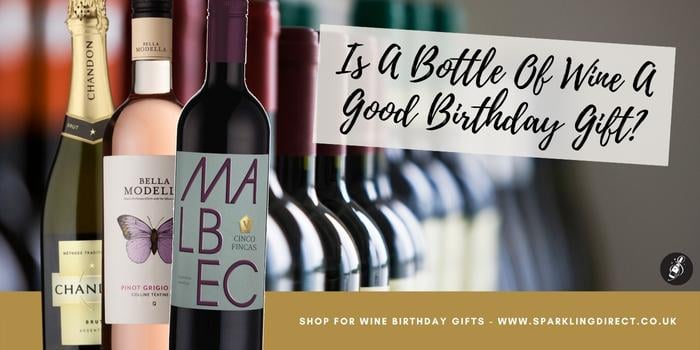 When it comes to birthday gifts, finding the right one is never easy. With so many options to choose from, you'll wonder what makes a good gift. But does wine make a good birthday gift?
The answer is yes, it makes a perfect birthday gift for anyone who likes wine. Whether a bottle of red, white, rosé or sparkling, a single bottle is enough to make anyone smile. So why not take a look at these seven wine gifts perfect for any birthday man or woman. Go on; we know you want to!
---
Wine Birthday Gift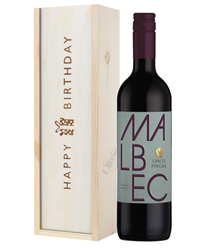 Say 'Happy Birthday' to someone you care for in a remarkably unique way when you have one of these truly elegant Argentinian Malbec Red Wine Birthday Gift Boxes delivered to celebrate the event. Produced in the Mendoza region which is located within the foothills of the Andes Mountains in Argentina, this incredible gift box boasts a single bottle of Malbec Red Wine placed inside and comes presented in a truly chic wooden box as well. Taste the delicious flavour that only a variety from Argentina can provide in every single sip of this extraordinary wine blend.
---
White Wine and Balloon Birthday Gift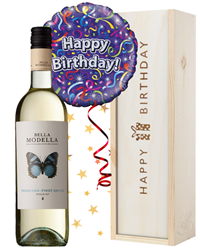 A contemporary and remarkably chic happy birthday gift unlike any other; Offering a magnificent Pinot Grigio white wine that tastes as great as it looks. This bottle of Italian wine comes presented in a sturdy wooden box with the words 'Happy Birthday' printed clearly on the top and an inflated 'Happy Birthday' helium balloon that pops out as a surprise when the box is opened upon arrival. Just the birthday gift anyone would love to receive; whether you choose to send this Pinot Grigio White Wine Birthday Gift Box to your wife, husband, mother, father, cousin or even just a friend. Easy to customise with a personal message from you.
---
Chandon Sparkling Wine and Chocolates Gift Set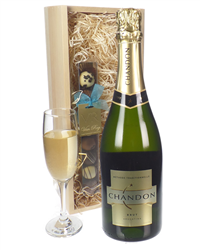 Just the gift set any particularly elegant event needs to be truly complete, from front to back this Chandon Sparkling Wine and Chocolates Gift Box features total style and absolute sophistication unlike any other type of present available for delivery. Presented in a chic and sturdy wooden box and filled with wood wool to ensure secure delivery to any location required, this amazingly high-quality gift box includes a single bottle of Chandon Sparkling Brut wine as well as a 110g box of delicious truffles within it for enjoyment. Personalise this set with a message from you and send it to any birthday, anniversary, or house-warming party you choose, anywhere.
---
Rosé Wine and Balloon Birthday Gift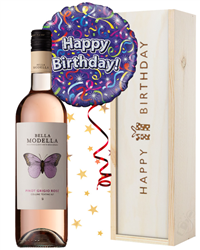 A fabulous gift box that makes the perfect birthday present for any rosé wine lover. Presented in a robust and stunning wooden gift box with the words 'Happy Birthday' printed across the top. This delicate pinot grigio rosé from Italy has deliciously strawberry laced aromas followed by a seductive palate of crisp, juicy, creamy fruit. You can also customise this gift with a thoughtful, personal message from you if desired and have it delivered to a home or work address on the date of your choice.

---
Red Wine And Chocolates Birthday Gift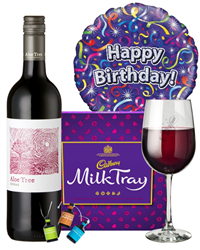 A versatile gift box that makes it easy to send birthday wishes to anyone in your life from your parent, aunt, cousin or friend to a co-worker or boss; this truly delightful Red Wine and Chocolates Birthday Gift Set provides everything needed to have a real celebration. A set that contains a single bottle of Aloe Tree Shiraz, a box of 200g of milk chocolates and a 'Happy Birthday' balloon that pops out of the box upon opening, this extraordinary gift box is absolutely certain to bring joy to anyone's special day. A great gift to send to someone you care for, no matter the distance between you.
---
English Sparkling Wine Birthday Gift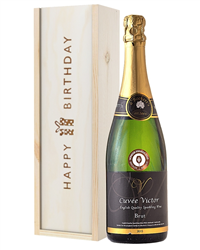 Celebrate a birthday in full British style with this English sparkling wine gift. Send a single bottle of Cuvee Victor Brut straight to their door for them to pop open and toast. Produced by a'Beckett's vineyard in Wiltshire, it's packaged and presented in one of our wooden gift boxes with 'Happy Birthday' printed on the lid. Plus, get it delivered as soon as the next day or select a delivery date most suitable for you. No matter who it's for or where they are, don't forget to add a personal message to the gift, so they know who it's from! So make someone's birthday special and surprise them with this beautiful gift.
---
Red Wine and Balloon Birthday Gift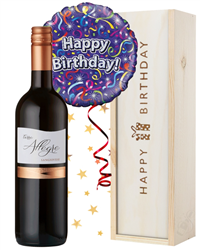 Sending birthday wishes to someone you care for has never been easier or more fun than this. From the vineyards of Italy a bottle of Terre Allegre, Sangiovese Italian Red Wine presented in a solid wooden box and stamped with the words 'Happy Birthday' beautifully on top; this amazing gift set also includes an inflated 'Happy Birthday' helium balloon that pops out as a surprise when the box is opened upon arrival. An excellent gift for any red wine aficionado, a fresh, medium intensity ruby red wine with hints of jam. The taste is velvety with sweet tannins and light notes of jam. This fantastic gift box allows you to send thoughtful birthday wishes to anyone in your life from a friend to your boyfriend, girlfriend, in-laws or even a co-worker.
---
---
7 Best Birthday Gift Ideas For Sister
Unsure what to get your sister for her birthday? From Champagne to Scotch, take a look at these seven gift sets ideal to send across the UK.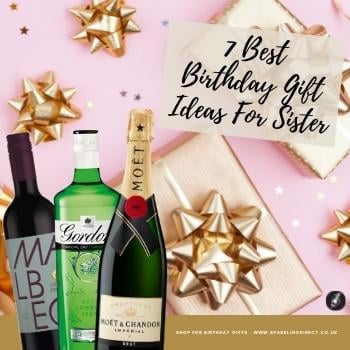 Top 5 Red Wine Birthday Gifts
Trying to find the perfect red wine birthday gift? We have five gift sets every red wine lover would be delighted to receive! Take a look here.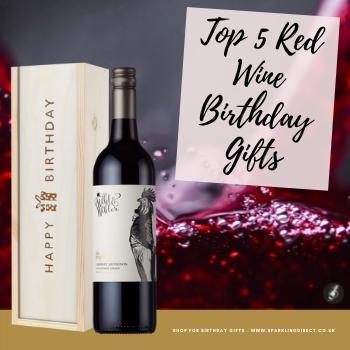 Birthday Champagne and Balloon Delivery
Sending a birthday gift to friends and family in the UK is a thoughtful way to show them just how much you care—delivered on the day of your choice or next day if you are shopping for a last-minute gift. Our gifts will get the party popping, with fizz, chocs, party poppers and a balloon!