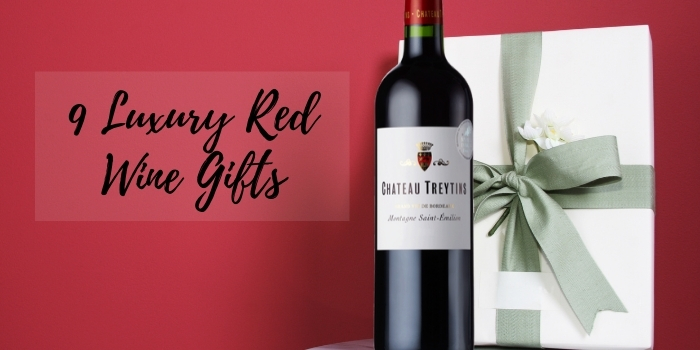 Red wine makes a great gift. Whether for a birthday, thank you or congratulations gift, you might be thinking of getting a luxury bottle or two for a red wine lover. But what is a good red wine to give as a gift?
Any expensive bottles, exclusive gift sets or hampers are sure to impress any red wine lover. From Chateauneuf Du Pape to Campo Viejo, we've got a wide range of labels to choose from. All personalised and delivered in the UK, these nine luxury gifts will suit the occasion and make the perfect gift.
---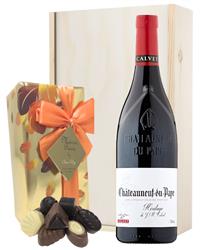 Chateauneuf Du Pape Wine and Chocolates Gift Set
Beautifully presented in a simple wooden box lined with protective wood wool and complete with a single bottle of Chateauneuf Du Pape as well as a 250g box of assorted Belgian chocolates included within it; from front to back this high-quality gift set features absolute style, and remarkable flavours, you simply won't find anywhere else. The perfect present for any occasion anywhere, this truly remarkable Chateauneuf Du Pape Wine and Chocolate Gift Box is an elegant gift to send to any birthday party, anniversary celebration, housewarming party or Christmas gift you choose. Personalise this gift box with a message from you and assure whoever receives it instantly knows who to thank for such an incredible gift.
---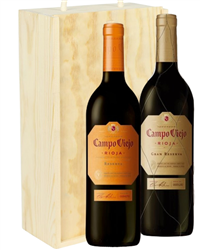 Rioja Reserva Two Bottle Wine Gift
A wonderful gift to send to anyone with a true appreciation of varieties of Rioja wine produced by the vineyards of Campo Viejo, this box features two truly delicious, single bottles of Rioja wine; one of which is a Reserva and one of which is a Gran Reserva blend. Delivered in a stunning, well-made wooden gift box that is designed to assure both bottles arrive to the intended location in perfect condition, this Rioja Reserva Two Bottle Wine Gift Box can also include a personal message from you along with it if desired. An ideal gift box to have delivered to extend your most sincere congratulations, best wishes or even deepest sympathies if required.
---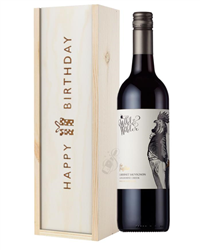 Cabernet Sauvignon Red Wine Birthday Gift
Produced in the incredible Limestone Coast region of Australia and boasting a strong and bold flavour throughout every single glass, this gift box contains a single bottle of The Pugilist Cabernet Sauvignon and provides a taste that is the true epitome of what a variety like this should be. Presented in a unique wooden gift box that features the words 'Happy Birthday', as well as the image of a gift, stamped clearly for view on top; this Limestone Coast Cabernet Sauvignon Red Wine Birthday Gift Box is just what any special celebration needs to feel truly complete. Tell your mum, your cousin, your father-in-law or even a simple acquaintance that you are happy they exist within the world.
---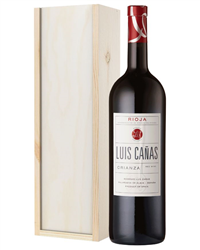 Rioja Wine Magnum
This magnum of Rioja is any wine lover's dream. Produced from the Tempranillo grape and transported from Luis Canas, Rioja proves to be one of Spain's finest and most enjoyable wines. Perfect for any party or celebration, this magnum of wine provides more than enough glasses to go around and creates an endless celebration no matter the occasion. Complete with a personalised message, this bottle is packaged and delivered in one of our wooden magnum gift boxes on a day of your choice. Or, get it sent the next day, anywhere in the UK.
---
French Malbec Red Wine Hamper
Complete with a single bottle of Mont Rocher French Malbec Red Wine, a 90g jar of Farmhouse Pate with Pork, a 115g jar of pickles and a 150g package of Oval Alberts Savoury Biscuits; from top to bottom this remarkably high-quality gift box boasts nothing but bold and delicious flavours unlike any other. Presented in a solid wooden gift box and lined with wood wool to ensure secure delivery, this French Malbec Red Wine and Gourmet Food Gift Box makes a magnificent gift option for any occasion from Christmas to Valentine's Day and beyond.
---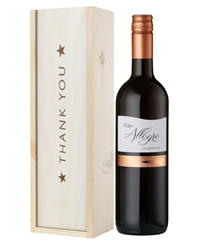 Italian Sangiovese Red Wine Thank You Gift
Stylish, sophisticated and certain to truly satisfy any recipient fortunate enough to receive it; when you send one of these gift sets to thank someone you care for you can be sure they'll fully appreciate each and every drop. Presented in a chic wooden gift box and boasting the words 'Thank You' stamped simply on top, the bottle of Sangiovese red wine inside it comes from Northern Italy is delivered housed in a solid, wood wool-lined box that assures secure delivery to any location required. Easy to personalise with a custom message as well if desired, this amazing gift box will satisfy any wine lover in your life from a friend to a family member or co-worker if desired
---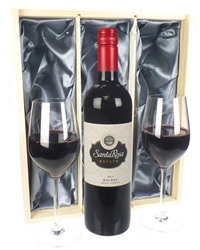 Malbec Wine And Glasses
An elegant and remarkably luxurious gift set that comes presented in a chic and sturdy wooden box lined with a lovely and silky-smooth lining inside; from top to bottom this Argentinian Malbec Wine and Glasses Gift Box boasts a truly extraordinary style and form that no other gift set can match. Complete with a single bottle of Santa Rosa Estate Malbec Wine as well as 2 crystal-clear wine glasses within it, this bold and fashionable gift set is made for 2 to enjoy and is ideal for delivery to any wedding celebration or anniversary party, anywhere. Personalize this gift box with a message from you and surprise anyone from your spouse to your parents with this one-of-a-kind gift set to enjoy.
---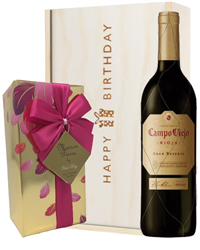 Gran Reserva Wine and Chocolate Birthday Gift Box
Send delicious birthday wishes with this luxury birthday gift box. Treat someone to a single bottle of the palatable Campo Viejo Gran Reserva red wine, along with an indulgent, 250g box of assorted Belgian chocolates. Nothing says sophisticated and delicious more than this celebratory birthday duo. Delivered in a stamped 'Happy Birthday' wooden gift box, this gift set can be personalised with a written and printed message on a keepsake card. No matter where they live in the UK, get next day delivery or choose a specific arrival date.
---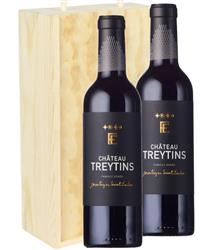 Bordeaux Two Bottle Wine Gift in Wooden Box
A beautiful gift box that contains the perfect volume of bold and tasty variety of wine produced in the Southwest region of the country of France, this Bordeaux Wine Gift Box boasts truly remarkably flavours that simply cannot be experienced anywhere else. Easy to customize to the recipient via a personal note from the sender if desired, this incredible gift box is delivered in a high-quality wooden gift box that is lined in ultra-soft wood wool for safe delivery as well. Complete with two single bottles of Chateau Treytins Bordeaux inside, when this gift set arrives any recipient is certain to be thankful for it from the moment the corks are popped.
---
---
7 Best Wine and Chocolate Gift Sets
Treat someone special and send them the perfect gift of Belgium chocolates and a bottle of wine.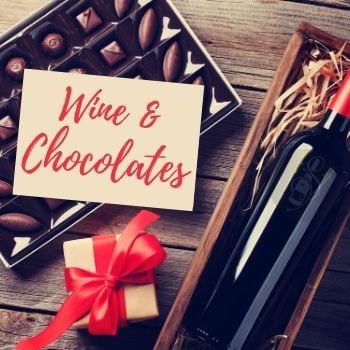 14 Birthday Gift Ideas For Red Wine Drinkers
These unique birthday gifts for red wine lovers include classics from the Bordeaux and Chateauneuf Du Pape wine regions.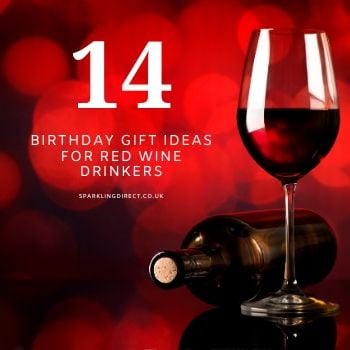 5 Best Wine Gifts For Dad This Father's Day
Are you searching for wine gifts that can be delivered to your dad for Father's day? Look no further, send your dad, grandad, father-in-law something that will blow his socks off and keep him smiling all-day