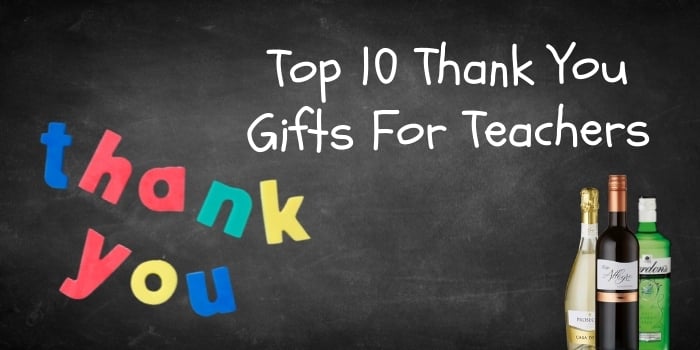 At the end of every school year, teachers deserve appreciation for all the hard work they put in each week. Whether for a tutor, lecturer, teacher or assistant, what should you give a teacher as a thank you gift?
Whilst you might think that flowers and a card are the best options, thank you gifts are about being thoughtful and getting them something that they want. So why not let them relax with a glass of sweet wine or unique Champagne? Any one of these ten gifts is sure to show a teacher how much you care.
---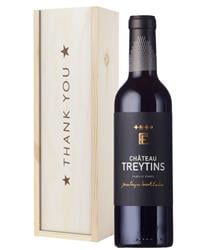 Red Wine Thank You Gift
Featuring a stunning wine that is produced in the Bordeaux region of France, this absolutely delicious bottle of Chateau Treytins red wine is made predominately from hand-picked Merlot grapes and boasts an aroma of red fruits and a fresh taste from start to finish. Presented in a high-quality wooden gift box and stamped with the words 'Thank You' boldly on the top, this French Bordeaux Red Wine Thank You Gift Box is truly the ideal gift to have delivered to anyone in your life that you own a special thanks to, no matter the reason. Simply personalise this box with a message and prove how thankful you really are to have them in your lives.
---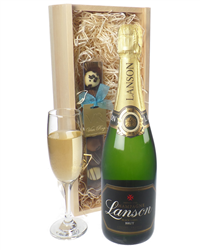 Champagne and Chocolate Gift
A gift box that boasts an array of truly delectable flavours all within one sleek and sturdy wooden box; from the single bottle of Lanson Black Label Brut Champagne to the 110g box of assorted chocolate truffles, this gift set offers everything you're looking for in a chic and tasty present option. Delivered in a simple yet sturdy box and lined with soft wood wool to assure safe arrival to any location, this Lanson Champagne and Chocolates Gift Set is designed to make a statement at any event it's sent to. Simple to customise with a message from you to be included along with it as well if desired, this gift box is just what any casual, or classy, celebration really needs to be complete.
---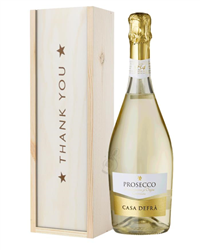 Prosecco Thank You Gift
Presented in a classy and well-made wooden box and stamped with the words 'Thank You' clearly on the top, this amazing gift box is designed to make the ultimate gift to anyone that you need to show true appreciation to. Complete with a single bottle of Prosecco Spumante within it and produced from the family-owned and sustainable Casa Defra vineyards, this Prosecco Thank You Gift Box is created to allow you to thank anyone in your life in a unique and one of a kind way. The perfect present to send to your friends, family or even someone you work with; no matter the recipient, they will be certain to fall in love with every ounce of this gift box from top to bottom.
---
Aperol Spritz Gift Set
Boasting a history in Northern Italy and often enjoyed as an aperitif, an Aperol Spritz is a unique drink concoction that can now be enjoyed by anyone, anywhere they choose to savor it. A gift set that allows you to delight in an Aperol Spritz by simply following a few directions with which to create it; this Aperol Spritz Gift Set has everything you need to blend the perfect drink every single time. Complete with a single bottle of Aperol as well as a single bottle of Casa Defra Prosecco contained within it, this gift box is housed within a well-made two-bottle wooden box and makes a wonderful gift for many different events or occasions. Simply fill a wine glass with ice, add three measures of Prosecco, two measures of Aperol and a dash of soda water, then voila; you have an Aperol Spritz you can't help but enjoy.

---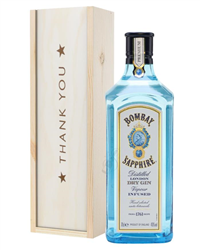 Gin Thank You Gift
Offered in a wonderful wooden gift box that features the words 'Thank You' printed clearly on top, this fantastic gin gift set includes a 70cl single bottle of Bombay Sapphire London Dry Gin within. It adds instant class and sophistication to any event or occasion you choose to have it delivered to. A great gift option to send your thanks to anyone from a co-worker to an employee, family member or friend; whether this gift box is sent as a staff incentive for a job well done or to a friend for being part of your wedding day, any recipient is sure to love every drop from top to bottom.
---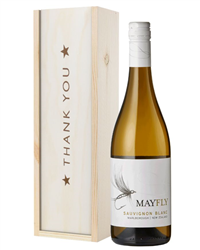 White Wine Thank You Gift
Featuring a lovely, crisp flavour that any wine lover will instantly fall in love with. The truly incredible bottle of New Zealand Sauvignon Blanc included within this gift box provides the perfect way to thank anyone in your life that truly appreciates a unique and incredibly delicious bottle of wine. Delivered in a secure wooden box and presented with the words 'Thank You' printed beautifully on top, every bit of this New Zealand Sauvignon Blanc White Wine Thank You Gift Box is meant to make a statement at any event or occasion you choose to send it for. Surprise anyone from your spouse to a co-worker with this amazing gift set.
---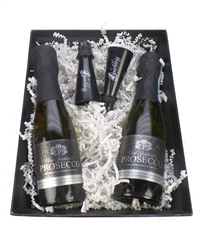 Mini Prosecco Gift Basket
A unique, one-of-a-kind gift box that allows the recipient to enjoy it immediately upon arrival if desired. Complete with 2 20cl mini bottles of Prosecco and 2 sippers included along with it, this remarkable gift set is certain to get the party started, no matter the location. Simply insert a sipper into the neck of the bottle itself and get drinking; when you send this set to celebrate the birthday of a friend, the retirement of a parent, or wedding of friends, you can be certain any recipient will enjoy every single sip no matter what occasion you choose to have it delivered for. Just personalise this set with a message from you and know you've chosen to deliver the very best.
---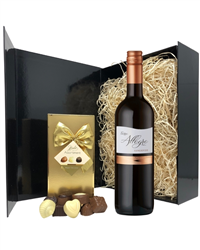 Red Wine and Chocolate Hamper
Each red wine and chocolate hamper is packed with a bottle of Allegra Sangiovese produced in the vineyards of Northern Italy. A juicy, succulent red wine with savoury cherry and plum characters with a bright ripe fruited finish alongside 125 grams of luscious Belgian chocolates that are sure to a smile on his or her face. A special treat for red wine lovers who love to indulge in the rich and sweet taste of Belgian chocolates. A unique way to show your thanks but with a personalised gift card you can turn your gratitude or love into words. The personalised message card will be carefully delivered alongside the gift hamper to charm and surprise the recipient
---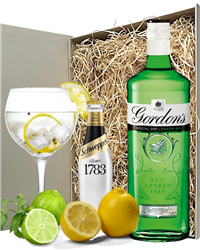 Gordons Gin And Tonic Gift Set
An amazingly unique gift set that is sure to stand out from every other gift they've ever received; every item in this exclusively created gift box is required to make a truly delicious gin and tonic unlike any other they've ever tasted before. Complete with a single bottle of Gordons London Dry Gin, Schweppes 1783 Tonic Water, as well as a fresh lemon and a lime; this remarkable set will have you sipping bold flavours as soon as you've mixed the ingredients up within a compatible drinking glass. Presented in a chic black gift box and delivered to the location necessary when scheduled, this gift set helps anyone to mix up a bartender-quality gin and tonic to enjoy whenever they choose.
---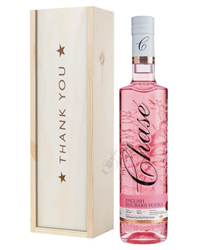 Chase Rhubarb Vodka Thank You Gift
A truly unique thank you gift to show your utmost appreciation. Gift this bottle of limited edition Chase vodka to someone and show them just how much you grateful for them. Produced by Chase, this Rhubarb Vodka is quirky and bursting with flavour. So if you're looking for something a little different, this is perfect. Ideal for cocktails or mixers, the bottle is presented in one of our stamped 'Thank You' wooden gift boxes and can be finished with a personalised message. Have it delivered straight to their door either the next day or on a date of your choice.
---
---
12 Best Champagne Gifts For Graduations
Whether for him or for her, we offer a range of champagne gifts perfect for graduations. From mini bottles of Lanson to luxury Vintage Moet & Chandon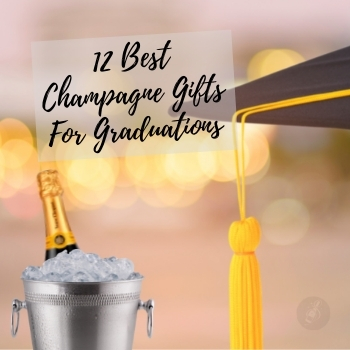 10 Best Thank You Gifts For Friends
What's the best way to show your appreciation for a friend? Often it's hard to find that perfect gift that portrays your thanks, but we've got some great ideas to show some gratitude.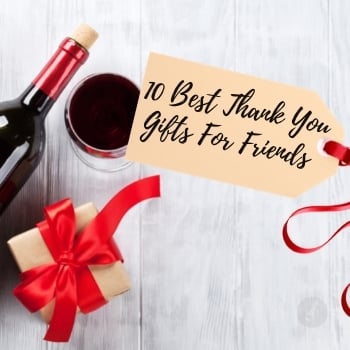 Top 10 Thank You Gifts By Post
When we want to show our appreciation for someone, we want to get something thoughtful. But when you don't live close to them, what are the best gifts to send by post?