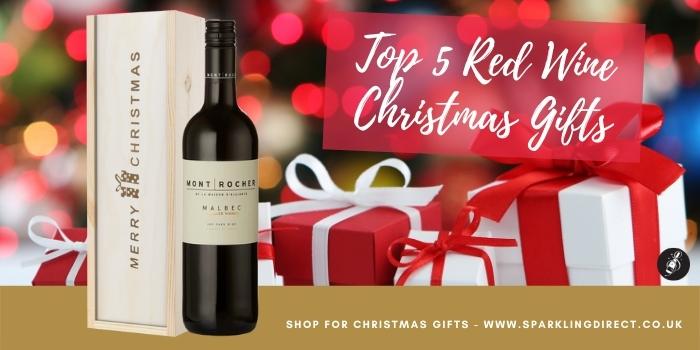 Christmas isn't Christmas without red wine, so what is a good red wine to give as a gift?
A bottle of Malbec, Merlot or Cabernet Sauvignon is always a great gift for the festive season. Whether for a family member, loved one or colleague, any one of these five red wine gift sets is sure to make them smile. So why not send one this Christmas and make it one to remember?
---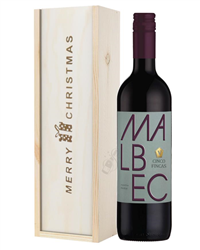 Malbec Red Wine Christmas Gift
This single bottle Christmas gift will make anyone's holiday season a little bit brighter. A luxurious bottle of Argentinian Malbec is packaged into a beautiful wooden wine box, emblazoned with 'Merry Christmas' on the front. The secure packaging adds elegance and security, so you can rest assured your gift arrives safe and sound. You can also include a personalised note, so the receiver knows you're thinking of them. Our Single Bottle Christmas wine Gifts are the perfect gift idea for wine lovers, so find their favourite bottle, and we'll take care of the rest.
---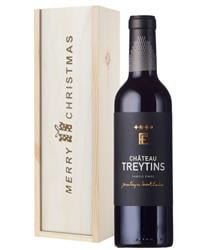 Bordeaux Red Wine Christmas Gift
Combining a fruity freshness, this Chateau Treytins French Bordeaux is the perfect gift for mums, sisters or even a work bestie. Made from hand-picked Merlot, this luxurious wine gift is ideal for those who enjoy a full-bodied wine. The bottle is securely packaged into a style wooden gift box, branded with 'Merry Christmas' on the front. Inside, the bottle is snug on a soft wool lining to keep it safe and secure during delivery. You can also add a personalised note to the gift, and pick a specific date for it to be delivered – so the receiver knows you're thinking of them this holiday season.
---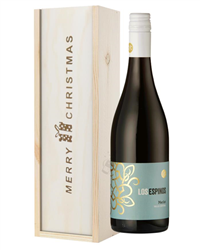 Merlot Red Wine Christmas Gift
Let it snow, let it snow… then pour the merlot! Make your friends' celebration days merry and bright with the finest Chilean Merlot gift set. Produced from the Los Espinos vineyards, this easy-going wine will lift holiday spirits in no time. Presented in a unique wooden Merry Christmas box this extraordinary wine makes a perfect gift for family, friends, business clients or just yourself. We'll add a personalized holiday greeting to make it truly special.
---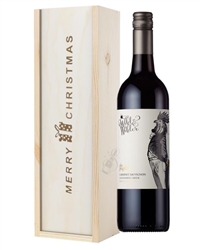 Cabernet Sauvignon Red Wine Christmas Gift
Our Pugilist red wine gift box is an elegantly flavoured wine from the highly renowned Limecoast region of Australia. Its deep red hue is the epitome of a great Cabernet Sauvignon and is the ideal wine choice for the festive season. Presented in a stylish wooden gift box, branded with Merry Christmas, this wine makes a perfect surprise gift for mums, staff or siblings. You can choose a specific date to have your gift delivered directly to their door, and even add your own message to wish them a wonderful holiday season.
---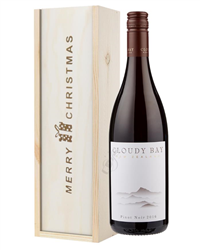 Pinot Noir Red Wine Christmas Gift
Walking in a Wine Wonderland… This Red Wine Christmas Gift is perfect for wine lovers and can be delivered straight to their door on a date of your choice. Securely packaged in a luxurious wooden gift box, this Cloudy Bay Pinot Noir is a full-bodied, fruity red wine from New Zealand. The bottle is carefully parcelled inside the wood gift box with a soft, wool lining, so you can rest assured it will be safe and secure until it arrives. You can also add a festive, personalised note to say thank you to staff and colleagues for working so hard this year, or wish the distant family a Merry Christmas.
---
7 Best Red Wine Gifts For Him | 9 Luxury Red Wine Gifts
---
10 Best Christmas Wine Hampers 2021
There's no gift more delicious than a wine hamper. But when it comes to choosing a wine, it's hard to know which one is best. So what is a good wine to give as a gift?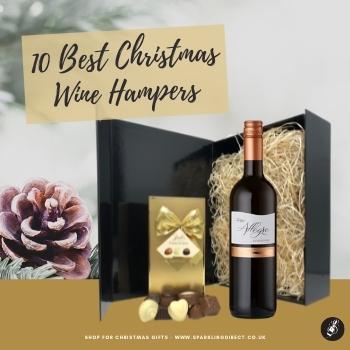 7 Best Christmas Wine Gift Boxes
Everyone deserves a glass of wine at Christmas, so why not send a bottle? We've selected seven of our best Christmas wine gift boxes to help you find that perfect gift for a wine lover.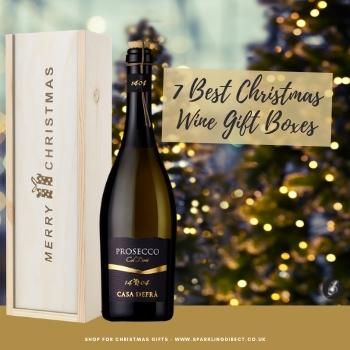 5 Unique Christmas Gifts For Wine Lovers
No matter the recipient, a unique wine gift is the perfect Christmas gift. From red to sparkling, we have five wine gift sets to impress any wine lover this Christmas.