If there's a malbec wine lover on your gift list, birthday list, or just because, the following 9 gift ideas for wine lovers will help you find a thoughtful gift that they will enjoy.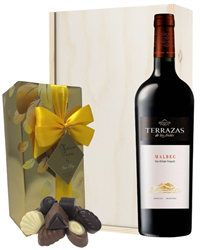 Malbec Wine and Chocolates Gift Set
A bottle of Malbec wine from the high altitude vineyards in Mendoza, Argentina together with a box of 250g of delectable Belgian chocolate, this wooden gift box features a truly classy and elegant look and an incredible taste that no other combination of flavours can hope to match.
---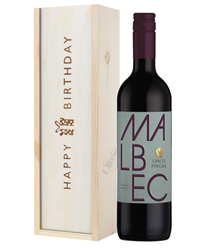 Malbec Red Wine Birthday Gift
Say 'Happy Birthday' to someone you care for in a remarkably unique way when you have one of these truly elegant Argentinian Malbec Red Wine Birthday Gift Boxes delivered to celebrate the event. Produced in the Mendoza region that is located within the foothills of the Andes Mountains in Argentina, this incredible gift box boasts a single bottle of Santa Rosa Malbec Red Wine placed inside and comes presented in a truly chic wooden box as well. Taste the delicious flavour that only a variety from Argentina can provide in every single sip of this extraordinary wine blend.
---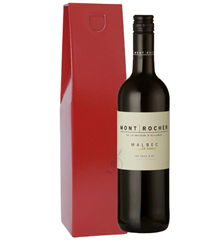 Malbec Red Wine Gift Box
Ideal for enjoying on a cold winter evening to warm up in a truly delicious way, from the very first sip the remarkable bottle of Mont Rocher French Malbec red wine, you'll wish you could drink it all day, every day, for the rest of your life. Produced in Limoux, located in the south of France, this incredibly tasty bottle of wine boasts a lovely and fruity flavour that any recipient is sure to enjoy. Presented in a stunning red gift box and the perfect present to send to any event from a wedding to a birthday and beyond; this French Malbec Red Wine Gift Box will instantly become the best gift they receive from the very moment it arrives.

---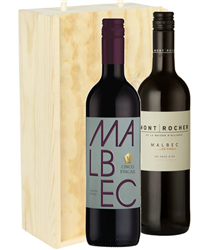 Malbec Mixed Two Bottle Wine Gift
Presented in a gorgeous wooden gift box designed for secure delivery to any location, this extraordinarily delicious Malbec Mixed Two Bottle Wine Gift Box allows the recipient to enjoy more than one variety of different Malbec wine flavours. Ideal as a gift for someone with a true appreciation of bold Malbec grapes, this incredible box boasts two types of truly rich wine within it; one from the foothills of the Andes in Argentina, and one from the vineyards of France. Easily personlised so you can assure the recipient knows who to thank, this one of a kind unit is certain to be savored by anyone lucky enough to receive it.
---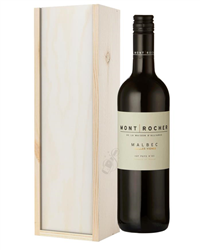 French Malbec Red Wine Gift
Produced in Limoux in the South of France and offering a bold and fruity flavour that can be enjoyed with each sip, this French Malbec Red Wine Gift Box is certain to truly satisfy anyone fortunate enough to receive it. A delectable variety of red wine that boasts a strong and beautiful taste and an amazingly chic appearance all in one unique and elegant gift set, every inch of this stunning box makes a great addition to any occasion from a baby shower to a retirement or anniversary party and beyond. Delivered in a sleek wooden box and complete with a single bottle of Mont Rocher Malbec wine within it, when you choose to send one of these boxes, you can be certain that whoever receives it will feel special and appreciated.

---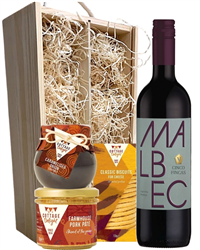 Malbec Wine & Gourmet Food Gift Box
A single bottle of Argentinian Malbec Wine together with Cottage Delight Farmhouse Pate with Pork (90g), a jar of fabulous Pickle (115g) and some Oval Alberts Savoury Biscuits (150g). This is presented in a wooden gift box and is lined with wood wool. Personalize this gift by adding your own gift message.
---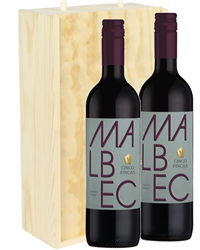 Malbec Duo Wine Gift
The perfect gift set for anyone with a true affinity and love for the Malbec variety of wine; from the first glass to the last, each taste of this incredible flavour is so captivating, anyone enjoying it won't want to stop until both bottles are gone. Delivered in a stunning and well-made wooden box that is designed to hold two single bottles of wine securely to be sent to nearly any location, this gift box is certain to arrive to the destination exactly when it's scheduled to be. Produced in the Mendoza region of Argentina at the foothills of the Andes and boasting a full, bold taste; no matter what event or occasion you choose to send this set to, the recipient is certain to be completely satisfied with the gift they received.
---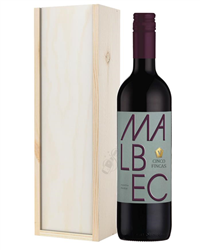 Argentinian Malbec Red Wine Gift
Ideal for delivery to anyone in your life that could use a little something special, this lovely Argentinian Malbec Red Wine Gift Box makes the perfect gift for any occasion or event that presents itself. Presented in a simple, stylish wooden box and crafted to arrive looking it's best, this truly remarkable gift box includes a single bottle of Argentinian Malbec Red Wine from Santa Rosa Estates, from the wine region of Mendoza at the foothills of the Andes Mountains. Bold, full of flavour and absolutely delightful in every way, this box can include a personalised message along with it if desired as well.
---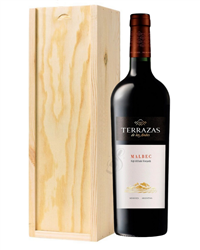 Terrazas Reserva Malbec Wine Gift
A delicious, flavorful gift that will be certain to fully satisfy any true wine connoisseur, this Terrazas Reserva Malbec Wine Gift Box is secured for delivery and contains a single bottle of Terrazas Reserva Malbec Wine placed within a sturdy, stylish wooden box. From High Altitude Vineyards in Mendoza, Argentina and boasting a truly stunning taste, this gift box will easily stand out from any other gift the recipient receives. A gift you can easily personalise so whoever you're sending to knows who to thank, this high-quality box is also durably lined with wool so it will make it to it's intended destination safely for use and enjoyment.

---