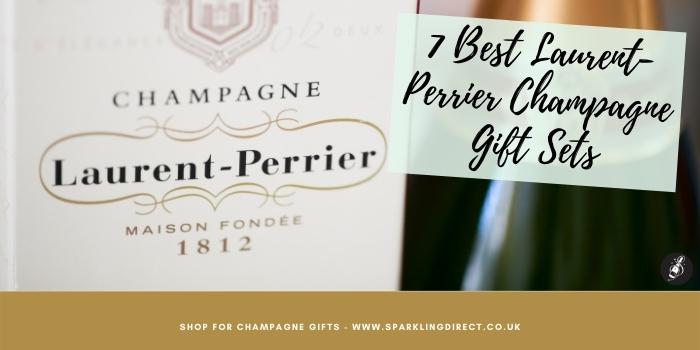 Laurent Perrier is a leading Champagne House that makes delicious bubbly for all occasions. But when you're looking to send a bottle as a gift, how do you pick one to send?
Any one of these seven gift sets will make the perfect Champagne gift. Whether for a birthday, anniversary or any other special occasion, treat someone to a beautiful bottle of Laurent Perrier delivered straight to their door. So why not take a look and send a Champagne gift like no other today?
---
Laurent Perrier Champagne Gift Box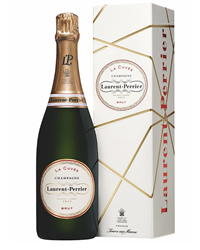 A gift that is easily as gorgeous in appearance as it is delectable in flavour. This simply incredible Laurent Perrier Gift Box is a truly special, and remarkably sophisticated, way to show someone in your life just how much you really care and/or appreciate them. Created from a blend of smooth and crisp flavours and a mixture of high-quality grapes, the bottle of champagne included within this gift box is Laurent Perrier's signature champagne re-launched as la cuvee that is produced every year, allowing you to enjoy, or send, a bottle as often as you like. Personalize this gift with a personal message and anyone it's sent to will be certain to love it.
---
Laurent Perrier Rose Champagne & Chocolates Gift Box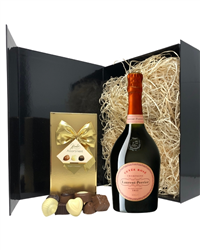 A unique way to send your beloved a "rose" and some delectable chocolates to enjoy; every bit of this incredible Laurent Perrier Rose Champagne & Belgian Chocolates Gift Box is meant to fully satisfy anyone lucky enough to receive it. A truly beautiful present that is carefully packed within a simple yet stylish wooden gift box; this amazing gift set contains a single bottle of Laurent Perrier Rose Champagne as well as a ballotin of 250g, or approximately 20, assorted Belgian chocolates. Complete with an enclosed plastic, printed gift card that can be personalised by you, this remarkable gift box boasts nothing but wonderful flavor, no matter which portion of this set you're currently enjoying.
---
Laurent Perrier Champagne Birthday Gift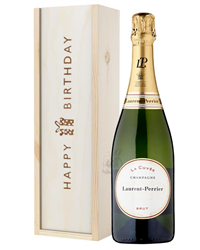 Housed within a solid and amazingly chic wooden box with the words 'Happy Birthday' printed on top; the single bottle of Laurent Perrier Brut Champagne included within this gorgeous gift box features a light and elegant flavour thanks to a high percentage of Chardonnay grapes included within the wine blend itself. Easy to customise with a personal message from you as well if desired, this Laurent Perrier Champagne Birthday Gift Box makes a truly special gift that anyone from your spouse or significant other to a friend, parent, aunt, uncle or cousin enjoy every single sip of. When this extraordinary gift set is delivered, it's certain to bring a smile to any recipient's face.
---
Laurent Perrier Champagne Hamper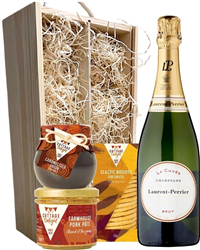 Sophisticated and delicious, this gift set is perfect for any Champagne lover with a reason to celebrate. No matter where they are, there's no reason to treat someone to a single bottle of Laurent Perrier NV Champagne along with a beautiful selection of gourmet foods. These include Cottage Delight Farmhouse Pate with Pork (90g), a jar of fabulous Pickle (115g) and some Oval Alberts Savoury Biscuits (150g), all of which is presented with the Champagne in one of our silk-lined wooden gift boxes. You can have this gift delivered anywhere in the UK with next day or selected delivery, and don't forget to add a personalised message to make this the best gift they ever receive.
---
Laurent Perrier Rose Champagne Gift Set With Flute Glasses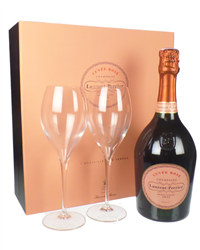 Remarkably elegant, truly classy and created to send as the ideal romantic gesture to that special someone in your life; from the moment this incredibly special Laurent Perrier Rose Champagne Gift Set arrives, the recipient is certain to feel warm and cozy on the inside, and not just from drinking the wine itself. A limited edition set that includes a single bottle of Laurent Perrier Rose Champagne as well as two Laurent Perrier wine flutes within it; when you send this extraordinary gift set to your spouse or significant other you get the pleasure of enjoying it with them as well. Presented in a gorgeous gift box and easy to personalise with a message from your heart to send along with it.
---
Laurent Perrier Champagne Magnum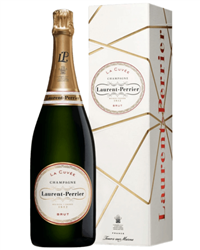 A large and luxurious gift that is certain to satisfy even a seasoned wine aficionado; with each and every taste of the truly delicious Laurent Perrier La Cuvee Champagne inside this gift box, you will instantly experience absolute pleasure and bliss. Presented in a lovely Laurent Perrier branded, carded box and boasting an incredibly chic appearance from the outside in; not only is this gift box sure to catch attention anywhere it's delivered, it's also certain to completely fulfill every expectation about how remarkably delightful this champagne may be. This Laurent Perrier Champagne Magnum 150cl Gift Box makes an amazing gift that can be sent to an impressive array of different possible occasions from a housewarming to a wedding and more.
---
Laurent Perrier Rose Champagne Gift Box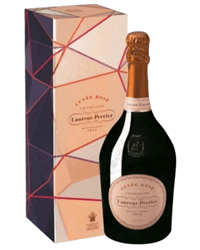 Boasting a beautiful rose colour all throughout this truly delectable gift box; from the rose-coloured, branded box to the delightful single bottle of rose champagne contained within it, this Laurent Perrier Rose Champagne Gift Box is just as special as presenting a bouquet of roses to someone you love. A truly elegant option for surprising anyone from a friend to a significant other with, this wonderful gift set makes an amazing present for any occasion from a wedding to a retirement or just as a simple "I love you". Presented in a sleek bottle inspired by the time of Henry IV, this remarkable champagne features the aroma, and flavour, of berries anyone would truly enjoy.
---
---
10 Best Single Bottle Champagne Gifts
We've rounded up our best single bottle Champagne gifts to create the ultimate gift guide. Take a look at our collection here.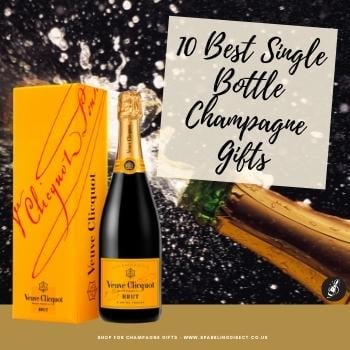 7 Best Champagne and Glasses Gift Sets
Looking for a great housewarming gift? Choosing a housewarming gift for friends or couples can take time. You'll need to decide between quirky, unique, practical or a luxury gift.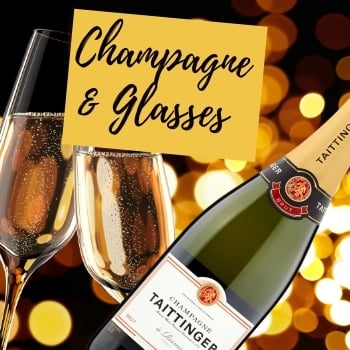 15 Luxury Gifts For Champagne Lovers
Looking for the most luxurious Champagne gift? We have 15 right here for you to send no matter the occasion, recipient or distance.