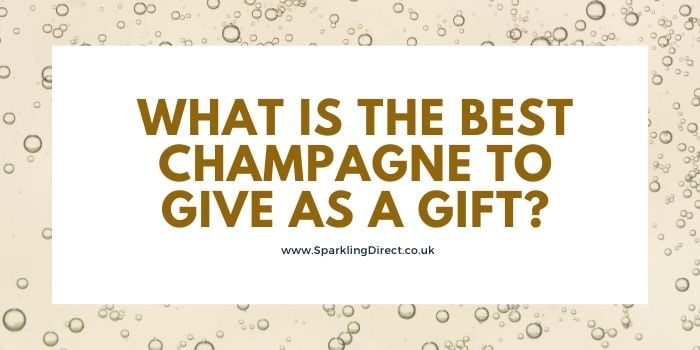 Whether you're looking to say Happy Birthday, Congratulations or Thank You, we have the most beautiful Champagne gift sets created from the worlds most well known brands. Here are our top picks when choosing the best Champagne to give as a gift.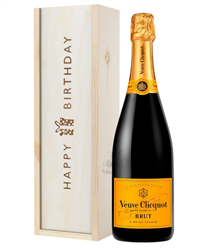 Veuve Clicquot Birthday Gift
Say 'Happy Birthday' to someone in your life in a tasty and elegant way; when you choose to send one of these Veuve Clicquot Champagne Birthday Gift Box to any truly special birthday girl, or guy, you can rest assured that they will be thoroughly thrilled with this present's arrival. Presented in a strong wooden box and containing a single bottle of Veuve Clicquot Yellow Label NV Champagne, this gift box offers absolutely everything you're looking for a classy birthday gift. Great to send to your spouse, significant other, best friend or family member, this gift set allows anyone that receives it to fully let loose and truly enjoy their special day.
---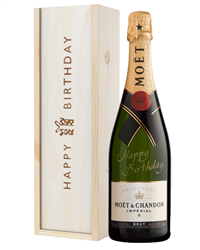 Moet Champagne Birthday Gift
A wonderful birthday gift that is sure to arrive in style to any birthday party or bash you're invited to; from top to bottom this extraordinary gift box boasts nothing but truly chic design and delicious flavour as well. Presented in a stunning, high-quality wooden box and stamped with the words Happy Birthday clearly on top, this box is absolutely certain to arrive safely and looking its best no matter where you choose to have it delivered. Complete with a single bottle of Moet & Chandon Imperial Brut Champagne adorned with the words 'Happy Birthday' in gold on the bottle, this Happy Birthday Moet Champagne Gift Box is created to satisfy anyone celebrating another year of life to enjoy.
---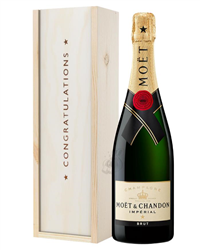 Moet Champagne Congratulations Gift
Send your heartfelt congratulations, and do it in absolute style, when you have one of these incredibly sophisticated Moet et Chandon Champagne Congratulations Gift Boxes delivered to someone you care for. A truly delectable blend of chardonnay, pinot noir and pinot meunier that creates a one of a kind flavour anyone can fully appreciate; when you choose to send this wonderful gift box it's obvious upon arrival what it's meant for and what the recipient is meant to celebrate. Presented in a strong, trendy wooden box with the world 'Congratulations' written boldly upon the top of it, this stunning gift set is easy to personalise and allows you to celebrate an accomplishment with someone no matter the distance between you.
---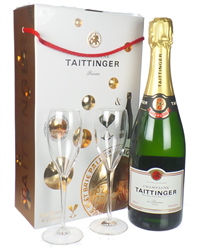 Taittinger Champagne Gift Set
A gorgeous way to send a celebration in a box; this Taittinger Champagne Branded Flute Set includes not only a single bottle of Taittinger Champagne within it, but it also includes two high-quality branded Taittinger champagne flutes as well. Easy to personalise with a message straight from you if desired, this lovely gift set makes the perfect present to send to a variety of different special occasion from an engagement or anniversary party to a just because gift for that special someone in your life. Delivered in a fashionable, branded Taittinger box, this gift set boasts an appearance that is easily as chic as its contents.
---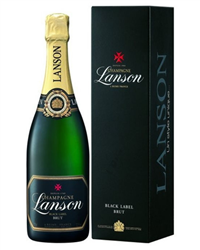 Lanson Champagne Gift Box
A simple way to send the gift of a remarkably popular bottle of Champagne that anyone will truly appreciate receiving. An exceptional gift that will bring instant delight after only one taste, this Lanson Champagne Gift Box makes an extraordinary gift for an engagement, a wedding, a promotion, or any other special occasion you can come up with. Presented in its own Lanson branded gift box and just what any day of celebration is missing, this wonderful gift box can even include your own personalised message along with it if desired. A great taste that is sure to please and will never disappoint, Lanson Black Label Champagne is a gift unlike any other.
---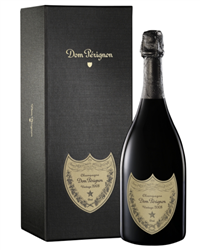 Dom Perignon Champagne Gift Box
A truly luxurious gift box that includes a bottle of one of the most well-known champagne's in the world, this incredibly elegant Dom Perignon Champagne Gift Box makes the perfect present for anyone that deserves a special congratulations of any kind. Delivered in its own sleek, black Dom Perignon branded box and filled with a bottle of the current vintage aged from 2009, from top to bottom this amazing gift box offers an amazingly delicious gift nearly anyone can enjoy. Simply add a personalised message for complete customization and this remarkable gift will be on its way to that special someone right away.

---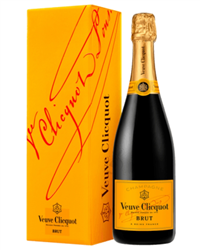 Veuve Clicquot Champagne Gift Box
The ideal gift box to choose when sending congratulations are in order, no matter the occasion, or the reason for celebration, one of these truly delicious Veuve Clicquot Champagne Gift Boxes is the perfect present to send. Arriving in a beautifully bright yellow box and containing a single bottle of exquisite champagne within, this gift box is certain to bring a smile to the face of anyone that receives it. Delivered to the address of your choice by any specified date, this remarkable box of champagne will tickle the taste buds of every single person lucky enough to enjoy it.
---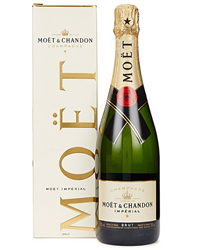 Moet Champagne Gift Box
A uniquely delicious way to present a special gift to a special someone; every single sip of the Moet Chandon Imperial Champagne contained within this Moet Champagne Gift Box will be absolutely certain to offer complete satisfaction to anyone, and everyone, enjoying it. Supplied in its own Moet carded box and presented with a personalised gift card filled out by the sender, this truly incredible gift box makes the perfect gift for any occasion from a wedding to a simple congratulations for a job well done at work. Sending something special to someone you care for has never been easier than this.
---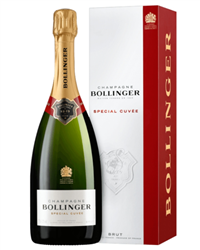 Bollinger Champagne Gift Box
A classy, sophisticated way to truly impress anyone you choose to send it to. From the simple yet eye catching gift box it comes in to the incredibly exquisite single bottle of Bollinger Special Cuvee Champagne placed within it, this amazing Bollinger Champagne Gift Box offers everything you're looking for in a bottle of bubbly. Boasting a unique, palate refreshing taste and fruity, spicy, nut-like flavour; from beginning to end this truly exclusive bottle of champagne will be certain to impress anyone that receives it, from your boss to your best friend and anyone in between.
---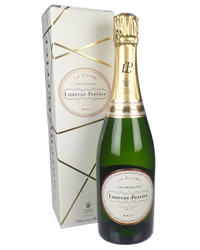 Laurent Perrier Champagne Gift Box
A gift that is easily as gorgeous in appearance as it is delectable in flavour. This simply incredible Laurent Perrier Gift Box is a truly special, and remarkably sophisticated, way to show someone in your life just how much you really care and/or appreciate them. Created from a blend of smooth and crisp flavours and a mixture of high-quality grapes, the bottle of champagne included within this gift box is Laurent Perrier's signature champagne re-launched as la cuvee that is produced every year, allowing you to enjoy, or send, a bottle as often as you like. Personalize this gift with a personal message and anyone it's sent to will be certain to love it.
---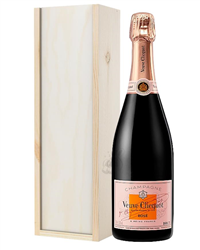 Veuve Clicquot Rose Champagne Gift
Presented in a versatile, elegant wooden gift box and ideal to be sent for a wide variety of different occasions as the perfect present, from top to bottom this Veuve Clicquot Rose Champagne Gift Box features nothing but absolute beauty and class in design as well as appearance. Complete with a single bottle of Veuve Clicquot Rose NV Champagne within it and placed securely within a high-quality gift box that is designed to arrive looking its best; once this remarkable gift box arrives at its destination the recipient will be certain to send their heartfelt thanks to you for choosing such a wonderful gift meant for them to enjoy.
---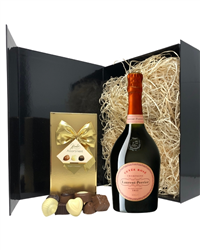 Laurent Perrier Rose Champagne & Chocolates
A unique way to send your beloved a "rose" and some delectable chocolates to enjoy; every bit of this incredible Laurent Perrier Rose Champagne & Chocolates Gift Box is meant to fully satisfy anyone lucky enough to receive it. A truly beautiful present that is carefully packed within a simple yet stylish wooden gift box; this amazing gift set contains a single bottle of Laurent Perrier Rose Champagne as well as a ballotin of 250g, or approximately 20, assorted Belgian chocolates. Complete with an enclosed plastic, printed gift card that can be personalised by you, this remarkable gift box boasts nothing but wonderful flavor, no matter which portion of this set you're currently enjoying.

---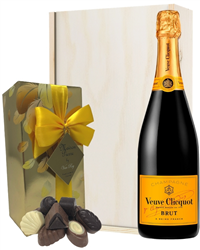 Veuve Clicquot Champagne & Chocolates
As delicious in flavour as it is elegant in design and composition, this sleek and truly gorgeous Veuve Clicquot Champagne & Belgian Chocolates Gift Box offers absolute sophistication and impressive quality throughout every item included within the set. Carefully packed within a stylish wooden gift box and complete with everything needed for absolute enjoyment of each item within it; from the single bottle of Veuve Clicquot Champagne to the assorted Belgian Chocolates, there isn't a taste of this box that isn't absolutely delightful from start to finish. A present anyone will be sure to appreciate, this gift box comes with a printed plastic gift card with a personalised message enclosed with the gift itself.

---