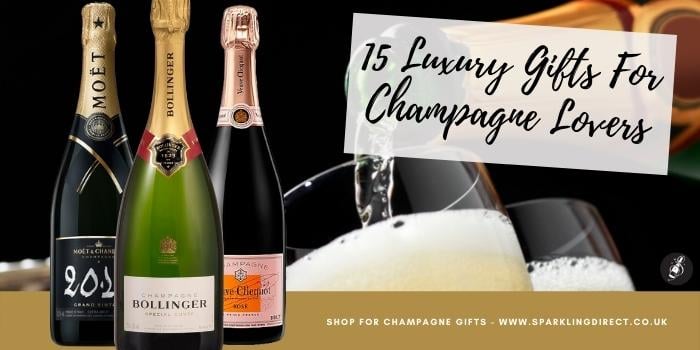 Picking a gift for a Champagne lover is never easy. With so many bottles and hampers to choose from, it can be impossible to know which is worth gifting. So what do you give a Champagne lover?
A single bottle of Champagne, whether on its own or in a hamper, always guarantees a smile from anyone who loves Champagne. These 15 gifts are no exception. Perfect for any occasion, choose from Vintage, Brut, or Rose presented in a range of boxes and find the perfect Champagne gift.
---
Moet et Chandon Vintage Champagne Luxury Gift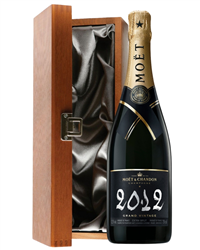 Luxurious and sophisticated, this bottle tastes as good as it looks. Treat someone to this outstanding single bottle of Moet & Chandon Vintage Champagne and help them celebrate in style. Complete with a luxurious stained wooden box with traditional joints and clasps, this is a gift for exceptional occasions and is sure to show someone how much you care. Grey silk lines the inside of the box, protecting and presenting the bottle in the best way possible. Complete the order with a personalised message and have it delivered the next day or on a day of your choice.
---
Lanson Black Label Champagne Gift Box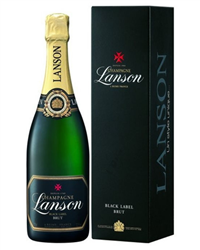 A simple way to send the gift of a remarkably popular bottle of Champagne that anyone will truly appreciate receiving. An exceptional gift that will bring instant delight after only one taste, this Lanson Black Label Champagne Gift Box makes an extraordinary gift for an engagement, a wedding, a promotion, or any other special occasion you can come up with. Presented in its own Lanson branded gift box and just what any day of celebration is missing, this wonderful gift box can even include your own personalised message along with it if desired. A great taste that is sure to please and will never disappoint, Lanson Black Label Champagne is a gift unlike any other.
---
Bollinger Champagne & Belgian Chocolates Gift Box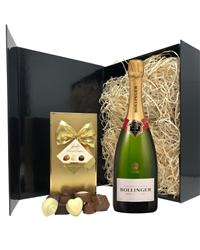 The ultimate gift of delicious flavours that anyone will instantly fall in love with; when you have one of these incredibly delectable Bollinger Champagne & Belgian Chocolates Gift Box delivered to that special someone, they will experience instant ecstasy from the very first sip and/or bite. A beautiful gift from the inside out, this extraordinary gift box includes a single 75cl bottle of Bollinger Champagne and 125g of exquisite Belgian Chocolate, all housed within a stylish presentation box designed to cushion the product as it makes its way to the desired recipient, personlised with a customized message from you.
---
Pink Champagne Birthday Gift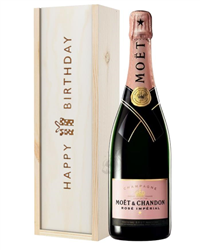 An exclusively designed, high-quality gift box that is sure to turn any recipients birthday from simply ordinary to truly extraordinary. From the moment this Moet et Chandon NV Rose Champagne Birthday Gift Box arrives to its destination, whoever receives it will be ready to pop the cork and savour every glass it provides. Delivered in a sturdy wooden box with the words 'Happy Birthday' stamped perfectly on top of the box itself, whether you send this box to your best friends birthday party or the home of a family member or colleague from work, its absolutely certain to fill any recipient with warmth and love directly from you, from start to finish.
---
Taittinger Vintage Champagne Gift Box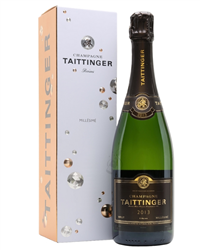 Featuring a fresh and lively flavour that boasts true depth as well as a balanced taste, the single bottle of Taittinger Brut Vintage Champagne that comes housed inside this gift box also offers hints of both honey and fresh fruit within every glass. A wonderful present to have delivered to anyone from a parent to a simple acquaintance that deserves a special thanks or congratulations; this Taittinger Vintage Champagne Gift Box is absolutely certain to fully please any person fortunate enough to receive it. Presented in a gorgeous branded box, every ounce of this incredible champagne is meant to be savored from start to finish.
---
Ayala Champagne Thank You Gift
This is a single bottle of Ayala Brut Champagne and is delivered in one of our 'Thank You' branded wooden gift boxes. You may not have heard too much about Ayala Champagne but don't let that stop you from choosing this as a gift. Ayala is the sister Champagne House to Bollinger and has been in existence since 1860 – so they know their Champagne! How Does It Taste? Just fine is the answer to that question. The experts say '…light gold in colour with an abundance of fine bubbles. The nose is open and expressive, giving delicate notes of citrus, flowers and white fruits. The palate is balanced, combining freshness and vinosity. All in all giving a precise, fruity and characterised taste…' Ayala Brut Majeur Champagne is indeed slightly lighter in colour and that is down to its higher percentage of Chardonnay grapes at 40%. This gives it a fresh clean taste making this non vintage Champagne easy to drink and is definitely worth giving. As its not available everywhere, a small amount of intrigue is also given with this gift.
---
Laurent Perrier Rose Champagne Gift Set With Flute Glasses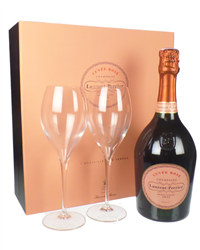 Remarkably elegant, truly classy and created to send as the ideal romantic gesture to that special someone in your life; from the moment this incredibly special Laurent Perrier Rose Champagne Gift Set arrives, the recipient is certain to feel warm and cozy on the inside, and not just from drinking the wine itself. A limited edition set that includes a single bottle of Laurent Perrier Rose Champagne as well as two Laurent Perrier wine flutes within it; when you send this extraordinary gift set to your spouse or significant other you get the pleasure of enjoying it with them as well. Presented in a gorgeous gift box and easy to personalise with a message from your heart to send along with it.
---
Veuve NV and NV Rose Two Bottle Champagne Gift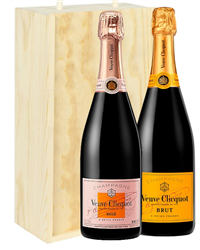 A stunning set of wines that boasts nothing but crisp and remarkable flavors, from the very first sip of these delicious varieties of champagne anyone will find themselves reaching for the bottle again and again to fill your glass until they're gone. Presented in a sleek wooden box and featuring a chic yet simple appearance, this Veuve NV and NV Rose Two Bottle Champagne Gift Box is sure to make any recipient truly delighted upon delivery. Capable of being customised with your own personal message that is placed within the gift box itself, this incredible set of champagnes makes a really gorgeous gift that can be sent to anyone, whether it be a friend, family or someone you work with.
---
Moet Ice Imperial Champagne Congratulations Gift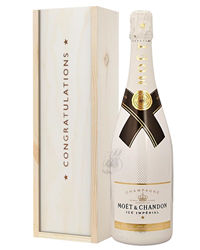 Complete with a remarkably classy bottle of Moet Ice Imperial Champagne and easy to personalise with a message from you as well, every inch of this sleek and exclusively crafted gift box provides the perfect way to truly congratulate anyone, no matter they've done or accomplished in order to earn it. A great gift option for presenting as a graduation present, a wedding gift or to celebrate the birth of a brand-new baby; this Moet Ice Imperial Champagne Congratulations Gift Box boasts unmatchable style and extraordinary flavour that you simply won't get from any other present you could send. The bottle of demi-sec champagne within this amazing gift set is specifically created to be enjoyed over ice.
---
Bollinger Champagne Magnum 150cl Gift Box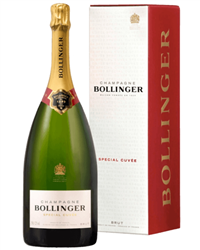 Upgrade the celebrations and get the party started with this Magnum of Champagne! Whether for a wedding, anniversary or a big celebration, spread the cheer further with a Magnum of the exceptional and refined Bollinger Champagne. Filled with 1.5 litres of Champagne, there's more than enough to share with all of your friends and family. It's presented and delivered in its own Bollinger Champagne gift box, making a perfect gift to send if you can't be there in person. You can also add a personalised message to share the celebrations with your lucky recipient. Have it delivered anywhere in the UK, including venues, with next day or selected date delivery and make your event the party of the year.
---
Veuve Clicquot Rich Champagne Birthday Gift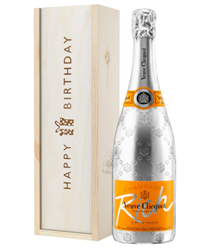 A delightfully tasty bottle of champagne that features truly extraordinary flavour from start to finish; the single bottle of Veuve Clicquot Rich Champagne housed within this sturdy gift box is absolutely certain to provide class, elegance and extraordinary taste that shines as part of any birthday celebration, anywhere. Simple to personalise with a message from you and designed for secure delivery to any location, this Veuve Clicquot Rich Champagne Birthday Gift Box makes a bold and unique birthday gift that anyone from a co-worker to a friend or any member of your family is sure to enjoy every drop of. Send heartfelt birthday wishes with only minutes of work from you.
---
Laurent Perrier Champagne Thank You Gift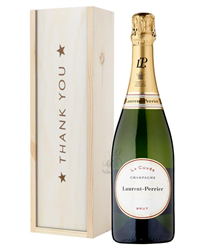 A truly elegant and sophisticated way to tell someone in your life that you're thankful to have them in your life, this remarkably classy Laurent Perrier Champagne Thank You Gift Box will make it clear to anyone that receives it that you are incredibly thankful for whatever they've done. Presented in a chic wooden box with the words 'Thank You' written clearly across the top of it, this gift box makes the ideal present to send to someone that can really appreciate the finer things in life. Containing a single bottle of Laurent Perrier Brut Champagne within it, every sip of this tasty champagne is fresh, light, and crisp in flavour and will have the recipient savoring each moment it passes their lips.
---
Taittinger Prelude Champagne Congratulations Gift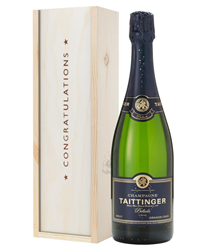 What better way to say congratulations than with an extra special bottle of Grand Crus Champagne? Gift someone a gorgeous single bottle of Taittinger Prelude Champagne to pop open and celebrate with. Whether for exam results, a new job or any other milestone, this is the perfect gift. It's packaged and presented in one of our wooden gift boxes with 'Congratulations' printed on the lid and lined with wood wool. Plus, extend the congratulations with a personal message, printed onto a plastic card and included with the gift. Have it delivered straight to their door either the next day or on a selected date.
---
Veuve Clicquot Vintage Champagne Luxury Gift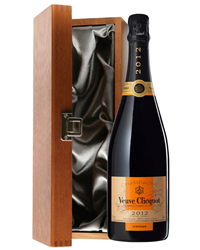 A chic and luxurious gift set that offers nothing but true elegance and sophistication from top to bottom. Containing a single bottle of Veuve Clicquot Vintage Champagne within it, this Veuve Clicquot Vintage Luxury Gift Box boasts a stunning appearance, and a full, delicious flavour that other gift boxes simply cannot match. Presented in a lovely wooden gift box that is lined with gorgeous grey silk, this gift box is meant to securely withstand delivery and makes a wonderful present to have delivered for any occasion from a retirement party to the celebration of a new life at an especially chic baby shower.
---
Moet Champagne Gift Box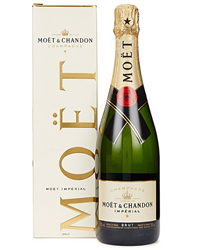 A uniquely delicious way to present a special gift to a special someone; every single sip of the Moet Chandon Imperial Champagne contained within this Moet Champagne Gift Box will be absolutely certain to offer complete satisfaction to anyone, and everyone, enjoying it. Supplied in its own Moet carded box and presented with a personalised gift card filled out by the sender, this truly incredible gift box makes the perfect gift for any occasion from a wedding to a simple congratulations for a job well done at work. Sending something special to someone you care for has never been easier than this.
---
---
10 Best Gifts for Champagne Lovers
Champagne makes the perfect gift for all occasions. It's a sophisticated and luxurious gift that will be appreciated by anyone who receives it.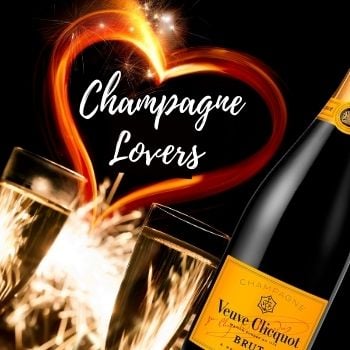 10 Best Single Bottle Champagne Gifts
We've rounded up our best single bottle Champagne gifts to create the ultimate gift guide. Take a look at our collection here.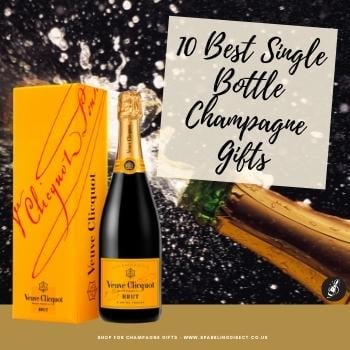 What is a Good Champagne to Give as a Gift?
Whether you're looking to say Happy Birthday, Congratulations or Thank You, we have the most beautiful gift sets created from the worlds most well-known brands. Here are our top picks when choosing the best Champagne to give as a gift.