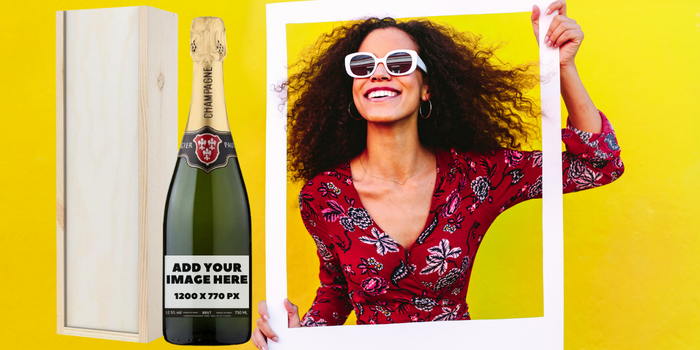 Are you looking to add a sophisticated touch to your next special occasion? Our Personalised Champagne Bottle with Photo Upload is the perfect way to do so! This stylish bottle can be customised by uploading a photo of your choice, adding a personal touch that will help make any event extra special.
Introducing our new Personalised Champagne bottles with photo upload. Nothing says 'celebration' better than a bottle of exquisite champagne, and now you can make it even more special. Our 75cl bottle of Paul Langier Brut Champagne is presented in our classic wooden gift box ready to celebrate any occasion.
---
Personalised Champagne Bottle – Photo Upload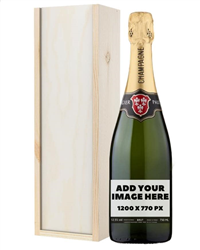 This Champagne photo gift takes personalised bottles to another level, and it really is easy. Simply create an image canvas of 1200 PX Width by 770 PX Height in your favourite image software ie. Photoshop, Canva, Adobe Illustrator etc… Give the canvas a solid background ie. white and then create your masterpiece.
It can be whatever you want it to be and include text, photos, logos, QR Codes, or your own corporate branding the list is endless. If you have the option select 300 DPI and then save your file as .JPG or .PNG. Then Click on the personalise Label button to upload your file and preview how it will look on the bottle.
The label will be applied to a bottle of Paul Langier Brut Champagne; beautifully presented and delivered in one of our classic solid wooden gift boxes. You'll also have the option to add a greeting card message during checkout. We can deliver next day or on the day of your choice in the UK.
---
---
7 Personalised Gifts Your Friends Will Love
Looking for a unique gift? Check out these personalised Champagne gift bottles that will make any occasion special. From birthday to anniversary, these champagnes are sure to please. Add a personal touch with a custom message or name for the recipient. Order now and have them delivered in time for the celebration!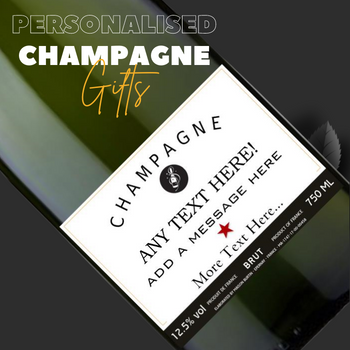 Personalised Champagne Gift With Flowers?
Need to send some flowers? No matter the occasion or distance, we've made it easy to send Champagne and flowers straight to someone's door. Find out more here.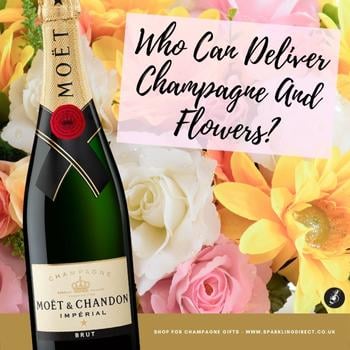 10 Best Presents for Champagne Lovers
Champagne makes the perfect gift for all occasions. It's a sophisticated and luxurious gift that will be appreciated by anyone who receives it.