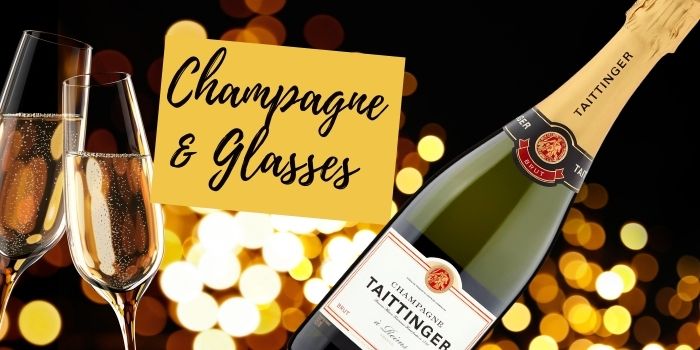 Looking for a great housewarming gift? Choosing a Champagne gift for friends or couples can take time. You'll need to decide between quirky, unique, practical or a luxury gift. Is Champagne a good housewarming gift?
A Champagne and Glasses gift set will make the perfect housewarming gift. Champagne sends the message of congratulations and we have a stunning range of luxury branded gift boxes from the best Champagne houses; Laurent Perrier, Bollinger, Taittinger, Lanson. Our Champagne gift sets can be personalised with a message and delivered the next day throughout the UK.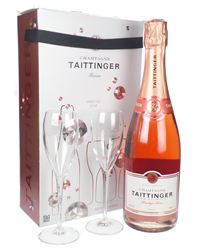 Taittinger Rose Champagne Branded Glasses Gift Set
A great gift from Taittinger, one of their own branded flute gift sets. This one contains a single bottle of Taittinger Rose Champagne and two Taittinger branded Champagne flutes. Personalize this gift by adding your own personal message.
---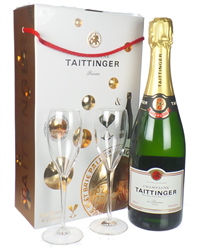 Taittinger Champagne Branded Glasses Gift Box Set
A gorgeous way to send a celebration in a box; this Taittinger Champagne Branded Flute Set includes not only a single bottle of Taittinger Champagne within it, but it also includes two high-quality branded Taittinger champagne flutes as well. Easy to personalise with a message straight from you if desired, this lovely gift set makes the perfect present to send to a variety of different special occasion from an engagement or anniversary party to a just because gift for that special someone in your life. Delivered in a fashionable, branded Taittinger box, this gift set boasts an appearance that is easily as chic as its contents.
---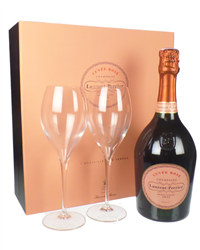 Laurent Perrier Rose Champagne Gift Set With Flute Glasses
Remarkably elegant, truly classy and created to send as the ideal romantic gesture to that special someone in your life; from the moment this incredibly special Laurent Perrier Rose Champagne Gift Set arrives, the recipient is certain to feel warm and cosy on the inside, and not just from drinking the wine itself. A limited-edition set that includes a single bottle of Laurent Perrier Rose Champagne as well as two Laurent Perrier wine flutes within it; when you send this extraordinary gift set to your spouse or significant other you get the pleasure of enjoying it with them as well. Presented in a gorgeous gift box and easy to personalise with a message from your heart to send along with it.
---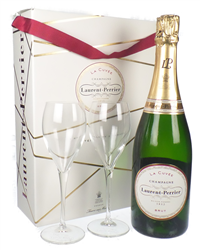 Laurent Perrier Branded Champagne Glasses Gift Set
A gift set unlike any other; this truly stunning and amazingly classy Laurent Perrier Branded Flute Gift Set includes not only an absolutely delicious single bottle of Laurent Perrier La Cuvee Brut Champagne, it also features two beautifully crafted, Laurent Perrier branded wine flutes as well with which to enjoy it. Contained within a chic and clearly branded box that allows this gift to stand out from the crowd of presents they may receive; this set makes a wonderful gift to send as an engagement or wedding gift if desired. A present that can also be personalised if needed, this flute set can come with a personal message included with it as well.
---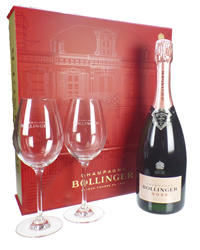 Bollinger Rose Limited Edition Flute Glass Set
Another limited edition gift from the House of Bollinger. A full-size bottle of Bollinger Rose together with 2 Bollinger flute glasses presented in a beautiful Bollinger gift box.
---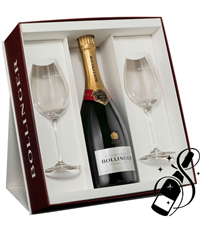 Bollinger Cuvee Champagne Red Box and Glasses
A gift set that is truly designed for two to share; from the voluminous bottle of Bollinger Special Cuvee Champagne to the two crystal-clear branded Bollinger flutes from which to enjoy it, this remarkably chic Bollinger Red Flue Set makes the perfect present to send to that special someone in your life. A limited-edition set that arrives in a bold red and amazingly elegant Bollinger gift box, no matter where you choose to have this set delivered it will easily stand out from every other gift that is received. A fantastic, fashionable gift box that makes a wonderful present for anyone that can fully appreciate the flavour that a bold, red wine offers.
---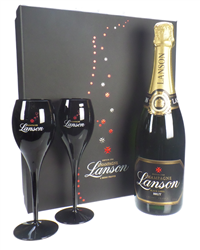 Lanson NV Champagne and Glasses Gift
Get this great Lanson Black Label branded flute set. A single bottle of Lanson Black Label together with 2 black glass Lanson Champagne flute glasses. Add to that your own personal message and you have a great gift set
---
What are old fashioned Champagne glasses called?
Old fashion Champagne glasses are often called Champagne Saucers. The actual name is Champagne coupe which is a shallow, broad-bowled saucer shaped stemmed glass generally capable of containing between 180 to 240 ml.
---
10 Best Christmas Champagne Gift Sets | 12 Moet Champagne Gift Sets Your Friends Will Love
---
What is a Good Champagne to Give as a Gift?
Whether you're looking to say Happy Birthday, Congratulations or Thank You, we have the most beautiful gift sets created from the worlds most well known brands. Here are our top picks when choosing the best Champagne to give as a gift.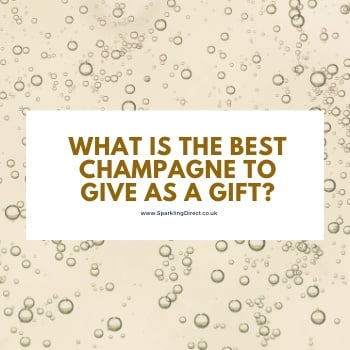 5 Moet & Chandon Birthday Gifts
If you're looking for the perfect Champagne birthday gift, look no further. Send a Bottle of Moet Champagne to Say Happy Birthday & Celebrate an 18th, 21st, 30th, 40th or 50th in style.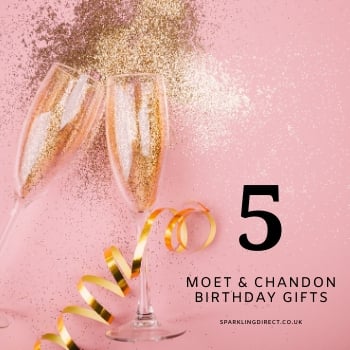 5 Great Birthday Gifts for Veuve Clicquot Champagne Lovers
An occasion such as a birthday requires a special gift, and our range of Veuve Clicquot gift sets are perfect for anyone who loves a glass of bubbly.