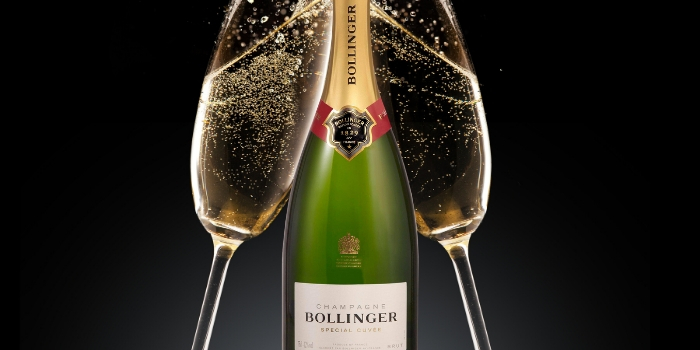 Celebrating a special occasion and looking for the perfect gift? Look no further! Sparking Direct has an extensive range of award-winning Champagne gift sets to choose from, including Bollinger Champagne. Our five best Bollinger Champagnes are the perfect celebratory treat – whether you're wishing someone happy birthday or congratulating them on their wedding day. With each gift set comes exquisite flavours for every taste bud, as well as elegant packaging that your recipient will adore.
Make sure your one-of-a-kind gifting experience stands out this year by ordering from Sparkling Direct before 4 PM today for free next day delivery across the UK. This offer is too good to miss! And with our selection of premium Champagnes like Bollinger at unbeatable prices, it's not just a luxurious present but also extremely affordable – making it even more special.
---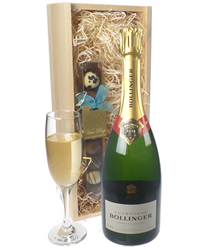 Bollinger Champagne and Chocolates
A gift box that offers a truly remarkable flavour that no other set can match; this exclusively designed Bollinger Champagne and Chocolates Gift Set includes both a single bottle of Special Cuvee Bollinger Champagne as well as a 110g box of delectable chocolate truffles alongside it and boasts a taste combination unlike any other in the world. Ideal for delivery to a variety of events or simply just because you want to show someone special how much you care, this gift set is a great way to send your best wishes, your congratulations or your thanks to anyone from your boss to your spouse and everyone else in between.

---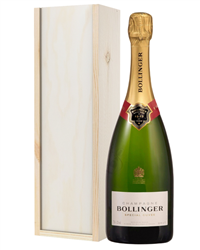 Bollinger Champagne Gift
A one of a kind gift box that beautifully combines a natural look with a truly delicious taste; this remarkably stylish Bollinger Champagne Gift in a Wooden Box offers everything you're looking for in a personalised present. Complete with a single bottle of Bollinger Special Cuvee Champagne securely contained within a smooth, beautifully crafted wooden box, this gorgeous gift makes an amazing gift for any occasion from a promotion at work to a wedding and beyond. Smooth, refreshing and absolutely delightful through every sip, the bottle of champagne in this gift box is fruity, spicy and with a nut-like quality unlike any other blend on the market.
---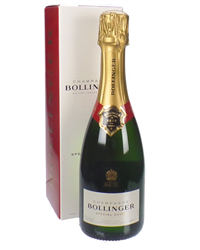 Bollinger Champagne Half Bottle
A gift box that features a lovely appearance on the outside and boasts remarkable flavours to enjoy on the inside; this Bollinger Champagne Half Bottle Gift Box contains a bottle of champagne within it that is sized somewhat smaller than a classically-sized wine bottle but offers just as much flavour inside of it. Delivered in a stylish branded, carded gift box and designed to look remarkably chic at any event it's sent to; this gift set is meant to provide just a taste of deliciousness to any recipient that receives it. A crisp and delightful champagne that makes a unique addition to any occasion from a college graduation to the celebration of a new life brought into the world.
---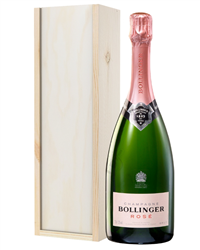 Bollinger Rose Champagne Gift
A gift box that features the newest variety of Champagne released by the famous Bollinger family within it for any lucky recipient to enjoy, this high-quality box contains a single 75cl bottle of Bollinger NV Rose Champagne which is certain to fully satisfy the palate of anyone from a wine novice to an aficionado. Boasting a pure, delicious flavour and an elegant, sophisticated look; this truly extraordinary Bollinger Rose Champagne Gift Box is certain to please anyone that receives it. Presented in a sturdy wooden gift box that assures secure delivery anywhere needed, this gift box can also include a personal message from the sender if desired. This gift box makes the perfect present for any event from celebrating the birth of a new baby to wishing someone a happy retirement.
---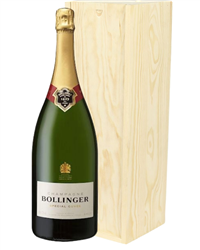 Bollinger Champagne Magnum
Elegant, stylish, and just right for delivery to any location or occasion, this Bollinger Champagne Magnum 150cl Gift Box provides anyone that receives it with an impressively large volume of nut-like, fruity, spicy, and delightful flavour that they won't be able to pass up. Presented in a fashionable wooden box and boasting an appearance that will stand out from every other gift they receive; this truly remarkable gift box will instantly become the recipients favourite present from the moment they open it. Personalise this gift with a heartfelt personal message if desired and know that you've sent the absolute best.
---
7 Best Laurent Perrier Champagne Gift Sets | 5 Best Champagne Gift Sets For 40th Birthday
---
Birthday Champagne and Balloon Delivery
Sending a birthday gift to friends and family in the UK is a thoughtful way to show them just how much you care—delivered on the day of your choice or next day if you are shopping for a last-minute gift. Our gifts will get the party popping, with fizz, chocs, party poppers and a balloon!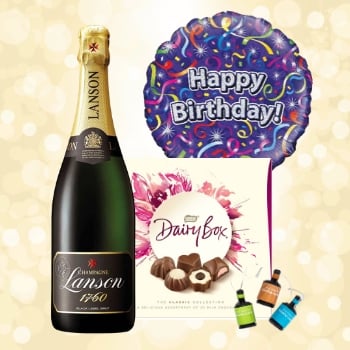 5 Moet & Chandon Birthday Gifts
If you're looking for the perfect Champagne birthday gift, look no further. Send a Bottle of Moet Champagne to Say Happy Birthday & Celebrate an 18th, 21st, 30th, 40th or 50th in style.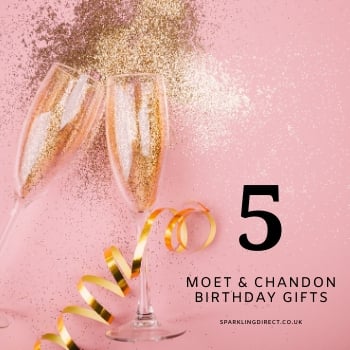 9 Champagne Magnum Bottles – For Those Who Go Large
Struggling to choose a bottle of fizz? Sometimes bigger really is better! A Magnum size Champagne bottle is 150cl equal to 2 Standard Bottles. Here are the 9 of our best magnums