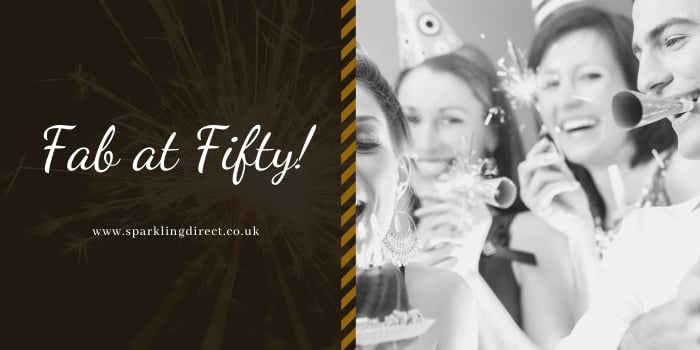 Are you looking for a way to surprise your best friend on their 50th birthday? You are going to want something fabulous! Fifty is the big one, well bigger than 40. So what makes the perfect gift? If they enjoy a glass or two of wine and fizz, you've landed on the right page.
The 50th birthday is the golden jubilee and the colour associated with the 50th birthday is gold. So now you have a valid and traditional reason to send your friend a bottle of fizz. To make the occasion more fun and we know from experience 50 is still young, we've added a happy 50th helium balloon to our selection of gifts.
Sending a friend a 50th gift is quick and simple, we offer a next day delivery service throughout the UK. We can also arrange to deliver the gift on the date of your choice, for home delivery or to a place of work. Of course, you will want to personalise the gift with a message. During the checkout, you will be able to write your personal message which will be printed onto a card and delivered with the gift.
---
---
Need some ideas for the personal message?
Age gets much better with wine. Happy 50th birthday.
Wishing you a fun-filled fabulous 50th!
50 cheers to 50 years. Let the party begin!
Here's to 50 years of incredible you…and an incredible 50 more!
50 already? Time sure flies when you're getting old! Happy birthday!
Happy 50th birthday, friend! Here's to you enjoying 50 more!
You make turning 50 look good. I may have to try it sometime!
Happy 50th to someone who is 100% awesome.
Happy 50th Birthday! Good luck blowing out all those candles!
Still fun, fine, and fabulous at fifty. Hope you have a fantastic birthday!
---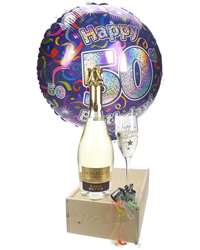 50th Birthday Prosecco ( Fabulous! )
An extraordinary way to truly celebrate the milestone that is turning 50 years old, when you send one of these unique, high-quality to your parent, sibling, best mate or boyfriend you can be certain they'll appreciate every sip, or taste, from start to finish. A bold birthday present that includes a single bottle of Prosecco, a happy birthday flute to drink it from, party poppers and a festive 50th birthday balloon that pops out upon opening; with the delivery of one of these incredible gift boxes you can rest assured the recipient is thrilled to receive such a one-of-a-kind combination of items to enjoy. Personalise this box with a message directly from you and start they're 50th year off with a bang.
---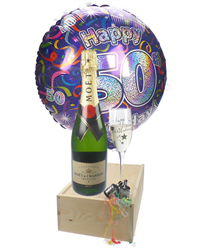 50th Birthday Moet Champagne
Just like a party contained within a box, this fun and remarkably unique 50th Birthday Gift Box not only includes a single bottle of incredibly tasty Moet Champagne within it, it also comes with a crystal-clear flute with which to drink it as well as a party poppers and a colourful balloon that makes it clear what special birthday the recipient is celebrating. Perfect to have delivered to any festive 50th birthday party bash, this gift box is presented in an amazingly simple and remarkably durable wooden box that can be accompanied by your own personalised message if desired. A stylish and surprising gift that any fun-loving 50-year-old would love to receive.
---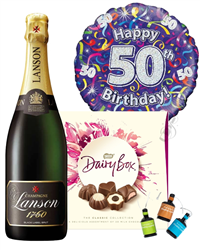 50th Birthday Bubbly & Chocs
A fun and truly delightful way to send someone you care for a one of a kind gift for their special 50th birthday; this incredible gift set is great to have delivered to their home or as part of a large birthday party or celebration. A gift box that is designed to become the recipients favourite present received, this 50th Birthday Champagne and Chocolates Gift Box is absolutely certain to be unlike any other present they've gotten before. A fun way to celebrate such a monumental milestone in someone's life, this gift box contains a single bottle of Lanson Black Label Champagne, a box of 200g of delectable milk chocolate, party poppers and an already inflated balloon that pops out of the box upon opening.
---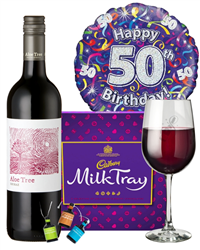 50th Birthday Shiraz for Red Wine Lovers
A bold and colourful gift box that is designed to stand out from the crowd; when you choose to send one of these truly fabulous gifts to someone you care for you can be certain they'll fully appreciate every bit of it. Complete with a bold bottle of Shiraz, a 200g box of delightful milk chocolates and an already inflated 50th birthday balloon that pops out when its opened, this uniquely gorgeous 50th Birthday Red Wine and Chocolates Gift Set can easily be delivered to any birthday party or bash anywhere. Just the gift to send to your best friend, your mother-in-law, or a co-worker that deserves something special to celebrate with.
---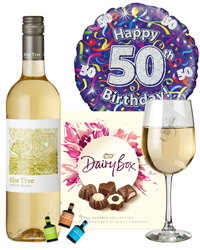 50th Birthday White Wine and Chocolates
Just the 50th birthday gift anyone would love to receive and enjoy. From the moment this bold 50th Birthday White Wine and Chocolates Gift Box arrives you can be certain anyone it's delivered too will fully savour every single bit of it. An elegant and extraordinary set you can send to anyone from your in-law to your mother, aunt, cousin or friend; you can also include a personalised message along with it from you if desired. Complete with a bottle of Chenin Blanc, a 180g box of milk chocolates and an inflated 50th birthday balloon included within it, this truly stunning gift box is designed for secure delivery to any birthday party location required.
---
---
5 Best Birthday Gifts For Gin Lovers
Looking for a really unique birthday gift for a gin-loving friend? Look no further, our guide below lists 5 of our most popular gin presents.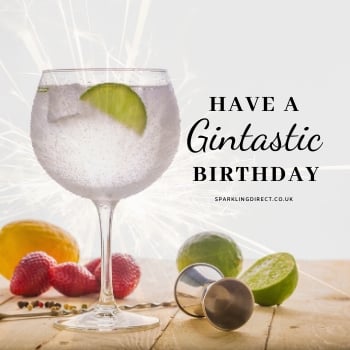 ---
Top 10 Prosecco Birthday Gifts
Make their day with a bottle of Prosecco by treating them to something spectacular from our range of birthday gifts below.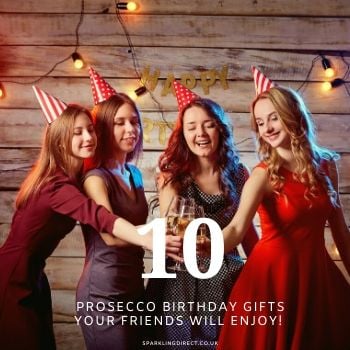 ---
14 Birthday Gift Ideas For Red Wine Drinkers
These unique birthday gifts for red wine lovers include classics from the Bordeaux and Chateauneuf Du Pape wine regions.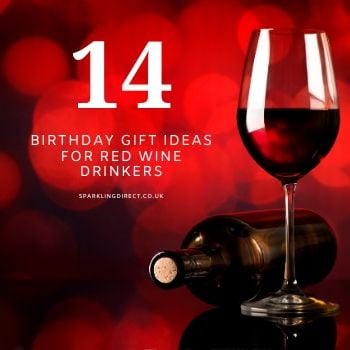 ---