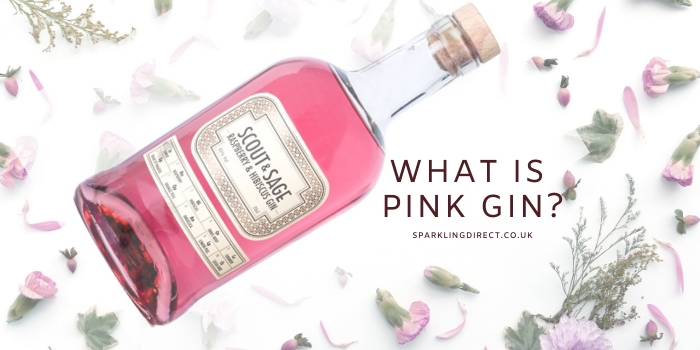 What is Pink Gin?
If you were to ask for a Pink Gin in a bar, you might get served a cocktail, the Pink Gin Cocktail became fashionable in the mid-19th-century in England and has been popular ever since then. The cocktail is made using a regular gin and a dash of Angostura bitters, a dark red bitters that makes the whole drink pinkish.
This all started to change in 2019 with gin distilleries producing bottles of Pink Gin. So now when you see bottles of pink gin on the shelves in the supermarket, you might be wondering what ingredients makes the gin colour change to pink.
How is Pink Gin Made?
Pink gin is very much like ordinary gin that has been flavoured/infused with red or pink fruits. The most popular fruits to create pink gin are strawberries, raspberries, pink grapefruit, rhubarb, or red currents.
What is Hibiscus?
Hibiscus is a plant well-known for its large deep red colourful flowers. It has sweet and tart flavours, similar to those found in cranberries.
Raspberry & Hibiscus Gin
Scout & Sage have produced an outstanding pink gin we know you're going to love. The raspberries bring fruitiness and the hibiscus, soft sweet floral/citrus notes. There's plenty of junipers, and we've pepped it up with the addition of Grains of Paradise, an aromatic peppercorn that adds a touch of spice. Backed up by orange & lemon peel, this creation is delicious served with an elderflower tonic and a sprig of fresh mint.
On the front of each bottle, there is a botanical chart which shows the ten botanicals used; hibiscus is undoubtedly on the list. Another nice touch is each bottle is hand labelled with the batch number and signature of the distiller.
Top 3 Raspberry Gin Gifts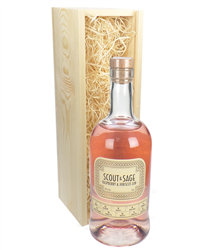 Raspberry & Hibiscus Gin Gift
This is the second gin expression from the talented Scout And Sage distillery and tastes fantastic. As you would expect, the Raspberry and Hibiscus produce a lovely pale pink gin. However, unlike some other pink gins, this one is not too sweet, you still get a wonderful hit of Juniper and the other botanicals that go into this gin making it an ideal gift for gin lovers. We deliver the gin gift in one of our sturdy wooden gift boxes ensuring your gift arrives both looking and tasting great.
---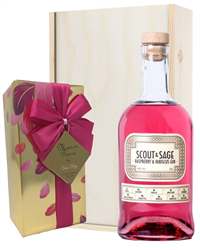 Raspberry Gin and Chocolates Gift Set
Pink gin remains one of the favourite choices at the moment, and this Raspberry and Hibiscus gin from Scout and Sage is fantastic. Produced locally to us here, it is very popular with the team and rightly so as it is not too sweet. Delivered with a box of assorted Belgian chocolates (250g) and presented in one of our wooden gift boxes, it is sure to delight its recipient.
---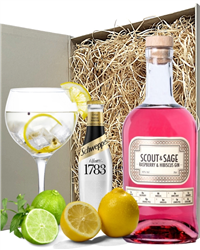 Raspberry Gin and Tonic Gift Set
This is a wonderful Gin gift to send to that gin-loving friend you may have. A bottle of the Raspberry and Hibiscus gin from the award-winning Wiltshire distillery, Scout and Sage. With Botanicals which include, Raspberry, Orange Peel, Cassia Bark and Orris Root, this pink gin goes perfectly with the Elderflower tonic we pair it within this great gift. Delivered in one of our lovely gloss black gift boxes, simply add your personal gift message to make this an ideal present to send for any number of occasions.
---
5 Best Birthday Gifts For Gin Lovers
Looking for a really unique birthday gift for a gin-loving friend? Look no further, our guide below lists 5 of our most popular gin presents.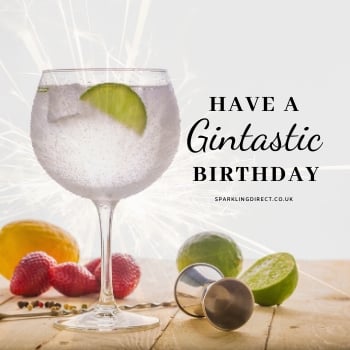 Gin by Post
Gin is most definitely the spirit of favour, so what better gift to give than a bottle of this fantastic drink. No longer demonised as 'Mothers Ruin' gin has come a long way and is enjoying its popularity, making a Gin Gift a real treat for a lot of people.