The holiday season just wouldn't feel complete without a few glasses of wine. If you're in search of the perfect Christmas present for a wine enthusiast, consider sending a bottle of wine. But what type of wine should you choose for your loved one's gift?
A wine gift box makes for an excellent Christmas gift option for anyone who appreciates a good glass of wine. Whether you opt for a bottle of white, red, or sparkling wine, you can't go wrong with one of these Christmas wine gift boxes. They can be delivered anywhere in the UK with a personalised message to make the gift even more special. So, why not send a bottle of wine today and make someone's Christmas extra memorable?
---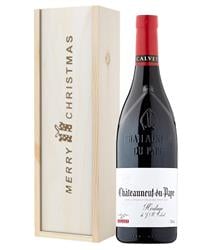 Chateauneuf Du Pape Christmas Gift
Send your faraway friends a beautiful wine gift this holiday season. This luxurious bottle of Chateauneuf Du Pape is ideal for red wine lovers, and the reusable wooden gift box adds an elegant feel to your gift. Securely packaged within the box, a single bottle is protected from damage with a soft, wool lining – keeping your gift safe and sound until it is with your friend or loved one. You can complete your gift with a personalised message, so let your parents, in-laws or friends know you wish them a merry Christmas.
---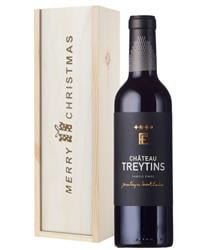 French Bordeaux Red Wine Christmas Gift
Combining a fruity freshness, this Chateau Treytins French Bordeaux is the perfect gift for mums, sisters or even a work bestie. Made from hand-picked Merlot, this luxurious gift is ideal for those who enjoy a full-bodied wine. The bottle is securely packaged into a style wooden gift box, branded with 'Merry Christmas' on the front. Inside, the bottle is snug on a soft wool lining to keep it safe and secure during delivery. You can also add a personalised note to the gift, and pick a specific date for it to be delivered – so the receiver knows you're thinking of them this holiday season.
---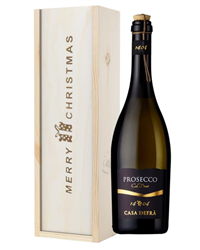 Prosecco Frizzante Single Bottle Christmas Gift
Full of flavour, elegance and style from the outside in; not only does this Casa Defra Prosecco Frizzante Single Bottle Christmas Gift Box provide any occasion with a classy bottle of semi-sparkling wine to enjoy, but it also adds true sophistication to any location it's delivered to. Produced by the Cielo family vineyards that pride themselves on sustainable viticulture and takes true pride in each bottle of wine created, this gift box is designed to provide a delicious taste without harming the environment around it in the process. Presented in a well-made wooden gift box lined in protective wood wool material, this set is crafted to arrive looking its best, no matter what.
---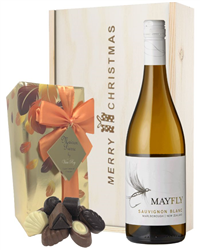 New Zealand Christmas Wine and Chocolate Gift Box
Sophisticated and delicious – this is the ultimate Christmas gift for anyone who loves wine or chocolate! Send someone a single bottle of Zephyr Sauvignon Blanc White Wine along with a box of assorted Belgian chocolates to enjoy with friends or family this Winter. Ideal for any recipient, this gift is presented in one of our wooden gift boxes with 'Merry Christmas' printed on the lid. It's also protected with wood wool to ensure safe delivery and include a personalised gift message. What's not to love? Next day or selected date delivery is available anywhere in the UK, making Christmas shopping easier than ever.
---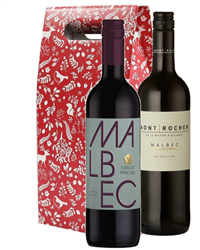 Christmas Malbec Duo Gift Pack
A wonderful Christmas gift set that makes the perfect present to send to anyone with a true appreciation and love for a delicious and bold bottle of Malbec red wine. Delivered within an amazingly stylish, holiday-themed, carded gift box and easy to personalise with a message from you if desired, this Christmas Malbec Mixed Twin Gift Box makes a one of a kind Christmas gift that any recipient is sure to appreciate. Boasting two single bottles of Malbec wine within it, this gift box allows anyone receiving it to taste the flavours of more than one place in the world. With one bottle from the foothills of the Andes in Argentina and one produced in France, this gift box provides remarkable taste throughout every single glass.
---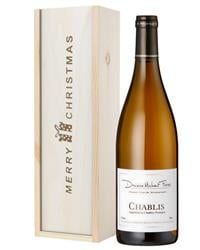 Chablis White Wine Christmas Gift
Delight any White Wine lover with this delicious and exceptional Chablis Christmas gift. Made from 100% Chardonnay grapes, this wine is one that will rarely disappoint. Treat someone this Christmas to a single bottle of Chablis to enjoy with friends or family. It's stylishly presented in one of our wooden gift boxes with 'Merry Christmas' printed on the lid and wood wool lining for protection. Personalise this gift with a printed gift message to spread festive joy amongst friends, loved ones and colleagues. Next day or selected date delivery is available anywhere in the UK, meaning you can send someone the perfect Christmas wine gift no matter the distance.
---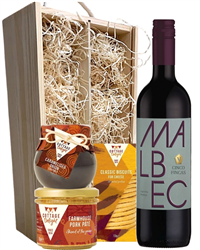 Malbec Wine Hamper Box
Boasting a single bottle of Argentinian Malbec Red Wine, a 90g jar of Cottage Delight Farmhouse Pate with Pork, a 115g jar of pickles and a 150g package of Oval Alberts Savoury Biscuits; this remarkably fashionable gift box offers an amazingly delicious combination of flavours that you won't find in any other gift set, anywhere. Presented in a solid wooden gift box and lined with wood wool to ensure secure delivery, this Malbec Wine & Gourmet Food Gift Box makes the perfect Christmas gift, birthday present or anniversary surprise anyone would be truly thrilled to receive. Personalize this gift set with a message from you and feel confident sending it to anyone from your best mate to your boss, no matter the reason.
---
5 Best Wine Gifts For Couples | The 10 Best Wine Gifts
---
10 Best Christmas Wine Hampers 2021
There's no gift more delicious than a wine hamper. But when it comes to choosing a wine, it's hard to know which one is best. So what is a good wine to give as a gift?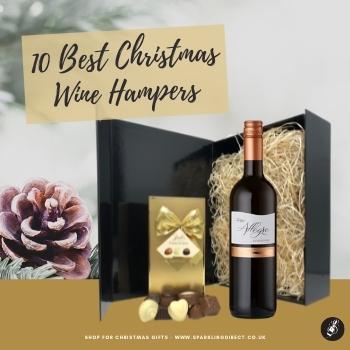 10 Best Christmas Champagne Gift Sets for 2021
Christmas is incomplete without a bottle of Champagne to share with loved ones. When looking for a gift to give, you might be considering a bottle of bubbles. But is Champagne a good Christmas gift?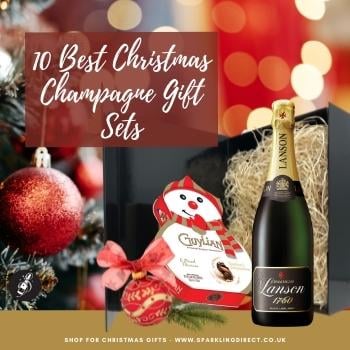 Top 10 Christmas Gifts For Wine Lovers
Finding the perfect gift can often be difficult, especially for wine lovers. With so many different sets to choose from it's hard to know which one is best. So what are some good Christmas wine hampers?