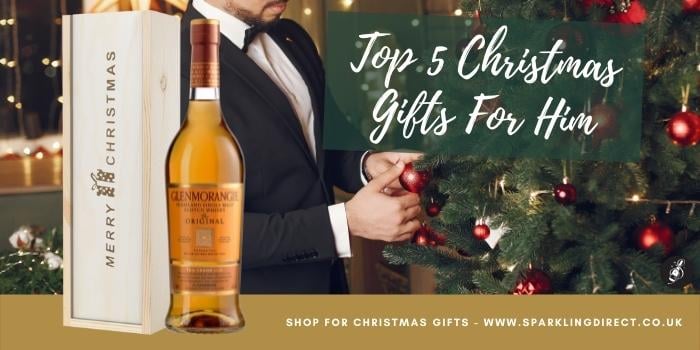 Men can be hard to shop for, especially for Christmas. With so many gifts to choose from it can be hard to know which one to pick. So what do you get him for Christmas?
A bottle of something special always makes a perfect Christmas Gift. From Whisky to Wine, we have five gifts perfect for any Father, Brother, Uncle, Colleague or Friend. All include a personalised message and delivery anywhere in the UK. So why not make Christmas easy this year and send one today?
---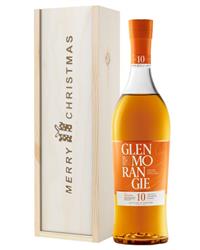 Single Malt Whisky Christmas Gift
Whether for a family member, friend, colleague or neighbour, spread some cheer this Christmas with this delicious Whisky gift. Send a single bottle of Glenmorangie Original Whisky straight to someone's door and make this Christmas one to remember! Protected with wood wool, this gift is presented in one of our wooden gift boxes with 'Merry Christmas' printed on the lid. Plus, add that personal touch with a printed gift message to let them know it was you who put a smile on their face. You can send this gift anywhere in the UK with next day or selected date delivery and give someone a gift they'll never forget.
---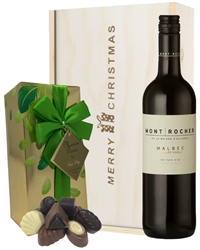 Christmas Red Wine and Chocolate Gift Box
Stuck on what to get for the office Secret Santa? You can never go wrong with wine and chocolate… This French Malbec red wine is a deliciously dry, full-bodied wine with undertones of blackberry, plum and vanilla – a winning combination for the festive season. Alongside a single bottle of Malbec, this gift set also features a luxurious box of Belgian chocolates. The two pieces are delicately packed into one of our stylish wooden gift boxes, ready to be delivered directly to their door on a date of your choosing. You can also add your own personalised message, wishing them a great Christmas.
---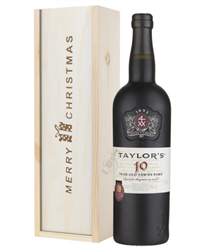 10-Year-Old Port Christmas Gift
Let someone spend a cosy Christmas night with a glass of Port by sending them this exceptional gift this year. What better way to celebrate Christmas than with a single bottle of Taylors 10-Year-Old Port? This refined and delicious Port is presented in one of our classic wooden gift boxes with 'Merry Christmas' printed on the lid and wood wool lining to ensure safe delivery. Easy to personalise, you can add a written message to extend your Christmas wishes and let them know who to thank. Have it delivered anywhere in the UK with next day or selected date delivery and make this Christmas one to remember!
---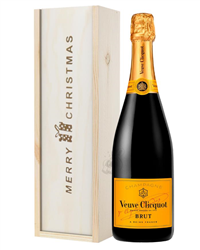 Champagne Christmas Gift
Perfectly lined with wool for secure delivery and presented in a beautifully branded wooden box with the words 'Merry Christmas' included on top, every inch of this Veuve Clicquot Champagne Christmas Gift Box is designed to provide true elegance to any holiday celebration it's delivered to. Complete with a single bottle of Veuve Clicquot Yellow Label NV Champagne inside and easily personalised with a message if desired, this gift box instantly improves any Christmas party from the moment it arrives. Sending a truly meaningful and delicious Christmas gift to anyone on your gift list has never been simpler than this.
---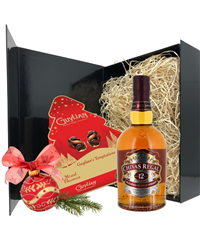 Christmas Whisky and Chocolates
What do you buy for that certain someone who has everything? For a person who appreciates and enjoys a quality drink order an exclusive Christmas Whisky gift pack. Whether it's for your dad, uncle, colleague or boss, this magnificent gift set will lift holiday spirits in no time. Chivas Regal is a unique expression of Scottish whisky that presents a smooth, rich, and versatile taste. Packed in a luxury gift box with luscious Guylian Belgian chocolates and a personalized gift card, this gift pack is ready to be delivered to a special someone.
---
---
Top 10 Christmas Gifts For Wine Lovers
Finding the perfect gift can often be difficult, especially for wine lovers. With so many different sets to choose from it's hard to know which one is best. So what are some good Christmas wine hampers?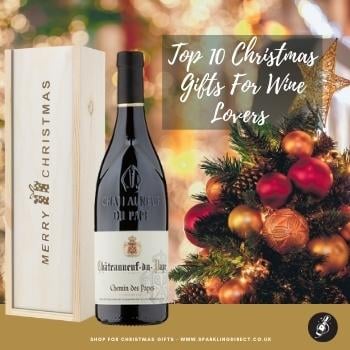 10 Best Gin Christmas Hampers
A single bottle of Gin is enough to brighten anyone's Christmas. That's why we've rounded up 10 of our best Gin hampers to help make Gin gift shopping much easier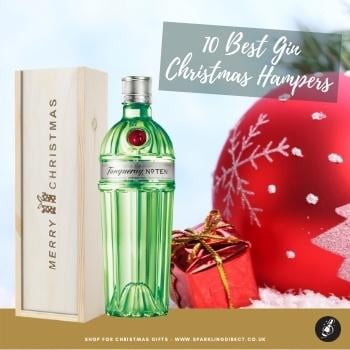 10 Best Christmas Gifts for Whisky Lovers
Whisky makes a fantastic gift when it comes to Christmas. But what is a good Whisky to give as a gift?