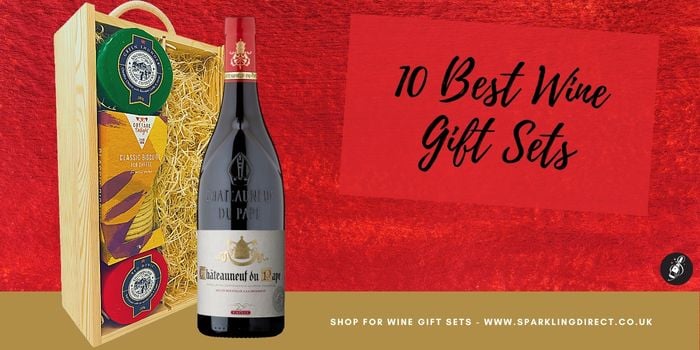 There is nothing quite like giving a gift that hits the perfect note – thoughtful, considered and enjoyed by the recipient. When it comes to finding the best gifts for wine lovers, it can be tricky to choose something special. Whether you are looking for an amazing set of reds, unique whites or simply want to spoil someone with some fabulous bubbly varieties – we have rounded up 10 of our top picks for the best wine gift sets of 2023!
From chic personalised collections to luxury hampers and great value boxes packed full of delicious vinos – there's something here that will make every recipient's eyes widen in delight. Read on to find out more about some of our favourite finds this year!
---
Wine and Cheese Hamper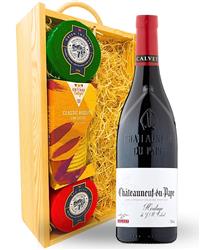 Complete the evening with this delightful red wine and cheese hamper! Whether for yourself or someone you know, send this hamper anywhere in the UK. It includes a single bottle of the well-renowned Chateauneuf Du Pape red wine along with a box of Cottage Delight Biscuits, Snowdonia Green Thunder Cheese and Snowdonia Red Devil Cheese. Green Thunder is a Cheddar Cheese with roasted garlic and herbs. Red Devil is a Red Leicester with Habanero chillies and peppers. It's all presented in one of our wooden gift boxes and is protected with wood wool. You can complete this gift with a personalised message for that extra touch. Plus, send it across the UK with next day or selected date delivery. It's the perfect treat for any wine and cheese lover!
---
Wine and Chocolate Hamper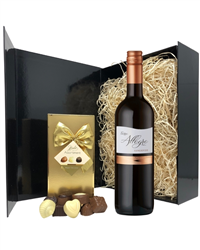 DELICIOUS WINE & CHOCOLATES HAMPER: Each red wine and chocolate hamper is packed with a bottle of Allegra Sangiovese produced in the vineyards of Northern Italy. A juicy, succulent red wine with savoury cherry and plum characters with a bright ripe fruited finish alongside 125 grams of luscious Belgian chocolates that are sure to a smile on his or her face. A special treat for red wine lovers who love to indulge in the rich and sweet taste of Belgian chocolates. A unique way to show your thanks but with a personalised gift card you can turn your gratitude or love into words. The personalised message card will be carefully delivered alongside the gift hamper to charm and surprise the recipient
---
Italian Mixed Two Bottle Wine Gift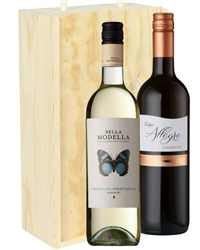 A stylish, sophisticated gift that makes the perfect present to give at any particularly classy occasion, this Italian Mixed Two Bottle Wine Gift Box is ideal for delivery to any wedding, birthday party or other similar type of special event. Presented in a sleek wooden box that is lined with wool for secure delivery to your intended location, this high-quality gift box can also be personalised with a heartfelt message from you along with it as well. An elegant gift box that includes a single bottle of Sangiovese wine as well as a single bottle of Pinot Grigio, this set allows anyone to explore Italy through the flavours its vineyards provide.
---
French Bordeaux Red Wine Gift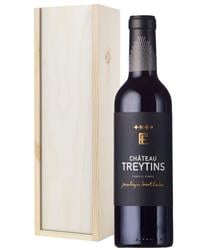 A full, fresh-tasting red wine that captures your heart from the very first sip; boasting a strong nose of red fruits and predominantly created from hand-picked Merlot grapes, the single bottle of Chateau Treytins French Bordeaux Red Wine contained within this gift box is truly as tasty as a bottle of wine can get. Easy to personalise with a message straight from your soul, this French Bordeaux Red Wine Gift Box makes a great gift to send for any special event or occasion that comes up on your calendar. From the Bordeaux region of France, this gift box offers everything you need to provide someone you care for with an extra special surprise to enjoy.
---
Malbec Mixed Two Bottle Wine Gift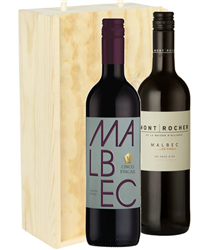 Presented in a gorgeous wooden gift box designed for secure delivery to any location, this extraordinarily delicious Malbec Mixed Two Bottle Wine Gift Box allows the recipient to enjoy more than one variety of different Malbec wine flavours. Ideal as a gift for someone with a true appreciation of bold Malbec grapes, this incredible box boasts two types of truly rich wine within it; one from the foothills of the Andes in Argentina, and one from the vineyards of France. Easily personlised so you can assure the recipient knows who to thank, this one of a kind unit is certain to be savored by anyone lucky enough to receive it.
---
Chateauneuf Du Pape Red Wine Gift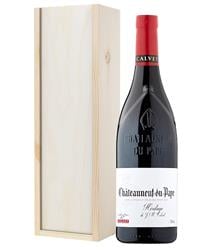 The perfect way to send congratulations, good luck, best wishes or even just love to someone you care for, this remarkably sophisticated Chateauneuf Du Pape Red Wine Gift Box is sure to bring a smile to the face of anyone that is lucky enough to receive it. Housed in a smooth, incredibly sturdy, and unbelievably stylish wooden box filled with wool for true protection of the bottle found within; this gift box also includes a single bottle of Val De Garrigue Chateauneuf Du Pape red wine that offers a full, delicious flavour that no other blend can hope to provide.
---
Pinot Grigio Rose Wine and Chocolates Gift Set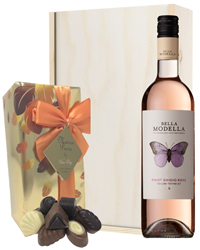 A stylish and elegant gift box that boasts several delicious flavours that come together beautifully to create a present unlike any other one they've ever received; whether you choose to have this set delivered to your spouse or as a special gift to celebrate the engagement or wedding of someone in your life, this box is the perfect choice for any event. Presented in a sleek wooden box and lined with wood wool for protection during delivery, this remarkably lovely Pinot Grigio Rose Wine and Chocolates Gift Set is easily as chic in appearance as it is bold and full of flavour. Complete with a single bottle of Bella Modella's Pinot Grigio Rose Wine from Italy and a 250g box of assorted Belgian chocolates, this gift box can also be customised with a personal message from you if desired.
---
Malbec Wine Hamper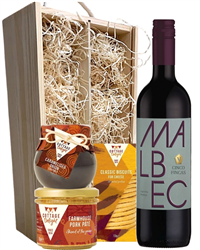 Boasting a single bottle of Argentinian Malbec Red Wine, a 90g jar of Cottage Delight Farmhouse Pate with Pork, a 115g jar of pickles and a 150g package of Oval Alberts Savoury Biscuits; this remarkably fashionable gift box offers an amazingly delicious combination of flavours that you won't find in any other gift set, anywhere. Presented in a solid wooden gift box and lined with wood wool to ensure secure delivery, this Malbec Wine & Gourmet Food Gift Box makes the perfect Christmas gift, birthday present or anniversary surprise anyone would be truly thrilled to receive. Personalize this gift set with a message from you and feel confident sending it to anyone from your best mate to your boss, no matter the reason.
---
Rioja Wine Magnum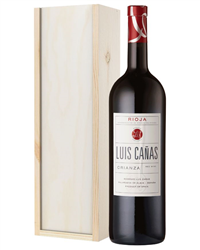 This magnum of Rioja is any wine lover's dream. Produced from the Tempranillo grape and transported from Luis Canas, Rioja proves to be one of Spain's finest and most enjoyable wines. Perfect for any party or celebration, this magnum provides more than enough glasses to go around and creates an endless celebration no matter the occasion. Complete with a personalised message, this bottle is packaged and delivered in one of our wooden magnum gift boxes on a day of your choice. Or, get it sent the next day, anywhere in the UK.
---
New Zealand Mixed Two Bottle Wine Gift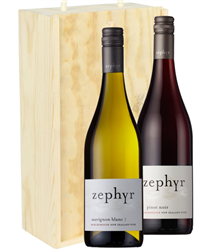 A wonderful gift option for any true wine lover in your life; complete with a bottle of stunning Sauvignon Blanc as well as a bottle of perfectly crafted Pinot Noir, this amazing gift set allows the recipient to enjoy the taste of both flavours in a remarkably chic and elegant way. Produced by the Glover family and sold under their incredible Zephyr wine label, both of the bottles included in this set are produced on the northern tip of New Zealand's South Island. A magnificent and versatile gift option for any occasion; this fantastic set can be sent to anyone from a friend to celebrate their engagement to a family member for Christmas or an employee as part of a staff incentive they've earned.
---
---
What Do You Write On A Wine Gift?
Stuck on what to write on the gift card? Make each wine gift complete with this exceptional guide on writing the perfect message.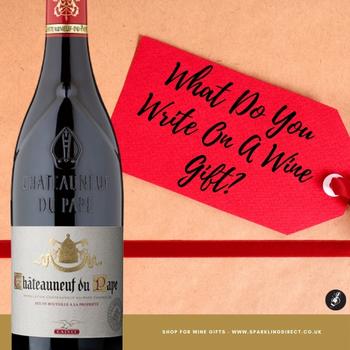 5 Best White Wine And Cheese Hampers
Looking for the perfect white wine gift hamper? These five white wine and cheese hampers are unbeatable and ideal for any occasion or recipient.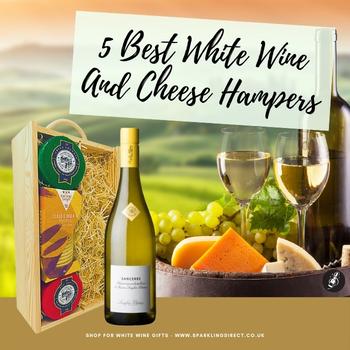 10 Best Wine Gifts For Friends
Friends deserve the best gifts, especially when it comes to wine. So when it comes to picking a wine gift, which one do you pick?