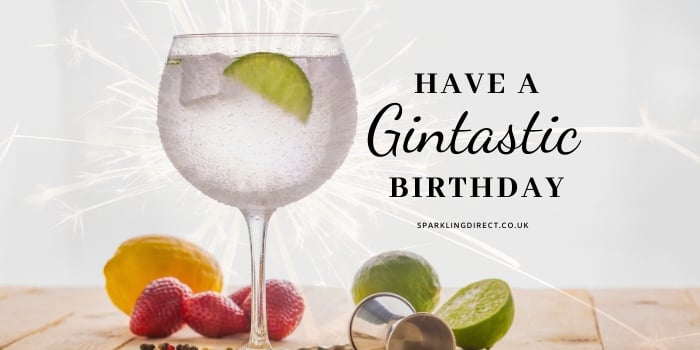 ---
What is a good gin for a gift?
Looking for a really unique birthday gift for a gin-loving friend? Look no further, our guide below lists 5 of our most popular gin presents.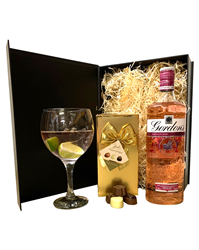 Pink Gin Gift Set – Gordons Pink Gin
A sleek pink gin gift hamper that is designed to exude elegance at any occasion it's sent to, this remarkably luxurious Gordons Pink Gin and Chocolate Gift Set features a single bottle (70cl) of our Gordon's Pink Gin alongside 125 grams of luscious Belgian chocolate and comes in a sleek, black carded gift box as well; making certain this set arrives safely and looking as chic as possible. Add your own personal touch by adding a message to send along with it if desired.
---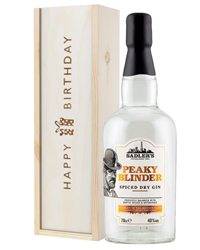 Peaky Blinder Spiced Dry Gin Birthday Gift
Inspired by the exploits of Tommy Shelby – by the order of the Peaky Blinders get your hands on this excellent gin. A spiced dry gin from Sadlers, Peaky Blinder Gin is expertly balanced with exotic spices and botanicals. We present this in our 'Happy Birthday' branded wooden gift box. You can also add a personal gift card message to the gift.
---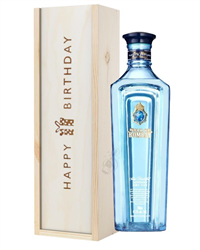 Star Of Bombay Gin Birthday Gift
If you enjoy Bombay Sapphire then, this gin is for you. Its one up from the elegant Sapphire gin and contains a couple more botanicals too. Bergamot orange peel and Ambrette seed are added to the regular 10 botanicals contained in Bombay gin. Produced in England in single batches, this gin hits 47.5% abv and tastes superb. We present this in our 'Happy Birthday' branded wooden gift box. You can also add a personal gift card message to the gift.
---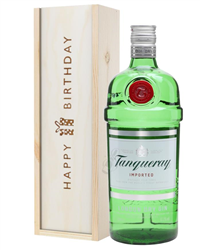 Tanqueray London Dry Gin Birthday Gift
A beautiful birthday gift that is sure to provide any special day with a bold, crisp flavour that only a bottle of Tanqueray London Dry Gin can offer. Easy to personalise with a meaningful message from you if desired, this remarkably stylish gift box comes presented in a well-made wooden gift box that is stamped with the words 'Happy Birthday' on top as well. A great way to send a gift to anyone having a birthday from your father or brother to a boss or co-worker that deserves something special to celebrate with; when one of these amazingly stylish Tanqueray London Dry Gin Birthday Gift Box arrives to the birthday bash, the party can finally truly begin.
---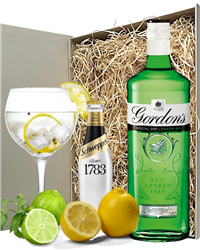 Gordons Gin And Tonic Gift Set
An amazingly unique gift set that is sure to stand out from every other gift they've ever received; every item in this exclusively created gift box is required to make a truly delicious gin and tonic unlike any other they've ever tasted before. Complete with a single bottle of Gordons London Gin, Schweppes 1783 Tonic Water, as well as a fresh lemon and a lime; this remarkable set will have you sipping bold flavours as soon as you've mixed the ingredients up within a compatible drinking glass. Presented in a chic black gift box and delivered to the location necessary when scheduled, this gift set helps anyone to mix up a bartender-quality gin and tonic to enjoy whenever they choose.
---
What is Pink Gin?
Pink gin is very much like ordinary gin that has been flavoured/infused with red or pink fruits. The most popular fruits to create pink gin are strawberries, raspberries, pink grapefruit, rhubarb, or red currents.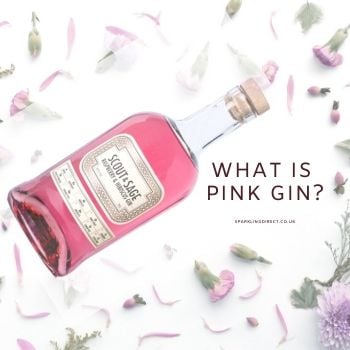 Gin by Post
Gin is most definitely the spirit of favour, so what better gift to give than a bottle of this fantastic drink. No longer demonised as 'Mothers Ruin' gin has come a long way and is enjoying its popularity, making a Gin Gift a real treat for a lot of people.