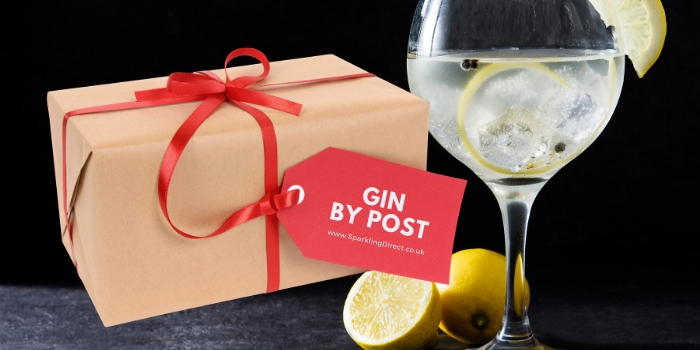 Can I send someone a bottle of gin in the post?
Gin is most definitely the spirit of favour, so what better gift to give than a bottle of this fantastic drink. No longer demonised as 'Mothers Ruin' gin has come a long way and is enjoying its popularity, making a Gin Gift a real treat for a lot of people.
The Gin market has exploded with new expressions of the drink coming available what seems like on a daily basis. There are now so many types of gin available which are produced by large drink companies right the way through to small 'boutique' distillers and people creating their own variations at home. There is no better time to try gin or enjoy gin, than now.
Top 5 Gin Gifts By Post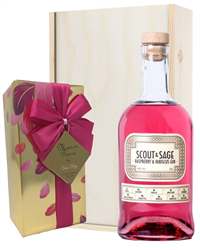 Pink Gin and Chocolates Gift Set
Pink gin remains one of the favourite choices at the moment and this Raspberry and Hibiscus gin from Scout and Sage is fantastic. Produced locally to us here, it is very popular with the team and rightly so as it is not too sweet. Delivered with a box of assorted Belgian chocolates (250g) and presented in one of our wooden gift boxes, it is sure to delight its recipient.
---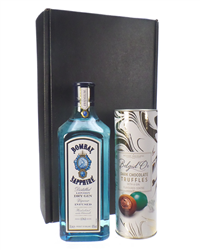 Gin & Gin Chocolate Truffles Gift
This is an excellent gift to be sent to someone who loves Gin and in particular, is a fan of Bombay Gin. Get a 70cl bottle of the great tasting Bombay Sapphire complete with a box of Gin infused chocolate Truffles (175g), both presented in a smart black carded gift box and delivered complete with your gift message.
---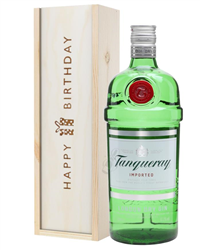 London Dry Gin Birthday Gift
A beautiful birthday gift that is sure to provide any special day with a bold, crisp flavour that only a bottle of Tanqueray London Dry Gin can offer. Easy to personalise with a meaningful message from you if desired, this remarkably stylish gift box comes presented in a well-made wooden gift box that is stamped with the words 'Happy Birthday' on top as well. A great way to send a gift to anyone having a birthday from your father or brother to a boss or co-worker that deserves something special to celebrate with; when one of these amazingly stylish Tanqueray London Dry Gin Birthday Gift Box arrives at the birthday bash, the party can finally truly begin.
---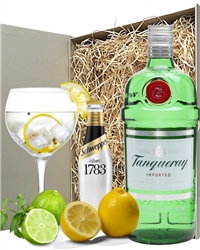 Gin And Tonic Gift Set
The perfect present to send to anyone in your life with a true appreciation for a quality gin and tonic to enjoy; every single ingredient required to create this smooth and delicious drink, besides a glass, is included within this gift box to assure the recipient doesn't have to wait even a moment after it arrives. Presented in a chic and amazingly sleek black gift box and filled with fabulous items from top to bottom, this Tanqueray Gin and Tonic Gift Set includes not only a single bottle of Tanqueray Gin, but also a bottle of Schweppes 1783 Tonic Water as well as a lemon and lime to complete the required flavours. Just the gift set that improves any occasion it's delivered to.
---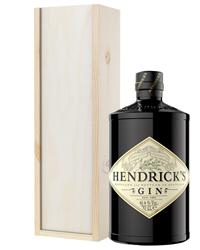 Hendricks Gin Gift
Distilled and bottled in the country of Scotland and offering full and unique flavour throughout every glass; when you send one of these truly remarkable Hendricks Gin Gift Boxes to an event or occasion, the recipient is sure to open it immediately upon arrival for enjoyment. One of the most popular varieties of Gin and certain to be savoured by anyone with a true appreciation for this particular spirit, this gift set contains a single bottle of Hendrick's Gin within it and will have the recipient begging you for more the moment it's gone. Presented in a high-quality wooden gift box, this set can also include a personal message from you along with it if desired.
---
What is a good gin for a gift?
The main types of Gin are London Dry, Plymouth Gin and Old Tom and it is these styles which have been around since the start. London Dry is perhaps the mainstay of the Gin world and is produced by the leading players such as Tanqueray, Gordons, Bombay, Beefeater, Chase and Sipsmith. Sipsmith is a relatively newbie and was the first gin company to distil in a copper pot in London for almost 200 years.
What do you buy a gin lover?
Recently Gin is now produced in more and more flavours with companies experimenting with a much wider variety of botanicals – botanicals are the herbs, spices and fruits that are added to a base spirit which together with Juniper go to make Gin what it is.
Gin is now available as a liqueur (this is not a London Dry and has a much lower abv) which has led to the quick explosion of flavours such as Gingerbread, Unicorn Tears, Parma Violet, Liquorice and even Brussel Sprouts!
Can Gin be delivered?
We deliver a great variety of Gin gifts from most of the major players in the market and a few which are produced a stones through from us here at Sparkling Direct, such as the great tasting Scout & Sage Gin.
Our gifts are available as single bottles or together with delicious extras such as Chocolates, Pate and biscuits.
5 Best Birthday Gifts For Gin Lovers
Looking for a unique birthday gift for a gin-loving friend? Look no further, our guide below lists 5 of our most popular gin presents.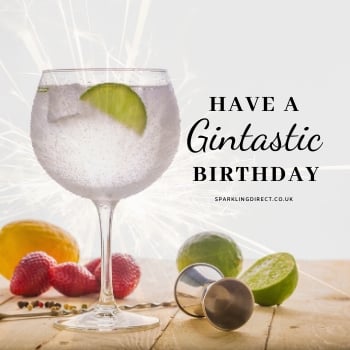 What is Pink Gin?
Pink gin is very much like ordinary gin that has been flavoured/infused with red or pink fruits. The most popular fruits to create pink gin are strawberries, raspberries, pink grapefruit, rhubarb, or red currents.