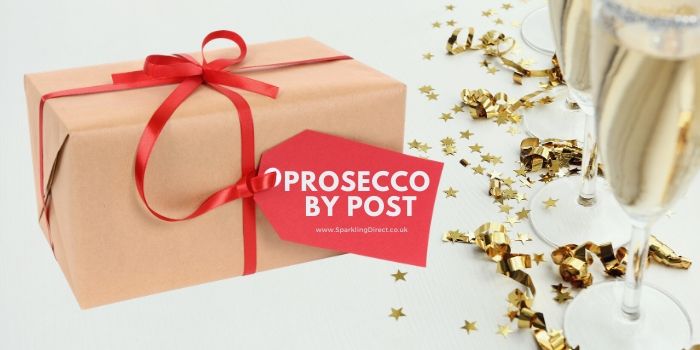 Sending Prosecco gifts is what we've been doing at Sparkling Direct since 2002, that's 18 years of posting wine gifts to London and throughout the UK. When we started, there were traditional hamper companies and florists but not many wine companies.
Seeing an opportunity to deliver wine gifts next day throughout the UK was exciting. We needed something unique that stood out from the crowd; next day courier delivery, personal gift card message, parcel tracking and straightforward pricing.
For our prosecco gifts to be sent in the post, we only use industry-specific packaging, which has been designed to keep the bottle safe while in transit and has been rigorously tested by all parties concerned.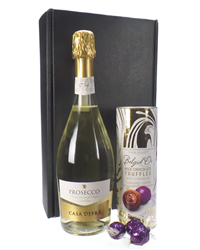 Prosecco and Chocolate Truffles Gift
A Prosecco lovers ideal gift set; from the single bottle of Casa Defra Prosecco to the 175g box of Prosecco-infused Belgian Chocolate Truffles, this amazing box is certain to taste as high-quality and delectable as it looks. A wonderful present to be delivered to nearly any occasion or event, whether your best mate is getting married or your uncle is celebrating his retirement, anyone that receives this will feel truly special to receive such an elegant gift. Easy to personalise with a message from you along with it as well, this Prosecco and Prosecco Chocolate Truffles Gift Box is designed to stand out from any other gift they receive.
---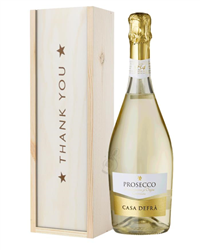 Prosecco Thank You Gift
Presented in a classy and well-made wooden box and stamped with the words 'Thank You' clearly on the top, this amazing gift box is designed to make the ultimate gift to anyone that you need to show true appreciation to. Complete with a single bottle of Prosecco Spumante within it and produced from the family-owned and sustainable Casa Defra vineyards, this Prosecco Thank You Gift Box is created to allow you to thank anyone in your life in a unique and one of a kind way. The perfect present to send to your friends, family or even someone you work with; no matter the recipient, they will be certain to fall in love with every ounce of this gift box from top to bottom.
---
Prosecco Birthday Gift
A unique and tasteful way to send birthday wishes. This simply delectable Prosecco Spumante Birthday Gift comes in a modest, classic wooden box that is marked with the words "Happy Birthday" along with a lovely little gift box stamped in the centre. A gift that is intricately designed to stand out from every other present the recipient receives. This wonderful gift box contains a truly delightful bottle of great-tasting Prosecco Spumante from the Casa Defra family vineyards; just the smooth, refreshing flavour anyone it's sent to would love to enjoy. This gift will have any recipient begging for more each and every year.
---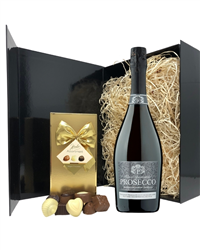 Prosecco and Chocolates Gift Set
A truly delectable gift set anyone would love to receive. From the elegant wool-lined box to the remarkably delicious items placed within it, this sincerely sumptuous set is certain to assure that anyone it's sent to will fall in love with it instantly. Sophisticated in both composition and appearance, this Prosecco and Chocolate Gift Set features a single bottle of our exquisite Prosecco Spumante alongside 125 grams of luscious Belgian chocolate and comes in a sleek, black carded gift box as well; making certain this set arrives safely and looking as chic as possible. Add your own personal touch by adding a message to send along with it if desired.

---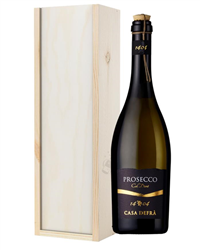 Casa Defra Prosecco Frizzante Gift
Just the gift set any special occasion requires; from the moment this amazing Casa Defra Prosecco Frizzante Gift Box is opened, any celebration it's included in, or sent to, can truly commence. Amazingly delicious, semi-sparkling, and full of incredible flavour, the single, spectacularly tasty bottle of Casa Defra Prosecco Frizzante in this gift box offers a truly unique, palate-pleasing taste no other bottle provides. Beautifully contained within a high-quality, stylish wooden box and padded securely for delivery, this gift box can also include a personalised message along with it, assuring the person receiving it knows just who it's from upon arrival.

---
Where is Prosecco From?
Prosecco hails from the Veneto region in northeast Italy and is produced primarily from the prosecco or glera grape, which is native to the Veneto region of Italy.
Prosecco is generally characterised by notes of green apples, citrus and white flowers that are usually light and delicate and not exceedingly complex. Some prosecco even borders on sweet, or what's known as off-dry.
Unlike Champagne, Prosecco is produced using the Charmat-Martinotti method, in which the secondary fermentation takes place in stainless steel tanks, making the wine less expensive to produce.
Prosecco is the main ingredient of the Bellini cocktail and can be a less expensive substitute for Champagne. Perfect for a special occasion or festive Christmas gifts, browse our beautiful product selection of Prosecco gift sets.
Top 3 Prosecco and Chocolate Gifts
Prosecco and chocolates next day delivery in London and across the UK.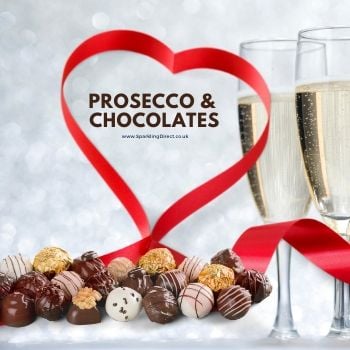 Top 10 Prosecco Birthday Gifts
Make their day with a bottle of Prosecco by treating them to something spectacular from our range of birthday gifts below.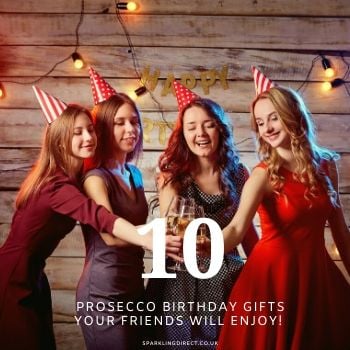 Prosecco Delivery London
If you are looking to send a gift to London, we can arrange this for you. Let us deliver a beautiful gift set to your friends and family for home delivery or the office.