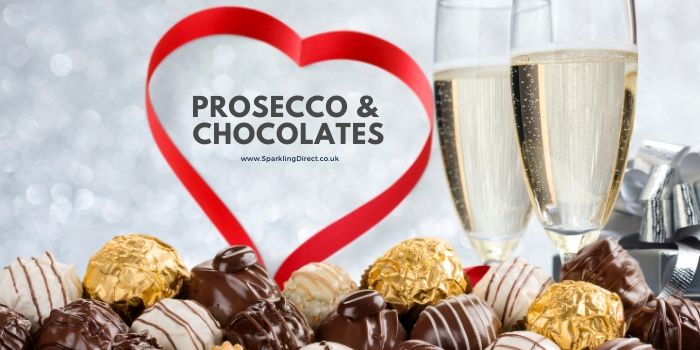 Prosecco and chocolates next day delivery in London and across the UK. At Sparkling Direct we have been delivering Wine gifts and Champagne gifts next day throughout the UK since 2002. Over the past few years, the popularity of Prosecco has boomed and we have sent gifts to thousands of recipients across the UK.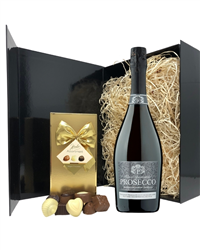 Prosecco and Chocolate Gift Set
A truly delectable gift set anyone would love to receive. From the elegant wool-lined box to the remarkably delicious items placed within it, this sincerely sumptuous set is certain to assure that anyone it's sent to will fall in love with it instantly. Sophisticated in both composition and appearance, this Prosecco and Chocolate Gift Set features a single bottle of our exquisite Prosecco Spumante alongside 125 grams of luscious Belgian chocolate and comes in a sleek, black carded gift box as well; making certain this set arrives safely and looking as chic as possible. Add your own personal touch by adding a message to send along with it if desired.
---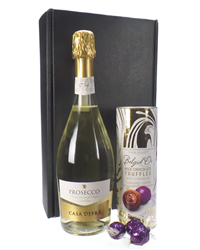 Prosecco And Prosecco Chocolate Truffles Gift
A Prosecco lovers ideal gift set; from the single bottle of Casa Defra Prosecco to the 175g box of Prosecco-infused Belgian Chocolate Truffles, this amazing box is certain to taste as high-quality and delectable as it looks. A wonderful present to be delivered to nearly any occasion or event, whether your best mate is getting married or your uncle is celebrating his retirement, anyone that receives this will feel truly special to receive such an elegant gift. Easy to personalise with a message from you along with it as well, this Prosecco and Prosecco Chocolate Truffles Gift Box is designed to stand out from any other gift they receive.
---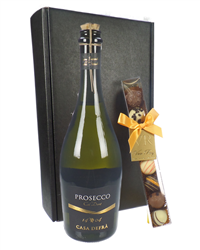 Prosecco and Chocolates Gift Box Frizzante
A fashionable way to send a treat to someone truly special in your life; this Prosecco and Chocolates Gift Box features an elegant and classy look as well as a bold and delectable flavour through every single bit and/or sip. Presented in a simply chic black carded gift box and lined with wool for safe and secure delivery to any recipient, this remarkable gift box can also include a personalised message along with it so whoever you're sending it to will know instantly who to shower with gratitude and thanks. A stunning combination of a bottle of Casa Defra Prosecco Frizzante and a 110g of tasty chocolate truffles, this gorgeous gift box will fill anyone that tastes it with absolute satisfaction.
---
Prosecco vs Champagne
Prosecco is generally less expensive than Champagne which makes it a very popular choice. Also, it doesn't carry the stigma of being hidden away in a cupboard for that special occasion that never comes. The bottles look amazing, the wine tastes great and the recipient will be impressed. Looking for something festive? our selection of Christmas gifts and Christmas hampers are sure to please. You can order online or contact our customer service team.
Prosecco is also an all year round drink, perfect for weddings and special occasions like mother's day or valentines. Our team of gift lovers are always creating new combinations of gift baskets and boxes, combining prosecco with chocolates and flowers to cater for a range of budgets.
Prosecco Gifts Delivered
Ordering prosecco online or by telephone with us is simple, should take less than 5 minutes. Place the order before 4 pm and we can deliver next day throughout the UK. The only exceptions are a few remote places in the Scottish Highlands and Northern Ireland.
If you have an urgent gift that requires same day in London, we may be able to help, this depends on how late in the day you enquire.
Courier costs for same delivery in locations like London are super high and will be advised and added to the cost of the gift. Most times the cost of getting the gift delivered same day puts people off, however, some occasions deserve it.
Prosecco Delivery London
If you are looking to send a gift to London, we can arrange this for you. Let us deliver a beautiful gift set to your friends and family for home delivery or the office.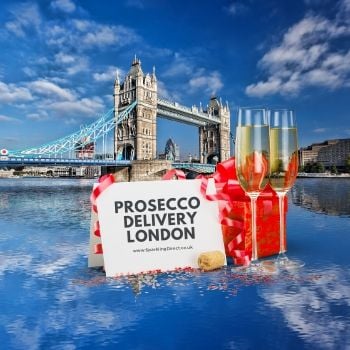 Top 10 Prosecco Birthday Gifts
Make their day with a bottle of Prosecco by treating them to something spectacular from our range of birthday gifts below.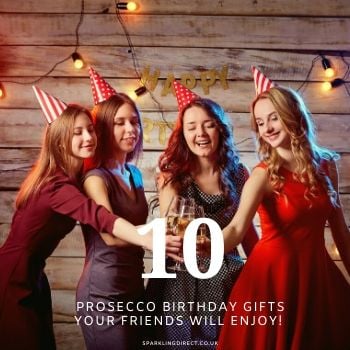 10 Amazing Prosecco Gift Sets With A £30 Budget
10 amazing gift ideas for fizz lovers with a shopping budget of just £30. WOW did we mention the budget includes next day delivery in London and throughout the UK!