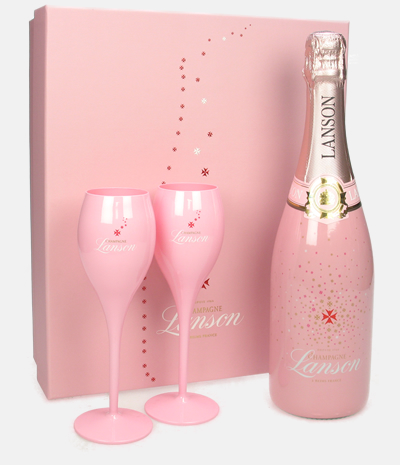 Champagne Lanson have produced this beautiful Champagne gift set, perfect for anyone who loves pink! A 75cl bottle of Lanson Rose together with 2 pink glass Lanson Champagne flutes.
One of the first Rose Champagnes
This delicate wine, created in the 1950s, was one of the first ever Rose Champagne. It is also one of the most well-loved, particularly for its freshness that echoes Lanson Black Label.
A Pink Freshness
Lanson Rose Label is a blend of 53% Pinot Noir, 32% Chardonnay and 15% Pinot Meunier, from a number of crus and almost ten different years. Like Black Label, it is enhanced through a long maturation of at least three years in the cellar, including at least 6 months after disgorging.
Lanson Rose Label is a subtle wine with very fine bubbles. Its aromas of rose and fine fragrances of red fruits echo its pale pink colour. The sensation is tender and long-lasting. It seduces with its unfaltering originality and a harmonious balance alternating between roundness and freshness.
Special Occasion
A very romantic gift set which is perfect for a valentines gift day or wedding anniversary gift