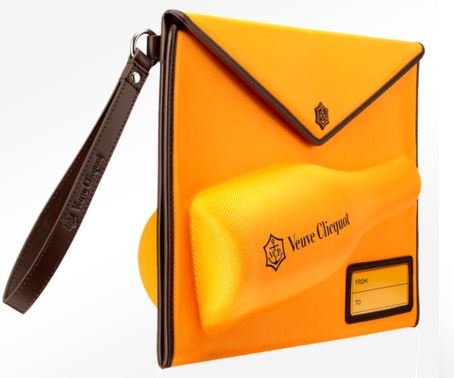 This Fashionable and unique package holds a bottle of Veuve Clicquot Yellow Label which can be kept chilled for up to an hour. The trendy envelope design will also turn into a reusable clutch bag when inserts are removed. A stylish and collectable gift.
This Veuve Clicquot clutch bag makes an ideal gift – the contoured bottle shape is insulated to ensure the Champagne stays cool inside, and can be re-used many times. Item includes 75cl bottle of Veuve Clicquot Yellow Label Champagne and clutch bag.
Veuve Clicquot Champagne Yellow Label Brut NV is a Non Vintage champagne from a historic house, the Brut Yellow Label reflecting the art of blending up to 60 different crus.
The Yellow Label was created in 1876, originally to easily identify it from the Veuve Brut Champagne in a dark cellar. It has since evolved to become Veuve's identifying colour.
The Champagne is a beautiful golden-yellow colour, with a foaming necklace of tiny bubbles. The nose is initially reminiscent of white fruits and raisins, then of vanilla and later of brioche. A fine balance between the fruity aromas from the grape varieties and the toasty aromas following the ageing in the bottle.
Freshness and forcefulness so typical of Yellow Label with a symphony of fruit tastes following from toasty brioche heaven. A true member of the powerful Brut family, well structured, admirably vinous. Lingering aromas echo and re-echo, with fruit or spice notes distinct.