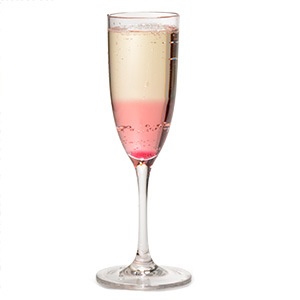 Sweeter, lighter and cheaper than Champagne, Prosecco is delicious on its own, but really comes alive with a touch of colour and some simple blending.
Compared to other sparkling wines, Prosecco is low in alcohol, about 11 to 12 percent by volume. The flavor of Prosecco has been described as intensely aromatic and crisp, bringing to mind yellow apple, pear, white peach, and apricot. Unlike Champagne, appreciated for its rich taste and complex secondary aromas, most Prosecco variants have intense primary aromas and are meant to taste fresh, light and comparatively simple.
Lets take a look at some quick and easy Prosecco cocktails you can mix up in minutes.
Raspberry Prosecco Bellini
Pour one part Raspberry liqueur into a champagne flute then add one sprig of fresh basil. Top with four parts Prosecco and serve.
Prosecco pomander
Combine the juice of one clementine with one part Cointreau and three parts Prosecco in a Champagne glass or tumbler. Garnish with a sprig of rosemary and a slice of clementine studded with cloves.
Prosecco royale
Mix one part crème de cassis with 1 tablespoon of lemon juice and top with three parts prosecco. Skewer a couple of blueberries onto a sprig of thyme and drop into the glass to serve.
Hibiscus Prosecco
Put a hibiscus flower with one teaspoon of its syrup in the bottom of a glass, and pour over Prosecco. Don't discard the flower – it tastes of raspberry and rhubarb.
Lemon Sherbet Fizz
Pop one heaped teaspoon of lemon sorbet into the bottom of a tall flute and dash a few drops of lime cordial over it. Top up with cold prosecco, stir quickly but gently, garnish with a slim quarter of a lemon slice and serve.
Blushing Bellini
Shake 20ml freshly squeezed pomegranate juice, 20ml crème de cassis and 20ml plain vodka with ice in a cocktail shaker and strain into a tall slender glass. Top up with 100ml chilled prosecco.
We have a great range of Prosecco gift boxes and baskets which can be delivered next day throughout the UK, perfect for birthday and thank you gifts.