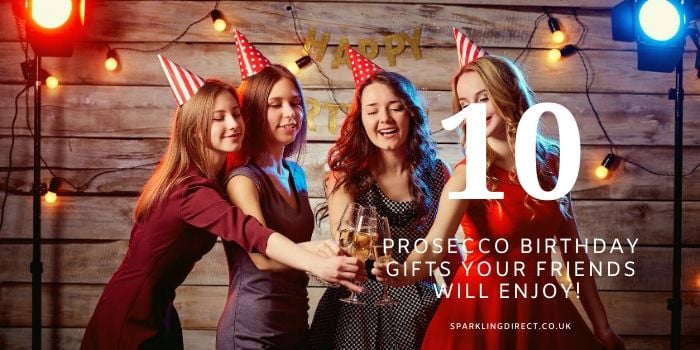 Make their day with a bottle of Prosecco by treating them to something spectacular from our range of birthday gifts below.
I only drink PROSECCO on two occasions, When it's my Birthday AND WHEN IT'S NOT!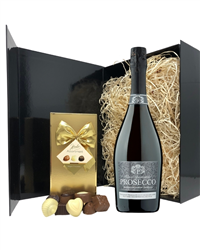 Prosecco and Chocolate Gift Set
A truly delectable gift set anyone would love to receive. From the elegant wool-lined box to the remarkably delicious items placed within it, this sincerely sumptuous set is certain to assure that anyone it's sent to will fall in love with it instantly. Sophisticated in both composition and appearance, this Prosecco and Chocolate Gift Set features a single bottle of our exquisite Prosecco Spumante alongside 125 grams of luscious Belgian chocolate and comes in a sleek, black carded gift box as well; making certain this set arrives safely and looking as chic as possible. Add your own personal touch by adding a message to send along with it if desired.
---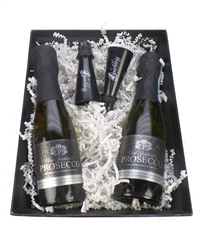 Mini Prosecco Gift Basket
This is a wonderful little gift which is ideal for all sorts of occasions. Delivered in a lovely black card gift box, you will be sending 2x20cl bottles of great tasting Mini Prosecco complete with 2 sippers, allowing the recipient to insert these into the neck of the bottle and drink without glasses!
---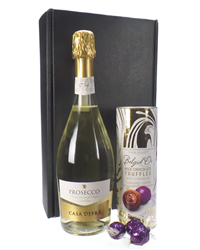 Prosecco And Prosecco Chocolate Truffles
A Prosecco lovers ideal gift set; from the single bottle of Casa Defra Prosecco to the 175g box of Prosecco-infused Belgian Chocolate Truffles, this amazing box is certain to taste as high-quality and delectable as it looks. A wonderful present to be delivered to nearly any occasion or event, whether your best mate is getting married or your uncle is celebrating his retirement, anyone that receives this will feel truly special to receive such an elegant gift. Easy to personalise with a message from you along with it as well, this Prosecco and Prosecco Chocolate Truffles Gift Box is designed to stand out from any other gift they receive.
---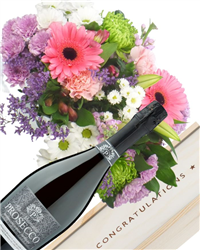 Prosecco And Flowers
This gift makes an excellent way to congratulate someone. A wonderful gift comprising of a lovely bouquet of hand-tied flowers together with a bottle of our best selling Prosecco. All our flowers are expertly hand-tied by our team of florists, so no arranging is needed. Colour tones my vary slightly as our flower arrangments are made fresh on the day of despatch, from the best flowers available.
---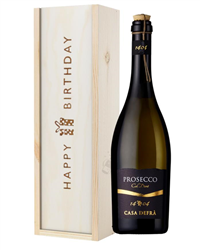 Prosecco Frizzante Birthday Gift
Send unique and bold birthday wishes to anyone in your life from a co-worker to your very best friend; anyone that receives one of these Prosecco Birthday Gift Boxes is certain to fully appreciation both the sentiment and flavour that they are lucky enough to experience. Produced by a family vineyard that prides themselves on sustainable viticulture, the absolutely delightful bottle of Casa Defra Prosecco Frizzante included within this gift box offers everything you're looking for in a one of a kind birthday gift, and so much more. Personalise this present with a message from you and have it delivered to any birthday celebration, big or small.
---
Prosecco Birthday Gift In Wooden Box
A unique and tasteful way to send birthday wishes. This simply delectable Prosecco Birthday Gift comes in a modest, classic wooden box that is marked with the words "Happy Birthday" along with a lovely little gift box stamped in the center. A gift that is intricately designed to stand out from every other present the recipient receives. This wonderful gift box contains a truly delightful bottle of great tasting Prosecco Spumante from the Casa Defra family vineyards; just the smooth, refreshing flavor anyone it's sent to would love to enjoy. This gift will have any recipient begging for more each and every year.
---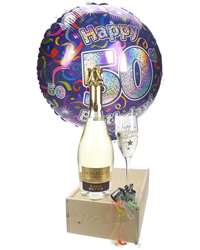 50th Birthday Prosecco And Flute Gift
Reaching 50 is a major celebration that needs not to be missed! Its half a century and a milestone so send them this single bottle of Prosecco presented with a 50th happy birthday flute glass, 50th happy birthday helium balloon and a couple of party poppers thrown in for good measure. All delivered in the one box to help get any 50th birthday off to a good start.
---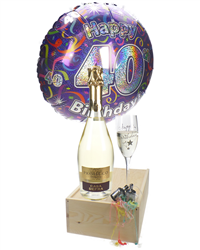 40th Birthday Prosecco And Flute Gift
Sending your sincere happy birthday wishes to someone you care for has just gotten just as easy as it can possibly get. Easy to personalise with a message from you and presented in a high-quality wooden gift box that is lined with wood wool to assure it arrives in perfect condition, this 40th Birthday Prosecco and Flute Gift Box is made to catch attention no matter how impressive the birthday party it's delivered to may be. A fun way to celebrate such a momentous milestone in someone's life, this gift box makes an entertaining addition to any 40th birthday party and will bring a smile to anyone's face.
---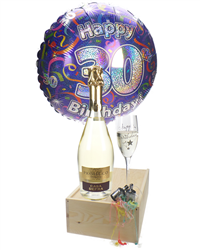 30th Birthday Prosecco And Flute Gift
A fun and fancy way to ring in nearly anyone's 30th birthday; when one of these chic and elegant 30th Birthday Prosecco and Flute Gift Boxes arrives to the party, it's certain to really get started from the moment it's opened for enjoyment. Great for delivery to the birthday bash of anyone from your mate to a member of your family if desired, this gift box can also include a personalised message from you along with it as well if you choose. A celebration in a package from the inside out, this 30th Birthday Prosecco and Flute Gift Set includes a single bottle of Casa Defra Prosecco, a happy birthday champagne flute and a colourful helium balloon that pops out for a little extra surprise as well.
---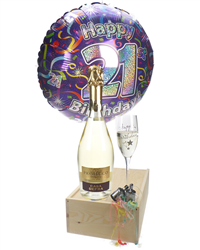 21st Birthday Prosecco And Flute Gift
A party in a box that anyone celebrating their 21st birthday will truly appreciate receiving. Presented in a simple wooden gift box that offers secure delivery to their home or to the particular party's location; this 21st Birthday Prosecco and Flute Set can also include a personal message from you along with it if desired. Complete with a single bottle of Casa Defra Prosecco, a happy birthday champagne flute, some party poppers and a colorful happy 21st birthday balloon within it, this wonderful gift set comes housed within one box and is ready for opening upon arrival. Surprise any brand new 21-year-old in your life with a special present they couldn't have enjoyed the day before.
---
Top 3 Prosecco and Chocolate Gifts
Prosecco and chocolates next day delivery in London and across the UK.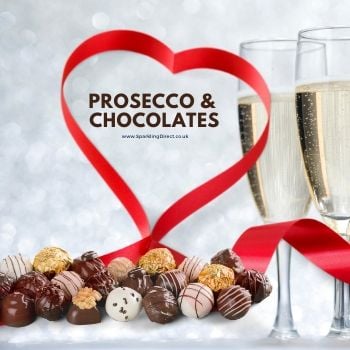 Prosecco by Post
Sending Prosecco gifts is what we've been doing at Sparkling Direct since 2002, that's 18 years of posting wine gifts to London and throughout the UK.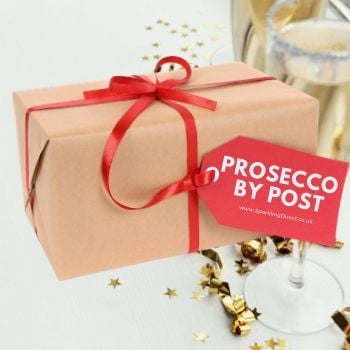 Prosecco Delivery London
If you are looking to send a gift to London, we can arrange this for you. Let us deliver a beautiful gift set to your friends and family for home delivery or the office.