The best Christmas gifts for wine lovers in the UK. Our bespoke Christmas wine gifts can be delivered next working day throughout the UK.
We also have a great range of Bordeaux, Chablis, Chateaneuf du pape, Pouilly Fume, Rioja and New Zealand Marlbough wines to choose from.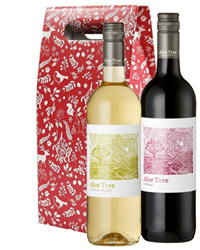 Presented in a fun and festive 'Christmas Jumper' gift box and featuring two remarkable wines that are especially fitting for enjoyment around the holiday season. A truly popular wine duo that any wine lover will fully appreciate, this wonderful Christmas Wine Set includes two bottles that come from South African vineyards; a Chenin Blanc and a Shiraz. Easy to personalise with a custom message to complete a meaningful Christmas gift to anyone on your list, this amazing wine set will have anyone truly thrilled to open it on Christmas morning. Boasting bold, full flavour that is certain to enhance any festive holiday from the very moment it arrives.
---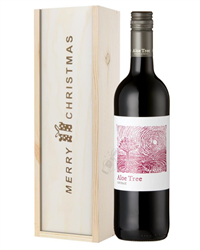 The perfect way to send truly tasty Christmas wishes from near or far; it doesn't matter whether you choose to send this incredible gift box to the recipient's home or to be included within a big holiday celebration, the recipient is certain to be satisfied with the gift that they've received. Presented in a high-quality, chic wooden box that is beautifully stamped with the words Merry Christmas on top, this South African Shiraz Red Wine Christmas Gift Box is meant to send warm holiday greetings and wishes to anyone on your gift list you choose to have it delivered to. Produced around the Western Cape of South Africa from Aloe Tree, this gift box is filled with absolute flavour anyone can enjoy.
---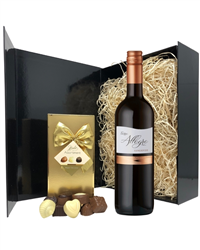 Each red wine and chocolate hamper is packed with a bottle of Allegra Sangiovese produced in the vineyards of Northern Italy. A juicy, succulent red wine with savoury cherry and plum characters with a bright ripe fruited finish alongside 125 grams of luscious Belgian chocolates that are sure to a smile on his or her face. A special treat for red wine lovers who love to indulge in the rich and sweet taste of Belgian chocolates. A unique way to show your thanks but with a personalised gift card you can turn your gratitude or love into words. The personalised message card will be carefully delivered alongside the gift hamper to charm and surprise the recipient
---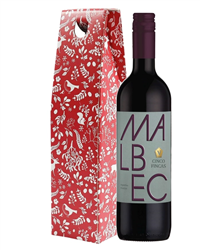 Assure that anyone, or everyone, on your gift list celebrates the holiday season in a festive and sophisticated way when you have one of these truly chic gift boxes sent to each and every one of them. Presented in a carded Christmas-style gift box and designed to stand out from every gift sent to be placed under their tree, this Christmas Malbec Wine from Argentina Gift Box offers everything anyone needs in a one of a kind holiday present. Produced in the Mendoza region at the foothills of the Andes in Argentina, the single bottle of Santa Rosa Malbec Wine contained within this gift box is beautifully bold in flavour and will satisfy anyone from a wine novice to an aficionado.
---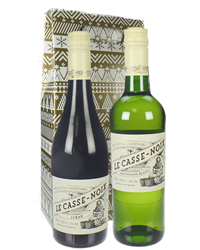 An incredibly gorgeous Christmas gift that will be certain to become a yearly tradition at the request of the lucky recipient. A stunning set that includes both a single bottle of red and a single bottle of white wines to enjoy; this Christmas Mixed French Wine Twin Gift Box includes a Syrah and a Sauvignon Blanc, both produced in the Languedoc region of southwest France. Easy to personalise with a message along with it if desired, this amazing gift makes the perfect present to have delivered to any part, or celebration, of the holiday season. An exclusive Christmas gift anyone from your cousin to your client will love to receive.
---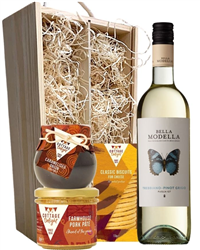 Filled with nothing but tasty and delectable flavours that perfectly blend to create an amazing bite, every single component of this Pinot Grigio Wine & Gourmet Food Gift Box offers a taste that no other gift set can. Easy to personalise with a message from you if desired, this high-quality set also comes presented in a stunning wooden gift box and is secured for safe delivery to any location required. Complete with a single bottle of Bella Modella Pinot Grigio wine as well as a 90g package of Cottage Delight Farmhouse Pate with Pork, this box also contains a 115g jar of pickle and 150g of Oval Alberts Savour Biscuits inside it too.
---