The best Christmas gifts for Champagne Lovers. We have hand-picked a range of Champagne gifts which can be delivered next working day throughout the UK.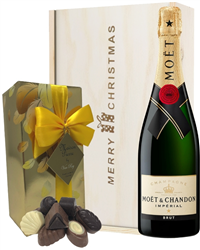 Perfectly, and securely, packed within a gorgeous wooden box, this gift set features the words 'Merry Christmas' emblazoned on the top and is filled with a protective wool lining that is certain to keep everything in it safe all throughout the delivery process. A truly gorgeous gift that will make anyone's holiday a little brighter from the moment it arrives, this remarkably tasty Moet & Chandon Christmas Champagne and Chocolates Gift Box can also include a personal message from you, allowing you to cross nearly anyone off your gift list with ease. Complete with a single bottle of Moet & Chandon Champagne and a box of luxurious Belgian Chocolates, this gift box will become a holiday favorite your recipient will wish for every year.
---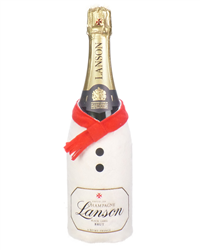 A festive, limited-edition gift that is designed to bring instant holiday spirit to any event it's delivered to. Complete with a single bottle of Lanson Champagne that is perfectly wrapped in an incredibly adorable snowman bottle cover, this gift makes a unique Christmas gift that is sure to please anyone on your gift list that receives it. Boasting a crisp and delightful flavour through each and every sip, this Lanson Black Label Champagne Christmas Gift provides a truly excellent taste that is sure to have the recipient continually reaching for more until the bottle is finished.
---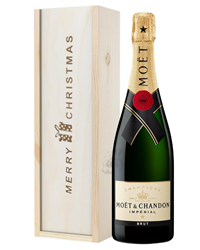 A Christmas gift that will have any recipient jumping for joy, this remarkably stylish Moet & Chandon Champagne Single Bottle Christmas Gift Box is nearly certain to be the best gift they receive this year, by far. Featuring a fashionable wooden box with the words Merry Christmas included on top, this gift box also includes a single bottle of Moet & Chandon Brut Imperial Champagne within it and is designed for secure delivery to any recipient needed. A delicious combination of Chardonnay, Pinot Noir and Pinot Meunier within one elegant bottle, every single taste of this extraordinary blend they take will have them immediately reaching for more.
---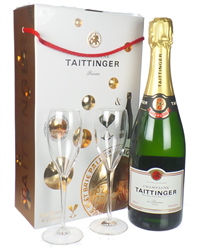 A gorgeous way to send a celebration in a box; this Taittinger Champagne Branded Flute Set includes not only a single bottle of Taittinger Champagne within it, but it also includes two high-quality branded Taittinger champagne flutes as well. Easy to personalise with a message straight from you if desired, this lovely gift set makes the perfect present to send to for Christmas. Delivered in a fashionable, branded Taittinger box, this gift set boasts an appearance that is easily as chic as its contents.
---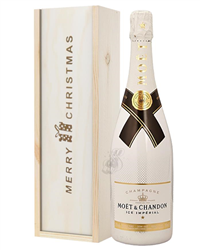 As chic and elegant as a Christmas gift can get, this Moet Ice Imperial Single Bottle Christmas Gift Box makes the perfect present to send to anyone from your staff as a special Christmas incentive to your significant other to share for an intimate holiday spent together. A unique demi-sec variety that is created to be enjoyed over ice, this single bottle of Moet Ice Imperial Champagne is also sweeter than the usual Brut and is much drier in taste as well. Presented in a gorgeous 'Merry Christmas' wooden gift box, this set can also be personalised with a message from the sender if desired as well.
---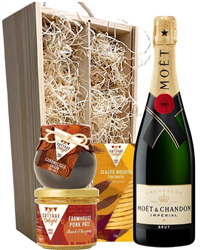 As gorgeous in appearance as it is gourmet in taste, this Moet & Chandon Champagne & Gourmet Food Gift Box offers everything you're looking for in a unique, and truly delicious, gift set. Perfect to send to anyone from your client to your cousin or even your parent or friend, this amazing gift box is just what any special occasion needs to be fully celebrated. A crisp and delightful flavour that is housed within an amazingly chic bottle, the single bottle of Moet & Chandon Champagne placed within this gift box is meant to really mean something to anyone it's delivered to. Complete with 90g of Farmhouse Pate with Pork, 115g of tremendous pickle and 150g of Oval Alberts Savory Biscuits as well, no other gift box is as classy and sophisticated as this one.
---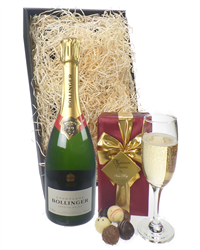 The ultimate gift of delicious flavours that anyone will instantly fall in love with; when you have one of these incredibly delectable Bollinger Champagne & Belgian Chocolate Gift Box delivered to that special someone, they will experience instant ecstasy from the very first sip and/or bite. A beautiful gift from the inside out, this extraordinary gift box includes a single 75cl bottle of Bollinger Champagne and 250g of exquisite Belgian Chocolate, all housed within a stylish presentation box designed to cushion the product as it makes its way to the recipient desired, personalised with a customised message from you.
---
View our range of Christmas Champagne Gifts.