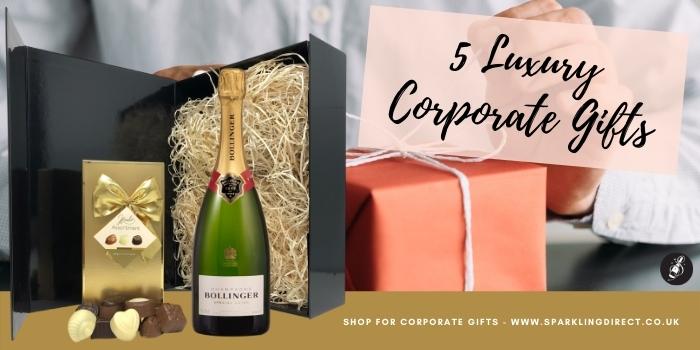 Good corporate gifts are hard to come by. But they're not impossible to find. No matter the occasion, send the right corporate gift to your deserving employees. So what is a good corporate gift to send?
A Champagne and chocolate hamper always works well as a corporate gift. The same for wine gifts. Take a look at these five luxurious corporate gifts ideal to send to any client or employee. It's the most luxurious and sophisticate corporate gift guide you'll ever find, so why not take a look?
---
Bollinger Champagne & Chocolates Gift Box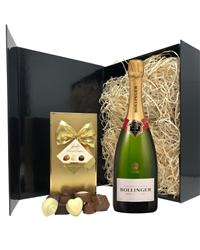 The ultimate gift of delicious flavours that anyone will instantly fall in love with; when you have one of these incredibly delectable Bollinger Champagne & Belgian Chocolates Gift Box delivered to that special someone, they will experience instant ecstasy from the very first sip and/or bite. A beautiful gift from the inside out, this extraordinary gift box includes a single 75cl bottle of Bollinger Champagne and 125g of exquisite Belgian Chocolate, all housed within a stylish presentation box designed to cushion the product as it makes its way to the desired recipient, personlised with a customized message from you.
---
Chateauneuf Du Pape Wine and Cheese Hamper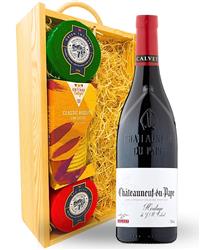 Complete the evening with this delightful red wine and cheese hamper! Whether for yourself or someone you know, send this hamper anywhere in the UK. It includes a single bottle of the well-renowned Chateauneuf Du Pape red wine along with a box of Cottage Delight Biscuits, Snowdonia Green Thunder Cheese and Snowdonia Red Devil Cheese. Green Thunder is a Cheddar Cheese with roasted garlic and herbs. Red Devil is a Red Leicester with Habanero chillies and peppers. It's all presented in one of our wooden gift boxes and is protected with wood wool. You can complete this gift with a personalised message for that extra touch. Plus, send it across the UK with next day or selected date delivery. It's the perfect treat for any wine and cheese lover!
---
Prosecco Rose and Chocolate Gift Set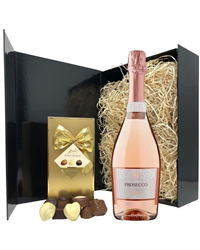 Whatever the occasion, this delicious gift set promises to make it special. Treat someone to a single bottle of Italian Prosecco Rose along with a 125g box of assorted Belgian chocolates. You'll find strawberry, Rose and Citrus notes within this beautifully dry Prosecco, plus it's suitable for vegetarians and vegans. This hamper is presented in a sleek black gift box, which is lined with wood wool for protection during transit. Plus, you can complete this gift with a personalised gift message and send it anywhere in the UK. Next day or selected date is available, meaning there's no excuse not to send this delightful hamper to a family member, friend or colleague.
---
New Zealand Mixed Two Bottle Wine Gift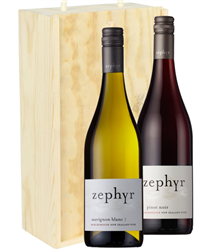 A wonderful gift option for any true wine lover in your life; complete with a bottle of stunning Sauvignon Blanc as well as a bottle of perfectly crafted Pinot Noir, this amazing gift set allows the recipient to enjoy the taste of both flavours in a remarkably chic and elegant way. Produced by the Glover family and sold under their incredible Zephyr wine label, both of the bottles included in this set are produced on the northern tip of New Zealand's South Island. A magnificent and versatile gift option for any occasion; this fantastic set can be sent to anyone from a friend to celebrate their engagement to a family member for Christmas or an employee as part of a staff incentive they've earned.
---
Veuve Clicquot Champagne Hamper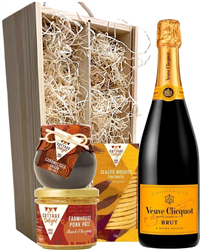 Perfect for any Veuve Champagne lover and any occasion, make someone smile by sending them this delightful hamper gift. Beautifully presented in one of our wooden gift boxes, this hamper contains a single bottle of the classic Veuve Clicquot NV Champagne along with a selection of delicious food. These include; Cottage Delight Farmhouse Pate with Pork (90g), a jar of fabulous Pickle (115g) and some Oval Alberts Savoury Biscuits (150g). It's presented in one of our wooden gift boxes and is protected with wood wool to ensure safe delivery anywhere in the UK. You can also add a personalised message and have it delivered with next day or selected date delivery.
---
---
5 Best Wine Gifts For Employees
Looking to send a corporate wine gift? Find out how we can send these five wine gifts to your employees on behalf of your business in this post.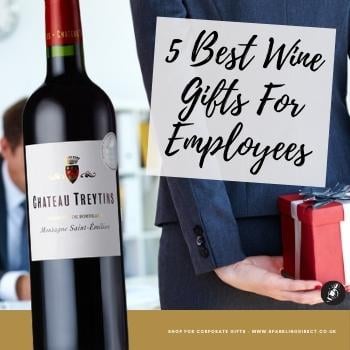 What Can I Send As A Corporate Gift?
Looking to send a corporate gift to an employee or client? These five gifts are the perfect choices. Take a look and find out more in this post!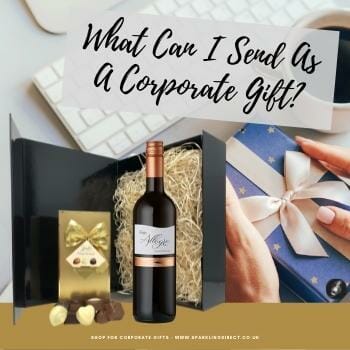 Corporate Christmas Wine Gifts For Employees
Everyone deserves a treat at Christmas, especially our colleagues and employees. So what is a good corporate gift for employees at Christmas?