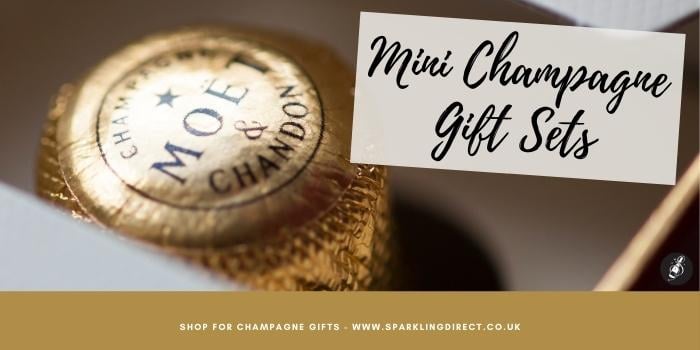 There are times when we want to buy a Champagne gift, but we don't want to give a big bottle. That's where mini Champagne gift sets come in. So can you buy a small bottle of Champagne
Yes, you can buy mini bottles of Champagne, and they make unique gifts. Most leading Champagne producers, such as Lanson and Moet & Chandon, sell mini bottles for event supplies and gift sets. We've shortlisted five mini Champagne gift sets, including our sippers, perfect for any gift or party.
---
Lanson Four Mini Champagnes And Sippers Gift Set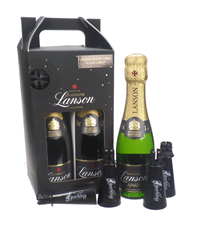 There's no Champagne gift set more convenient than this one. Whether you're throwing a party, organising an event or simply celebrating, save time and money with this Lanson mini Champagne set. Get four mini 20cl bottles of Lanson Black Label Champagne to enjoy with friends and family. Each bottle is equivalent to two glasses, making it perfect for one bottle per person. Plus, also included with this set are four Champagne sippers (drinking spouts) attached to the tops of mini Champagne bottles. So you can avoid using glasses and more washing up! This is the ultimate gift or addition to any celebration, so why not have it delivered on a date of your choice?
---
Moet Chandon Champagne Mini Quarter Case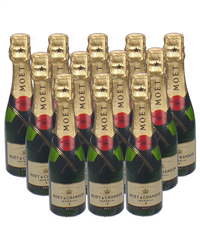 Get any party or event started with this Quarter case of Moet & Chandon Champagne. Ideal for corporate events, weddings or even small gatherings, this set includes 12 quarter bottles (20cl) of Moet & Chandon Imperial Brut Champagne. So no matter what you're celebrating, we'll help make it easier and affordable for you. Each bottle serves one person, so there's no need to stress. These bottles make providing drinks for an event simple. Plus, pair this set with our sippers for an even smoother clean up and avoid washing up glasses! Have this set delivered either to you or your venue at your convenience.
---
Lanson Mini Duo Champagne Set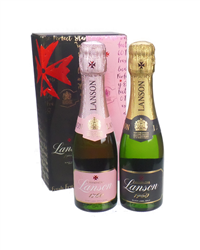 An incredibly unique gift set that allows the lucky recipient to taste more than one variety of champagne all within one remarkably thoughtful present. Whether you choose to send this amazing Lanson Mini Duo Champagne Gift Set to your best friend as a celebration you can share, or to a family member getting married or celebrating the arrival of a little one; this gift box fits perfectly into any occasion or get-together. Presented in a one of a kind branded gift box that shows what types of champagne are housed inside it, this gift set contains one 20cl bottle of Lanson Black Label and one 20cl bottle of Lanson Rose Champagne as well.
---
Lanson Black Label Champagne Quarter Mini Gift Set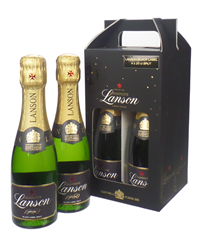 Perfect for any gift or party, this Lanson mini Champagne gift set is a must-have for any occasion. This quarter mini gift set contains four 20cl mini bottles of Lanson Black Label Champagne to enjoy with friends or family. Or even to enjoy at home by yourself! Each bottle is equivalent to two small flute glasses, and for events, it's perfect for one bottle per person. Easy to carry, this gift comes in a black carded gift case complete with a handle for convenience. So no matter the reason for celebrations, this mini gift set is a must! If you're sending it as a gift, you can also add a personalised message. Have it delivered anywhere in the UK on a date of your choice.
---
Champagne Sippers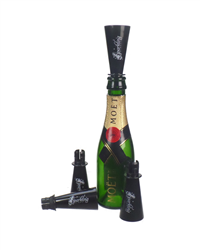 Designed to fit a quarter-size or miniature champagne bottle that is fitted with a cork, these amazingly unique Champagne Sippers makes enjoying small bottles of champagne as easy as it can possibly be. Offered in a set of 4 that allows more than one user to enjoy their bubbly straight from the bottle; these remarkable sippers allow any party or small get-together to really get started. Though this model of sippers does not work with bottles that include a screw top, there are screw top compatible sippers available for purchase under the name Prosecco Sippers. Enjoy your favorite mini-bottle of champagne as quickly, or as slowly, as you desired with one of these amazing sippers attached to the top. This item is for 4 sippers only and does not include any Champagne
---
---
7 Best Champagne Gifts For Her
Everyone knows that Champagne is a girl's best friend. But which Champagne makes the best gift? Any one of these seven gift sets will make the perfect gift no matter the occasion.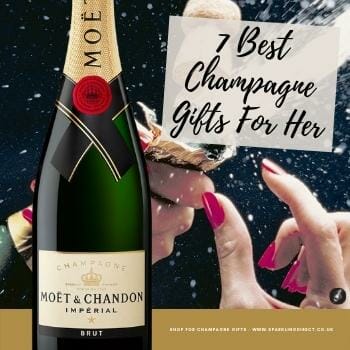 Top 10 Champagne Wedding Gifts
There's no event more fitting for Champagne than a wedding. When thinking of a gift for the happy couple, you should always consider a fancy bottle of bubbly to make the occasion memorable and unique.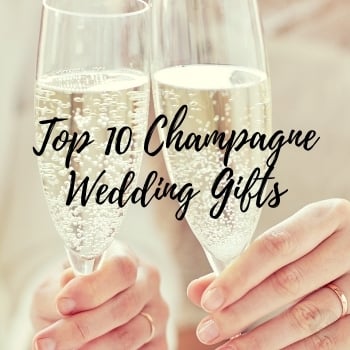 What Do You Give A Champagne Lover?
Picking the perfect Champagne gift can prove to be a task. So what do you give a Champagne lover as a gift?